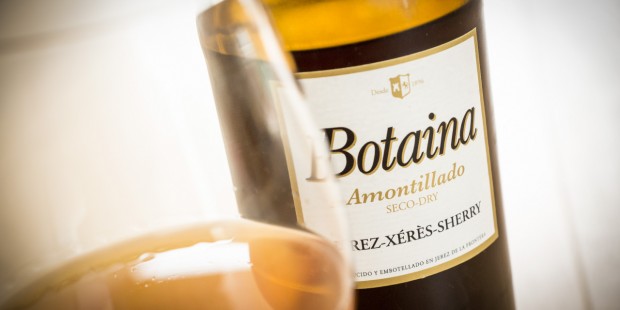 Amontillado
Amontillado is a Fino or Manzanilla that started with biological ageing under flor for the first three to eight years or so, and matured further (usually longer) in an oxidative way, without flor. A cask of Fino is considered to be Amontillado as soon as the layer of flor stops developing because the flor can't find enough nutrients in the wine to survive. Most of the time though, it is intentionally "killed", simply by fortifying it (again) to 17 or 18 degrees.
Some of the most renowned Amontillados include Viña AB (Gonzalez Byass), Tio Diego (Valdespino) and Napoleon (Hidalgo)
Amontillado oxidises in a slow and controlled way, exposed to oxygen through the slightly porous oak, and gains a darker colour and richer flavour than Fino. While still having hints of flor, it will be less fresh and citrusy than a Fino but with more elegance and structure.
It is characterized by nutty aromas, tobacco, aromatic herbs and often ethereal, polished notes of oak. The fusion of two different aging processes makes Amontillado wines extraordinarily complex and intriguing.
Made fully dry but often sweetened for export, Amontillado is also bottled slightly higher in alcohol: between 16º and 22º (the older it is, the higher the natural alcohol volume will be due to concentration and evaporation). As of 2012, the rules applicable to the Consejo Regulador say that Amontillado should be naturally dry and can no longer be sweetened. Sweetend Amontillado can still produced but they should be labeled Medium / Cream sherry, sometimes with an addition like "Blend of Amontillado".
Types of Amontillado sherry
Jerez Amontillado is sometimes used to designate the maturation in a bodega in Jerez de la Frontera.
Manzanilla Amontillada is a Manzanilla in which the flor has died and which has been matured in Sanlucar.
Amontillado del Puerto is an even rarer name for Amontillado matured in El Puerto de Santa Maria.
While there is a difference between Amontillado that originated from Fino and Amontillado that started as Manzanilla (which will have a more delicate body), this difference is rarely made on labels.
Sometimes the words Amontillado Fino are used to indicate a young Amontillado, as opposed to an Amontillado Viejo. However these labels are now rarely seen. Old Amontillado can get a VOS / VORS classification to indicate a certified high age.
Appreciation
Amontillado is often considered the most representative style of sherry since it displays qualities of both styles of maturation. It should be served at a higher temperature than biologically aged sherries (around 12°C, even warmer when it's an old Amontillado) and it goes particularly well with white meat, a beef consommé, chorizo, medium-heavy cheese or a paté.
Amontillado sherry reviews