Amontillado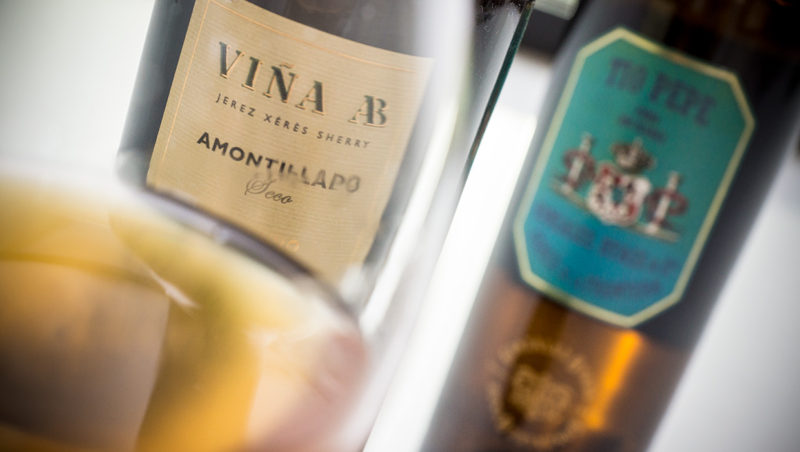 Published on January 16th, 2015 | by Ruben
0
Amontillado Viña AB (González Byass)
Viña AB is the entry-level Amontillado from González Byass
Viña AB is essentially a version of the popular Fino Tio Pepe that was allowed to mature longer, around 9 to 10 years (half of which under flor).

That's not very old for an Amontillado. In fact it used to be labeled Amontillado Fino, indicating it was a transitionary style, but as of 2009 this name could not be used any more and it was simply named Amontillado (while the age remained the same). As well as being fairly young, it is also on the light side: it only contains 16,5% alcohol because it is not fortified again after losing its flor.
The Spanish Viña means vineyard and AB refers to Andrés Botaina, the original owner of the vineyard that supplied the grapes. This vineyard was one of the first taken over by Manuel González after he started the bodegas in the late 1840's. Mind that Lustau also has an Amontillado called Botaina, from separate plots but once owned by the same man.
Viña AB is the youngest Amontillado from González Byass. It is used to refresh the solera of the older Amontillado Del Duque.
Amontillado Viña AB (16,5%, González Byass)
Nose: relatively close to a Fino in the sense that it shows similar chalky / yeasty notes and a pungent salinity. Maybe a little more delicate, with a lot of rounder notes as well: a little caramel and dried apricot. Hazelnuts and almonds. Hints of honey, old wood and subtle oak polish.
Mouth: very un-sweet of course, but it lacks the austerity that sometimes comes with dry Amontillado. Quite light with few flavours that really stand out. Orange peel. Almonds. Medium acidity. Some half-sweet notes in the background (think figs and citrus). Also a faint bitter edge of chestnuts.
Availability: widely available for around € 10-15. One of the more accessible Amontillados. For international shipping check TWE or Bodeboca for instance.
Summary: Viña AB is a lighter type of Amontillado, with still lots of Fino notes. Complexity is limited but the aromas are nice so it's a great introduction to the style, at a great price. However in this case I would prefer Finos of similar age.