Background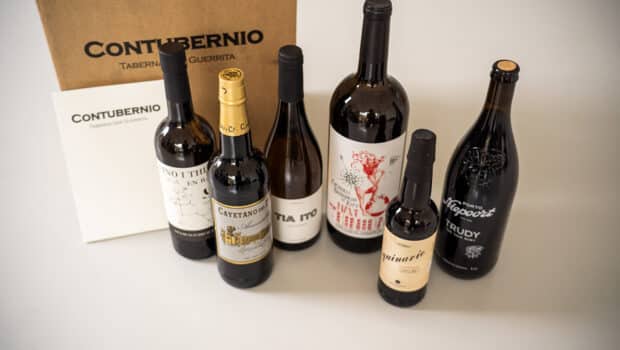 Published on December 23rd, 2022 | by Ruben
1
Club Contubernio: the sherry subscription
Taberna der Guerrita is a humble but rather legendary bar in Sanlúcar de Barrameda. Created in 1978 by Manuel Guerra, it is currently managed by his son Armando Guerra who is also the 'head of specialties' at Bodegas Barbadillo. While essentially a classic tavern with simple food, it is better known as a temple for sherry wines. In the back of the restaurant there is a small tasting room where they regularly host wine tastings. Then there is a trastienda (back room) packed with wines, including some of the more rare and valuable sherries. For more information, see my restaurant suggestions for the sherry region.
Club Contubernio
Der Guerrita is also the birthplace of Club Contubernio, a private club for wine enthusiasts. The idea is that members regularly receive a box of wines, personally selected by Armando and his team.
Contubernio went public in 2020. While I missed the first few editions, I've been a loyal member for over two years now. Although it's not exactly cheap, I can assure you: if you're a serious sherry lover, have no doubts.
What's in the Contubernio box?
Every box contains 6 bottles, although there's often an extra sample or a wider array of half bottles. Sherry wines from the Marco de Jerez are at the heart of their selections. However they also let you discover other regions that have some kind of connection: Montilla-Moriles and Málaga are often part of the selection. The main picture above shows you the contents of Contubernio XIV.
While the classics aren't overlooked, the emphasis is clearly on new developments in Andalusian wine. If you're interested in the wines from Ramiro Ibáñez, Willy Pérez, Primitivo Collantes, La Callejuela and other personal friends of Armando, this will be right up your alley. The selection is rather non-conformist, often surprising and always highly interesting.
Even more interesting is the fact that a lot of wines are exclusive to Contubernio. For instance their Amontillado Conde de Aldama was a proprietary selection of casks from the first and second criadera. The Matalían Socaire was made in two casks that are now gone entirely. Also the Manzanilla Solera Playa was part of Contubernio before it hit the market. There have been quite a few scoops and one-off bottlings. As a sherry geek I find such things impossible to resist.
In each box there is an envelope with a spec sheet of each wine, tasting notes and some background info from Armando. A few days after the delivery, there is a tasting event which is streamed live on Youtube. It allows you to get first-hand explanations while sipping the wines. You'll need to understand Spanish to get the most out of it, but the wines really speak for themselves. Members can also order individual bottles through their online shop.
Some room for improvement
While Club Contubernio is a wonderful project, I must admit I've encountered a few problems in the early days. Some boxes went missing or were shipped to the wrong address. This has always been revolved but it does mean you miss the live stream event in which the selection is explained. I've also had a number of broken bottles, due to insufficient packaging, especially of non-standard bottles. Again, all issues have been resolved with a smile, but the logistics could be smoother.
Update 2023: many of the issues have been addressed. The packaging is more sturdy (no more broken bottles since then) and delivery is much more punctual through FedEx. Someone must have read this article. Nice!
Become a member of Club Contubernio
Once subscribed, you'll receive three wine packs per year (May, September and December) which cost € 149 per shipment (Spain) or € 199 with shipping to all European countries. There's no commitment so you can skip individual shipments or cancel whenever you like.
Spots are limited. In the past there have been periods in which there were no places available, but it seems they've increased their capacity. You can subscribe on the Club Contubernio website. Recommended sherry geekery!