Amontillado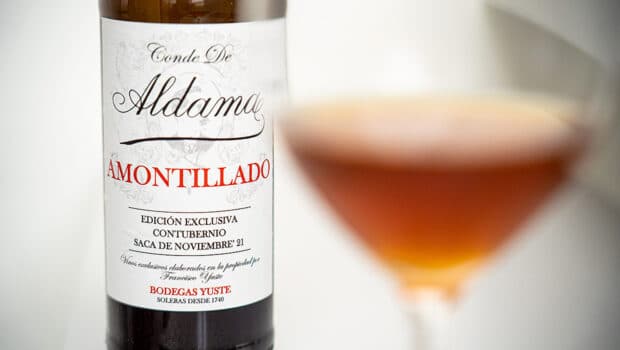 Published on May 20th, 2022 | by Ruben
0
Amontillado Conde de Aldama (Contubernio)
The Amontillado Conde de Aldama comes from a bodega in the Calle Banda Playa, once owned by Manuel Argüeso and dismantled in the 1990s. It has been rescued from oblivion by Francisco Yuste.
Yuste bought an old Amontillado solera that had been established in the Barrio Alto district of Sanlúcar in 1740. Today, the Yuste family believes that the average age of the wines in this solera is more than 100 years. That makes it one of the oldest wines marketed in the entire sherry region.
Aldama has three criaderas and this special saca is a selection of casks in the first and second criadera. This wine has never been bottled in this particular form. That's the kind of exclusivity you can expect from Club Contubernio, the "secret sherry club" by Armando Guerra and his team. While it's not 100 years old like the solera version, I would still estimate it at around 30 years or more.
Amontillado Conde de Aldama (21,5%, Francisco Yuste 2021, Edición Contubernio 11, 1300 btl.)
Nose: really aromatic, especially once it gets to room temperature. Rather round on the nose and perhaps a little darker / oxidative than we expected considering the age and its Sanlúcar origins. There are toasted hazelnuts, walnuts husks, marmalade but also darker plum jam. Hints of nutmeg and old, exotic woods. Subtle iodine and sea shells, echoes of menthol. A light (pleasant) farmy note as well (stables / hay, even a subtle cheesy note). Overall it finds a great balance between sweet, salty and spicy.
Mouth: very, very saline and concentrated. While some of these old Amontillados can be almost painful to drink, this is wide and also has a certain sweet side. Easily drinkable. Sweet spice, hazelnuts, lemons and limes. Then back to walnuts and hints of salted caramel. Somehow this feels like a composition of different wines (which in a sense, it is of course), making it slightly less elegant than others.
Availability: only available in 37,5 cl bottles as part of the Contubernio subscription.
Summary: We already knew the Amontillado Conde de Aldama was a wonderful wine, and this younger version is still impressive. It has a nicely rounded / oxidative side, which counterbalances the innate salinity of old Sanlúcar wines. A lovely take on the original release.