Fino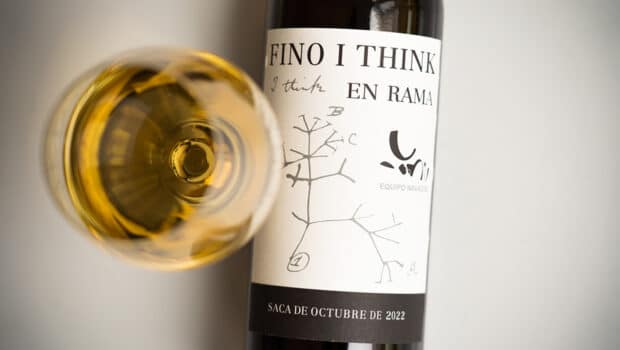 Published on October 28th, 2023 | by Ruben
0
I Think – Fino En Rama (Equipo Navazos)
Fino, I think… This name will probably remind you of Manzanilla, I think, the untamed Manzanilla from Equipo Navazos that is an homage to Charles Darwin. While the Manzanilla version is relatively easy to find, this Fino is much more limited. It was bottled in October 2022 as part of a Club Contubernio case.
The wine itself is a selection of 13 botas from Bodegas Pérez Barquero in Montilla. Equipo Navazos is regularly sourcing from this bodega. The average age is around 7 years.
Fino I Think – Fino En Rama (15%, Equipo Navazos for Club Contubernio 2022, 1000 btl.)
Nose: a lot of flor notes, haybales and chalk, yeasty dough, a little iodine and a slightly dusty note. Dry, with plenty of dried herbs (chamomile tea), some toasted hazelnuts, walnuts and sourdough bread crust. Some bruised apple and green olive. Hints of curry too.
Mouth: serious, potent and clean. A very intense wine, with a lot of body. There seems to be a supple hint of sweetish roundness (not uncommon in Finos from Montilla), but also an incisive bitter edge and a big spicy touch (almost peppery). Some savoury notes and citrus zest, as well as herbal tea. Really big but not without elegance. A light oaky note appears towards the end. Long finish, very dry and lightly bitter.
Availability: exclusive to Club Contubernio. They still sell leftover bottles for € 25.
Summary: Quite a serious Fino, but never crossing the line of becoming too austere. Everything seems to be dialed up to eleven. Robust, a bit of a wintery Fino perhaps.