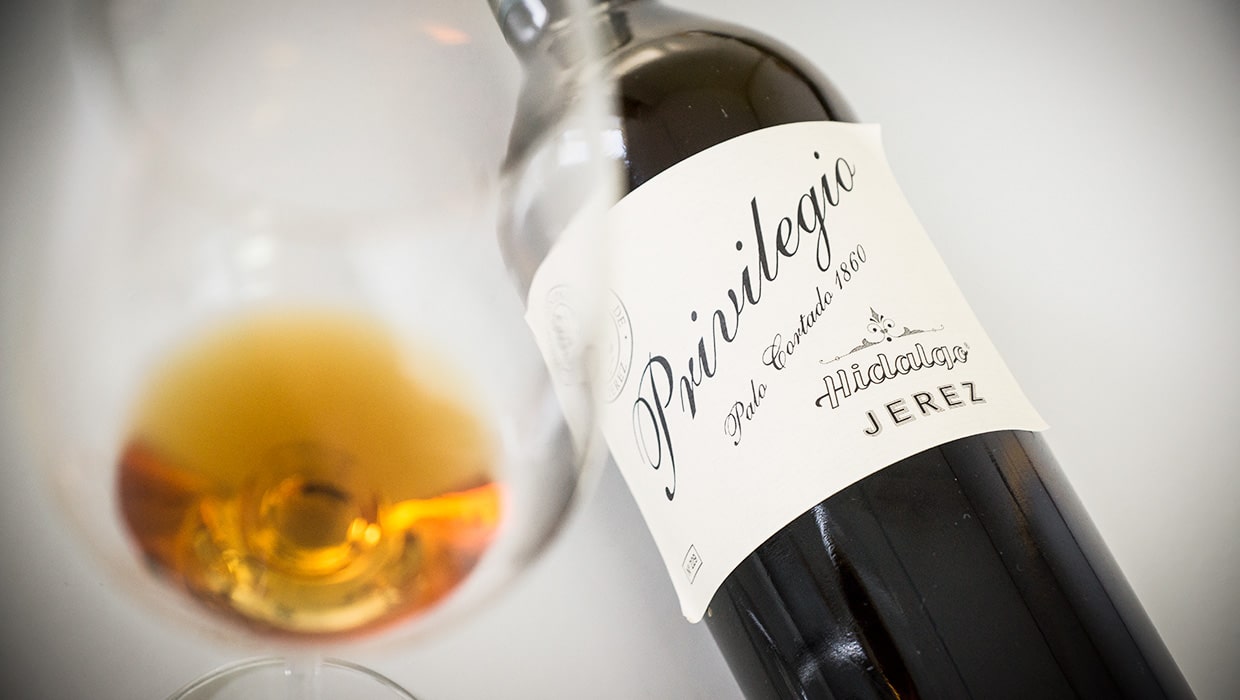 Palo Cortado
Palo Cortado is an intermediate type of sherry and probably the most ambiguous of all. This is fueled by the vague description in the official rules of the Consejo Regulador: it should have the aromatic refinement of Amontillado combined with the structure and body of an Oloroso. In short: Amontillado on the nose, Oloroso in the mouth. Compared to an Amontillado, it will have spent less time under flor. In the old days this could be up to two years, but nowadays Palo Cortado rarely ages under flor at all.
In the past, a Palo Cortado would originate as a Fino that started to deviate. The flor that is so typical of a Fino disappears, yet the wine maintains its elegance and finesse. The expected layer of flor could break up for several reasons:
unplanned yeast activity
specific characteristics of the grape juice (e.g. more malic acid)
a warmer vintage or leaving the picked grapes out in the sun for too long
a slightly off-beat cask
…
In short, these are climatic or microbiological conditions that impacted the flor and caused it to fail to develop normally. These casks would then be taken out of the Fino solera: its Fino mark, a vertical line or palo, would then be crossed or cortado by a diagonal line. The flor would be killed by fortifying the wine to 17-18 degrees and it would continue its life as a barrel that ages oxidatively.
Nowadays most Palo Cortado is technically a lightweight, delicate Oloroso. You start with the most delicate free-run grape juice – first pressing, normally destined to become a Fino. However instead of letting it develop a layer of flor, you fortify it to the strength of an Oloroso, forcing it to age oxidatively. See my article about the myths surrounding Palo Cortado for more insight.
The names Dos Cortados, Tres Cortados and Cuatro Cortados also exist. Most sources say these designate wines of increasing age and refinement.
The mystery of Palo Cortado sherry
Mystery surrounds Palo Cortado because nobody fully understands its origins. Or at least, that is what bodegas used to tell. Palo Cortado is said to be a wine that "occurs", rather by accident – you can't actively produce it. On top of this, you frequently hear that it's an endangered species. Some bodegas claim it will be extinct at some point because it is becoming so popular and production is so limited. Luckily this seems exaggerated: nowadays cellarmasters have a good understanding of the underlying process. Moreover they have a good nose for selecting the right casks that have a high chance of developing the Palo Cortado profile.
Palo Cortado is the rarest type of sherry, surrounded by myths and legends, most of which a bit exaggerated
Palo Cortado is indeed the rarest of all sherry varieties. Less than 100.000 bottles are sold a year, compared to 60 million bottles overall. On the other hand it is very popular among aficionados and it is gaining interest. There's no shortage though: nearly every bodega offers one or two Palo Cortados.
In the past there was a slightly controversial way of creating a Palo Cortado style of sherry, by blending Amontillado and Oloroso. This doesn't create the same kind of complexity and harmony and it is mostly a practice of the past.
Palo Cortado character
Palo Cortado wines display a complex bouquet of aromas. Some of them are closer to Amontillado (like orange zest, tobacco and leather) while others are typical for Oloroso (dried fruits, nuts, red fruits). Typically a Palo Cortado will also have a subtle lactic note, suggestive of fermented butter, as well as a rounded, smooth texture that is caused by glycerol.
Appreciation
Palo Cortado should be served at a slightly higher temperature than an Amontillado (around 14°C). It's a flexible wine for food pairing, great with cured meats like cecina de Leon, soft blue cheese, foie gras and nuts.
Palo Cortado sherry reviews