Palo Cortado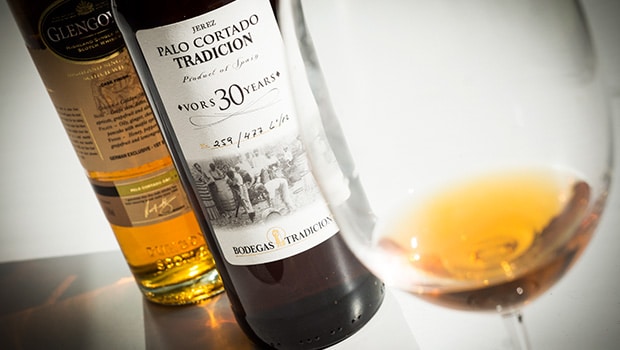 Published on June 6th, 2014 | by Ruben
1
Palo Cortado VORS (Bodegas Tradición)
Palo Cortado VORS from Tradición is around 32 years old
The Palo Cortado solera from Bodegas Tradición has an average age of around 32 years (believe it or not, this makes it the youngest wine in their dry range). Every year, no more than +/- 2000 bottles are taken out of this solera, in different sacas throughout the year. This release had 477 bottles.
The Palo Cortado solera started with stocks bought from Bodegas Croft (their 1970 and 1982 vintages) and 18th Century casks from Bodegas Domecq, which obviously helped to get a high average age right from the start.
Back in 2012, Bodegas Tradición sold one of their Palo Cortado casks (approximately 50 years old) to the Scotch whisky distillery Glengoyne. They filled the cask with one of their whiskies (a 12yo 1999 vintage) and let it mature further for one year. It was taken out and bottled in 2013 for the German market, where it is presented in a wooden box containing a bottle of both the Glengoyne and the Palo Cortado.
Check my review of this Glengoyne whisky on WhiskyNotes
Using Palo Cortado casks to finish whisky is rare. In fact Glengoyne is the only distillery that uses it extensively – Oloroso and P.X. are much more common. Using an actual bodega cask is even rarer – most casks used in the whisky industry are seasoned casks, new casks that have been prepared in Jerez specifically for whisky maturation with being part of an actual sherry solera. I can't say I detected much of the Palo Cortado in the whisky, and the whisky in itself isn't the best Glengoyne either, but it's an interesting experiment nonetheless and today we're focusing on the sherry.
Palo Cortado V.O.R.S. (19,5%, Bodegas Tradicion, L1/12)
Nose: just wow. Hugely elegant, especially with the bright notes of varnished oak (beeswax, a nice hint of turpentine) and fresh leather. Lots of almonds. Butterscotch, dried apricots, candied fruit and nougat. Also subtle maritime notes and a hint of eucalyptus and dried Mediterranean herbs. You can tell this is a mature wine with a lovely hint of oldness.
Mouth: drier than the nose, more saline and more citrusy. Orange peel. Quite light, closer to an Amontillado in a way, although it feels (a little) fuller in body. Roasted hazelnut and salted peanuts. Becoming warmer towards the end, with nice caramel flavours. Very long finish.
Availability: reasonably good. Quality is high so look for a specialized high-end retailer. Around € 70-80.
Summary: This is an excellent Palo Cortado: complex, very fine and elegant, although this also makes it seem a little soft. A very impressive, meditational wine. Highly recommended.