Pedro Ximénez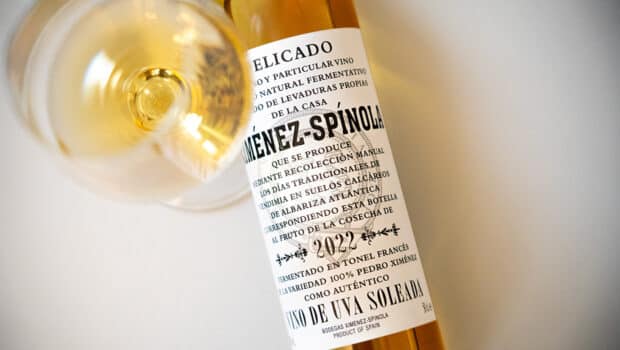 Published on November 21st, 2023 | by Ruben
0
Ximénez Spínola Delicado 2022
A really vibrant, utterly fruity Pedro Ximénez that is full of aromatic apricots
We all know the raisined, oxidative Pedro Ximénez wines coming out of Jerez or Montilla (such as PX Solera 1918 from the same house). However there is also a rarer style of fresh, young Pedro Ximénez. Ximénez-Spínola is one of the few houses in the sherry region making this.
Ximénez-Spínola only uses Pedro Ximénez grapes for its wines, from Las Tablas and the pago Carrascal. In this case they are hand harvested and moderately sundried on mats between the vines. This results in only 200 liters of must from each ton of fresh grapes. It is then fermented in large French oak tonéles, avoiding any oxidation.
Obviously this is not recognized as a sherry wine, as it only reaches 13% of alcohol – natural alcohol from the fermentation, so no fortification. Obviously it doesn't adhere to the regulations of sherry wines. Its style is similar to wines like Pandorga from Cota 45 or the Pedro Ximénez Dulce Natural from Callejuela. Two wines that are made (or at least supervised) by Ramiro Ibáñez who is also working as a consultant for Ximénez-Spínola.
Delicado 2022 (13%, Ximénez-Spínola, L/COS-22/2, 18.123 btl.)
Nose: intense and clean, showing the juiciest apricot jam, aromatic vineyard peaches, nectarines and floral honey. Hints of green apples and yellow plums in the background. Some membrillo. A total fruit bomb.
Mouth: very fresh and bright again. A slightly tropical fruitiness with a remarkable acidity. Honey, apricots, stewed pears and oranges, with golden raisins and figs arriving later. Subtle almond. Apple pie with a touch of cinnamon in the end.
Availability: good, sold in 50 cl bottles for around € 25. Check Vinissimus for instance.
Summary: This is a lovely fruit-forward Pedro Ximénez. Very clean, making this a refreshing element within the PX category. Especially the vivid acidity lifts this wine to great heights. Next time you're looking to pair a chocolate dessert, pick this.