Manzanilla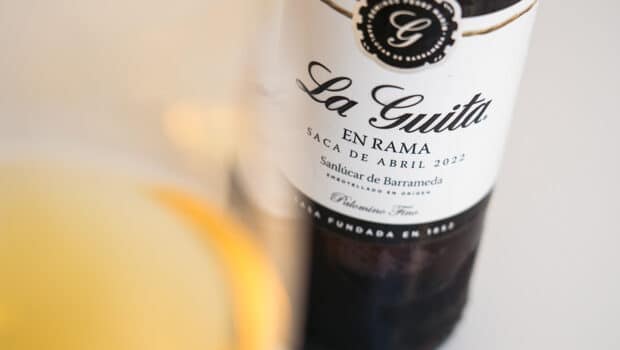 Published on October 16th, 2023 | by Ruben
0
La Guita Manzanilla En Rama (Abril 2022)
Last year we already tried the brand-new expression of La Guita Manzanilla Pasada En Rama. It was a slightly older follow-up of the unfiltered version of La Guita which they launched for the first time in 2015 (see my review of this first edition).
Lightly filtered wines are gradually becoming the standard in the sherry region, in all segments except the lowest supermarket echelons. We're now seeing the first wines that don't even mention en rama, assuming connoisseurs wouldn't expect otherwise. In a few years I even think the name may disappear.
Back to the wine. La Guita was founded in 1852 by Mr. Domingo Pérez Marín, in Sanlúcar de Barrameda. In 1908 it was one of the early registered trademarks in the region. Since 2007 it is part of the José Estévez winery. All of its grapes come from coastal vineyards, mainly from the Miraflores La Baja zone. They are sourced from more than 175 winegrowers in the Covisan cooperative.
The wine is then aged in two wineries, one of them in Pago Viejo (also the bottling plant) and another in the Barrio Alto (Calle Misericordia in Sanlúcar). The latter is an emblematic bodega with a history that dates back to the 16th century. La Guita En Rama is a further selection of butts from the best soleras in both of the bodegas.
Manzanilla La Guita En Rama (15%, Rainera Pérez Marín, Saca de Abril 2022, 37,5 cl)
Nose: a lot more depth than the regular La Guita. Fresh whiffs of sea air stand out, alongside lemons, bruised apples and hints of chamomile. A hint of almond sweetness in the background. Light iodine as well as faint hints of polish. Traces of hazelnut and a faint floral touch.
Mouth: dry but again quite bright, with a nice acidity. Clear salinity, mineral / chalky notes, followed by orange peels and dried apple slices. It is really a harmonious combination of the fresh accessibility of the regular version and the more complex Pasada version. Hints of olive brine and hay. In the end it returns nicely to a lemon-and-salt combo. Hints of almonds and walnuts in the (long) finish.
Availability: available from different shops like Coalla Gourmet or Bodeboca for instance. In Belgium we get it from Global Wineries.
Summary: Another really nice edition of La Guita En Rama. I'm always surprised how fresh and bright this is, making this one of the more accessible en rama Manzanillas in my opinion. A perfect Indian summer wine. I had it in my cellar for over a year and I'm sure it can be kept longer.