Manzanilla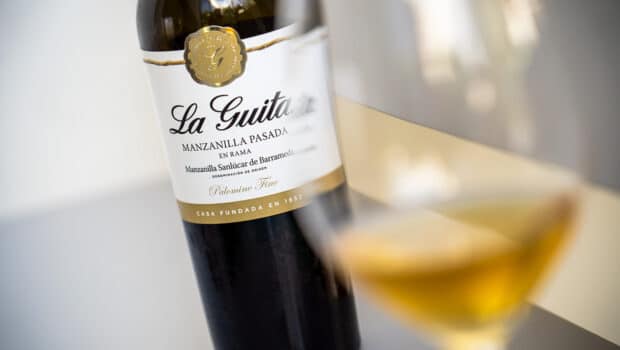 Published on September 27th, 2022 | by Ruben
0
La Guita Manzanilla Pasada En Rama
Registered as a brand in 1908, La Guita used to be bottled as an older Manzanilla Pasada until the early 1970s. Changing consumer preferences resulted in a shift towards a lighter, younger profile (now settled at around 4,5 years). This made La Guita become one of the most popular Manzanillas.
It is quite surprising that Manzanilla La Guita has always remained the only wine coming out of Bodegas Hijos de Rainera Pérez Marín. Even after the takeover by the Grupo Estévez in 1986, only the basic La Guita was offered for the next thirty years. This changed in 2015 with the first saca of the unfiltered La Guita En Rama.
Arouound the same time Equipo Navazos (partly run by Eduardo Ojeda, the technical director at Estévez) offered us a glimpse of other soleras. They released an older Manzanilla Pasada (La Bota 10, 20…, 50, La Bota 100…) as well as Amontillado (e.g. La Bota 31). These older soleras were set aside after the takeover and acted mostly as 'back-up' soleras. The idea was to draw from this older reserve whenever a younger solera required a boost. In practice though they were left untouched for many years.
Currently La Guita is aged in two systems. In the bodega 'Pago Sanlúcar Viejo' there's a solera system of 5 criaderas + solera row. In the bodega of the Calle Misericordia there are 6 criaderas + solera row. This new Manzanilla Pasada La Guita is drawn from both soleras. It is twice the age of the regular version: around 10 years.
La Guita Manzanilla Pasada En Rama (16%, Hijos de Rainera Pérez Marín, 50 cl)
Nose: freshness stands out. Dried wildflowers and herbs. Algae and wet wood on warm beach sand. Bread dough with a bit of the crust too. Subtle hints of orange peels and polished oak. On the other hand there are elegant oxidative notes that set it apart from the regular La Guita. Rich nutty aromas of salted hazelnuts and toasted almonds. Also the lightest hint of caramel as well as some vegetal hints.
Mouth: really full and wide, with a smooth and almost fatty onset, followed by chalky and mineral notes. Nice lemony acidity, as well as flashes of oranges and stone fruits, maybe peach. Then it gets drier, with more dried herbs and chamomile. Olive brine and coastal salinity. A subtle bitterness of the flor shines through as well. Then very light hints of Amontillado in the finish, with a great touch of warming wood and more of its chalky roots.
Availability: still quite a new product, but it's starting to appear in stores. Already seen at Bodeboca for instance, for around € 18 (50 cl).
Summary: A big round of applause for the widening of the La Guita range. This is a lovely Manzanilla Pasada, bottled at an interesting age. It balances elegant roundness with more powerful elements, resulting in a rewarding and highly gastronomic wine. Recommended.