News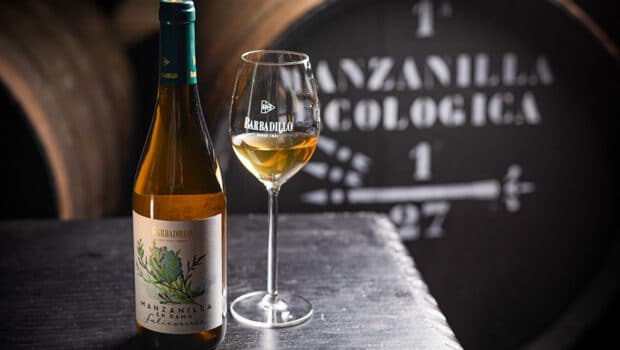 Published on November 15th, 2023 | by Ruben
0
Salicornia: organic Manzanilla from Barbadillo
Bodegas Barbadillo just released their organic Manzanilla named Salicornia. It is the culmination point for their range of organic wines which the winery started four years ago.
The origins of this Manzanilla are in September 2019, when Barbadillo cooperated with two growers that had been involved in organic vine growing for a long time. The first was in Balbaína (close to Sanlúcar), the other in Burujena (towards Trebujena). Precisely the Balbaína vineyard, where a good part of the grapes came from, was the first in the entire Marco de Jerez to obtain the 'organic' certification, in 2003. The grapes were vinified separately and were blended afterwards.
Sábalo > Patinegro > Salicornia
The first in this organic series was the unfortified white wine Sábalo 2019. This Vino de Pasto had been fermented in stainless steel and was aged for four months on the lees before bottling in 2020. The next year came Patinegro 2019, the older sister of Sábalo, which got an extra ageing in ex-Manzanilla casks. At the same time the bodega kept producing new vintages, setting aside a number of casks each year to form a new criadera. Together these wines from an organic collection named Cielo, Tierra y Mar (Sky, Earth and Sea).
Currently the they have a total of 100 botas that make up a solera system of three criaderas, aged in the north-west corner of the legendary bodega La Arboledilla. Salicornia is bottled from the 27 casks that make up the solera row. It is named after the pickleweed – a wild plant with strong saline nuances that is closely linked to the marshes, salt flats and the Cádiz coast.
The wine is obviously bottled as a Manzanilla En Rama in order to preserve its unique character. In the first release of Salicornia, only 3500 bottles will be put on sale, priced € 25 and available now from the Barbadillo webshop.
Trying Salicornia straight from the barrel
I happened to be at Barbadillo at the end of October, walking around La Arboledilla together with Armando Guerra. Right on time to get a sneak preview of Salicornia. I can assure you it is a cracking Manzanilla, different in style from a classic Manzanilla. There's a lot of maritime character but it also has a nice savoury side and plenty of depth for such a young wine. If you happen to come accross a bottle, don't hesitate and take it home.
As a side note, Salicornia is not the first organic Manzanilla. In the past Delgado Zuleta already released Entusiastico, also made with grapes from José Cabral in Burujena. However this was a one-time experiment in 2015 which didn't get a follow-up. So Salicornia is effectively the only ecological Manzanilla on the market today.