Manzanilla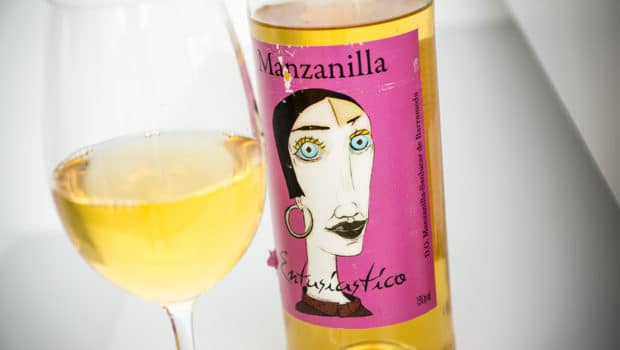 Published on January 12th, 2018 | by Ruben
0
Manzanilla Entusiastico

Manzanilla Entusiástico is the first organic Manzanilla. It was launched late 2015 by Pepe Cabral, a grower of ecological Palomino grapes in Trebujena and head of the organic growers group Mostolé, in coorporation with bodegas Delgado Zuleta.
The grapes for this Manzanilla come from a 1 ha vineyard in the Pago Burujena which was already managed for many years in an eco-friendly way. For this Manzanilla however the whole production – not just growing the grapes but also fermentation or fortification with organic wine alcohol – had to be certified by CAAE, the Andalusian agency for ecologic agriculture, as well as the European Union.
The wine started after the 2012 harvest and has been matured under flor for two years in two barrels taken from the solera La Goya at Bodegas Delgado Zuleta. In the following years the butts have been refreshed with new mosto twice a year – a slower rate than La Goya for instance, resulting in a more concentrated wine in less time. The solera has expanded over the years as well.
Manzanilla Entusiástico comes in a clear bottle with an innovative label, underscoring the experimental nature of the wine. More recently there was a second edition, now officially under the Delgado Zuleta brand with a different presentation.
Organic winemaking is rising in the Cádiz area, but I must admit I'm quite impartial to the ecological or organic part unless it aims for the best possible quality as well.
Manzanilla Entusiástico (15%, Núñez Barragán 2015)
An intense colour for a relatively young Manzanilla.
Nose: a bit uncommon but quite good. Medium aromatics. Hints of overdue Chardonnay but also already some flor notes, even after two years. Hints of cheesy lambic. Also a funky side that I associate with organic wines (not that I'm an expert on that, mind you). Sweet lemons and traces of dried apricots. Very light floral / herbal notes too.
Mouth: starts on cider notes and lambic beer again, indeed still a bit funky. Moves towards a more classic table wine until some herbal bitter notes comes by. Rather mellow in terms of flavours, and rather limited in terms of complexity. Some alcohol is noticeable as well, it needs more time to integrate.
Availability: I bought mine from Vila Viniteca for around € 20. The newer version from Delgado Zuleta is available for around € 15.
Summary: This is a peculiar wine. Not yet convincing as a Manzanilla (slightly alcoholic, low minerality) but interesting enough in its own right. Of course the solera is still very new - something you never see on the market. I hope to revisit in a few years.