Manzanilla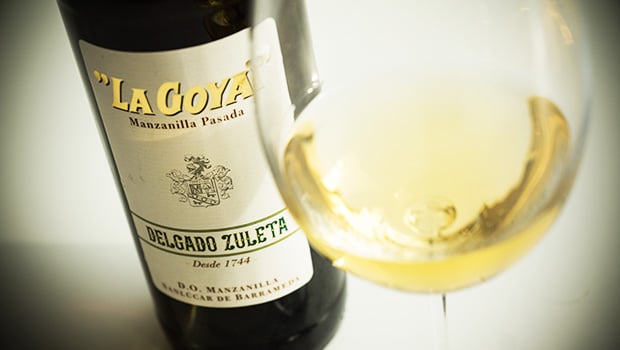 Published on February 20th, 2014 | by Ruben
0
La Goya (Delgado Zuleta)
A Manzanilla Pasada named after a flamenco singer
La Goya is the flagship wine from Bodegas Delgado Zuleta. It's one of the best known brands for Manzanilla Pasada, the older, more mature version of Manzanilla.
It takes the nickname of a flamenco singer and dancer, Aurora Jauffre, who apparently loved this wine.
While Delgado Zuleta used to own vineyards in the Miraflores area, like most other bodegas they have sold them and now purchase their base wines from different growers and large cooperatives. La Goya is made in a solera of ten criaderas – it is said to be around 6 to 7 years old.
There's also the Manzanilla En Rama La Goya XL, a slightly older version (10-12 years), bottled with minimal filtering from a selection of butts that was taken away from the original solera some 20 years ago, when the bodegas moved away from the town centre.
La Goya – Manzanilla Pasada (15%, Delgado Zuleta)
Nose: aromatic, with an above average salinity and hints of oyster shells. Lots of flor notes. Walnuts and white bread. Mediterranean herbs, even a nice minty edge. Some quinces and chamomile. Lemon peel. Finally a bit of polished oak.
Mouth: dry but fairly round and creamy, with a good dose of lime and yellow raisin. Sweet almonds. Then the maritime character returns, alongside (soft) green olives, with only a hint of bitterness in the finish.
Availability: fairly good, in specialized wine stores. I've paid around € 11 for a full bottle. Also available in 37,5 cl.
Summary: One of the more round and creamy examples of Manzanilla Pasada, almost fruity. Not the most intense wine but it works very well with fish and seafood.