Vino de Pasto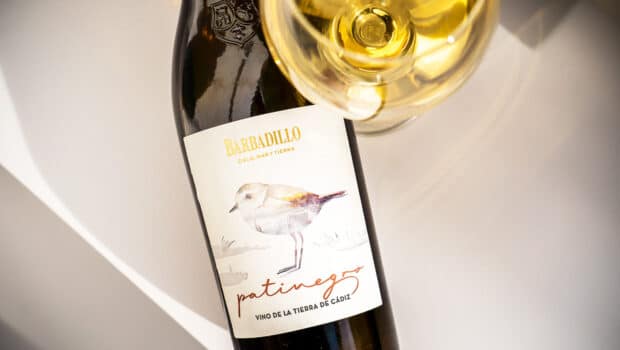 Published on November 21st, 2022 | by Ruben
0
Patinegro 2019 (Barbadillo)
The older sister of Sábalo – two interesting organic white wines from Barbadillo
Patinegro is the latest organic white wine from Bodegas Barbadillo. It is a sister of Sábalo, if you like: both come from the same vineyards. However Patinegro gets an extra ageing in ex-Manzanilla casks.
This dry wine is 100% Palomino, harvested in two vineyards on albariza soils. Both have been managed organically for more than 15 years. One is close to the sea and the other further inland, overlooking the marshes between Sanlúcar and Trebujena. Therefore the wine carries a maritime influence but also that of the unique marshes in the Guadalquivir estuary.
The name Patinegro refers to the Kentish plover (Charadrius alexandrinus), a vivid little bird that loves the dunes and wetlands around Cádiz. It often flies thousands of kilometers to settle there. This little fellow is endangered due to human activity. It symbolizes the need to take care of ecosystems and coastal areas.
The grapes have been vinified separately and were blended afterwards. After a spontaneous fermentation it aged on the lees for four months. Then it spent almost a year in old casks, under a layer of flor. More details can be found on the Barbadillo Singular website.
Patinegro 2019 (13%, Barbadillo 2020, 1500 btl.)
Nose: a nice combination of mineral notes, sandy beaches and seashells with a ripe apple note and a big yeasty hint of geuze beer. Some juicy fruits underneath, peaches perhaps. Light fennel as well.
Mouth: quite full and creamy. There's a nice fruitiness that you don't see often in wines from the sherry region, with a decent acidity. More ripe apples and peaches. Hints of dough. While the wood is hardly noticeable, I guess it added some weight and a subtle hint of flor. Later the savoury and saline notes come out as well as the lightest bitter touch.
Availability: around € 16-18.
Summary: This is a slightly more complex, more weighty version of Sábalo. I find it tasty and a good match to lots of dishes, but a little on the safe side maybe. Overall there's a nice hint of Manzanilla to it, which can work well as an introduction for wine lovers.