Amontillado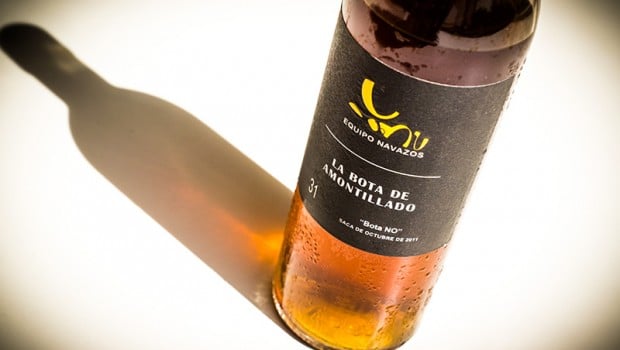 Published on August 13th, 2013 | by Ruben
0
La Bota de Amontillado n°31 (Equipo Navazos)
Although the cellars of Hijos de Rainera Pérez Marín in Sanlúcar de Barrameda contain several Manzanilla Amontillada soleras, none of them are commercialized as their only product is still La Guita. In fact this is the first Amontillado release ever from this Bodega.
Most of their Amontillado soleras have remained practically untouched since La Guita rearranged its stocks in 1980 and moved most to the cellars on the road to Jerez. Among them, one solera labeled Manzanilla Pasada Vieja 1/10 (i.e. containing ten butts) holds the most balanced and elegant wine, so it was this solera that provided the four butts used for La Bota de Amontillado n°31 by Equipo Navazos. Four butts yielded 900 liters or just over 1700 bottles (50 cl).
This is an Amontillado defined by an intense Sanlúcar character — though perhaps not as acutely saline as some other Amontillados previously bottled in the "La Bota de…" series.
The label mentions Bota NO which means the barrels were taken out of the regular refreshment scheme of the solera. These kind of barrels are highlighted for their exceptional quality or distinctive character. Topping them with new wine could take away its personality. Since they are not refreshed, the average age of the wines inside the barrel will increase rapidly, creating more intense wines.
In August 2012 a dozen of other Amontillado casks from the same Bodega were selected for La Bota de Amontillado n°37.
La Bota de Amontillado n°31 (20%, Equipo Navazos 2011, 50 cl)
Nose: fragrant nose with brown candy sugar, baked banana and maple syrup up front. Fresh figs and toffee. Also beautiful notes of polished oak and a little turpentine / iodine, I love that. Leather and tobacco. Evolves on herbs (rosemary bread), olives, roasted nuts and blood oranges. Indeed the coastal notes are in the background here, but there are chamomile notes and chalky notes that give away its origins. Hints of ponzu sauce. Just great, very smooth and complex.
Mouth: very good grip. Dry and rich with nutty aromas as well as a powerful, refreshing acidity (ponzu again). Some roasted notes, and more saline notes as well. Fading on cashew nuts. Very long finish with an excellent sour edge.
Availability: sold out, I believe. Around € 50.
Summary: A marvellous wine with a unique nose and a crisp, harmonious palate. Excellent with food or on its own. Quite possibly the best Amontillado I've had and a perfect example for the quality of Equipo Navazos.