Manzanilla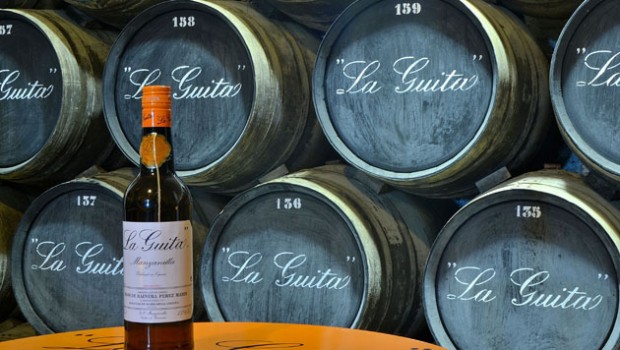 Published on July 22nd, 2013 | by Ruben
4
La Guita Manzanilla
La Guita is basically the only wine produced at the bodegas Hijos de Rainera Pérez Marín in Sanlúcar de Barrameda (part of the Grupo Estévez). The name comes from the old Andalucian slang guita meaning cash (its founder was renowned for wanting to be paid in cash). The more common meaning though is string (hence guitar), highlighted by the fact that every bottle has a string around its neck.
The solera holding this wine is huge, comprising around 16.000 butts in two cellars. Every year, a maximum of 35% of the solera's capacity is extracted for sale and consumption.
This is one of the most popular Manzanillas in Spain, and more or less the official drink at the Feria de Sevilla. La Guita used to be released as an older manzanilla pasada (around 12 years) produced by a single vineyard (until 1972), but due to this popularity it needed to be a little more flexible and younger (believed to be around 4,5 years).
Nowadays all the grapes are bought from the Covisan cooperative, which groups 170 vine growers in Sanlúcar, so the production cycle is still 100% Sanluqueña, with a focus on the pago Miraflores. While maybe not as old as before, it is still a respected Manzanilla, one that is probably not for beginners due to its slightly firmer character.
La Guita was the first brand to clearly state the bottling date on their bottles, which is funny because I think it's one of the few widely available Manzanilla that age quite well in bottle in my experience.
La Guita Manzanilla (15%, Hijos de Rainera Pérez Marín)
Nose: fresh, with typical Manzanilla aromas. Green olives, chamomile and a yeastiness of flor. Gently briney. Some flowers and fruits (melon?) in the background, bringing some feminine touches to this wine.
Mouth: medium body, very dry and slightly tangy with hints of chalk and salt. Lime. Light breadcrust and minerals, as well as subtle nutty flavours. Medium long finish, still full and nicely balanced.
Availability: widely available. Around € 8.
Summary: A perfect daily Manzanilla with an excellent character. Slightly more savoury and tangy than some other common Manzanillas.