Bodegas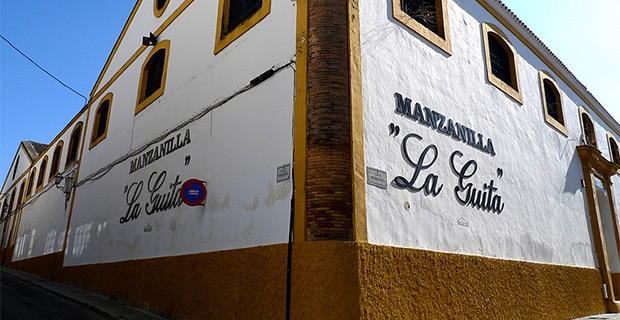 Published on August 15th, 2013 | by Ruben
0
Hijos de Rainera Pérez Marín
The Bodega Hijos de Rainera Pérez Marín was founded in 1852. Since that date it has been producing the Manzanilla La Guita, the emblem of the winery and still the only product (at least under this brand) alongside a sherry vinegar. Since 2007 the bodega is part of the Grupo Estévez, uniting it with Valdespino and Marqués del Real Tesoro and also providing Manzanilla for these brands.
Hijos de Rainera Pérez Marín manages its own vineyards which replenish the 11-scale La Guita solera. Ageing is done in three locations. The oldest location in Calle Misericordia (at the highest point of Sanlucar) is also called Bodega San Juan de Dios after the hospital that was there in the 16th century. There's also Pago de Miraflores and in 1993 a third bodega Pago de Sanlúcar Viejo was acquired. With more than 11.000 m², it stores a total of around 14.000 casks dedicated exclusively to the ageing of La Guita Manzanilla. The modern bottling facilities are also located on these premises.
The bodega owns several other soleras apart from La Guita. Some of them contain manzanilla pasada, which is not sold but maintained as a kind of "backup solera" in case the blend of La Guita should need to be improved. While these are kept in the state of manzanilla pasada, there are also smaller soleras that contain Amontillado wines. Equipo Navazos has released small quantities from these hidden soleras at Hijos de Rainera Pérez Marín, e.g. the La Bota de Amontillado n°31.
Manzanilla La Guita
Manzanilla stands for 70% of all Sherry sales in Spain and La Guita accounts for a big part of this volume, 250.000 cases each year. La Guita used to be released as an older manzanilla pasada (around 12 years) produced by a single vinyard, but due to this popularity it needed to be a little more flexible and younger (believed to be around 5 years). Nonetheless all the grapes are bought from the Covisan cooperative, which groups 170 vine growers in Sanlúcar, so the production cycle is still 100% Sanluqueña.
Contact
Calle Misericordia 1
Sanlucar de Barramedaz
Tel: (+34) 956 319 564
www.laguita.com
Visits by prior appointment only.