Visits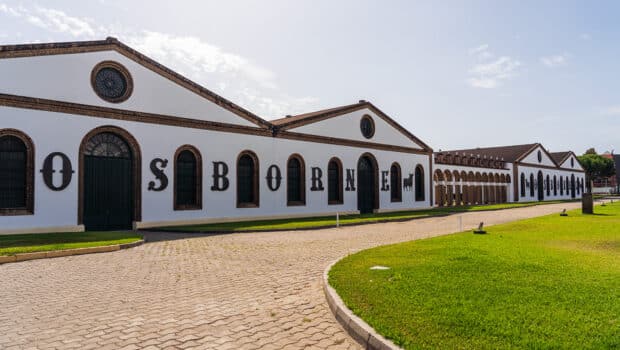 Published on November 6th, 2023 | by Ruben
0
Visiting Osborne
I recently made a trip to the sherry region again – this must have been the 6th or 7th time but I admit I lost track… Like most of my trips, it was a mix of visiting old friends and trying to see a number of bodegas that I hadn't visited before. The first was Bodegas Osborne.
Osborne has a large history in Jerez, linked to Duff Gordon, a name that has now disappeared. It is the largest producer in El Puerto de Santa María. For more history, read my background article on Bodegas Osborne.
I started at the brandy bodegas. These are the huge buildings that you see in the outskirts of El Puerto, when you enter the city through the N-IV. It is an impressive building which includes maturation warehouses but also a cooperage, bottling plant, laboratory and more. Recent regulations don't allow high alcohol products to be stored in the old town, so they had to move out.
Osborne brandy: Bodega del Tiro in El Puerto
I was greeted by Marcos Alguacil, the charming enologist of Osborne. He had been working on the side of Ignacio Lozano since 1998 and took over when he retired early 2022. If you look at some of his latest achievements like the Osborne En Rama series, it's easy to see he is an important asset in Osborne's team.
Even though the Bodega del Tiro is a functionalist, concrete building from the 1970s, I find the wide arches really beautiful. I'm glad I can present a couple of pictures, as you'll rarely find any on the internet. The lighting makes it notoriously difficult to takes photographs though.
We started by trying a couple of young brandies from the soleras of Magno (Brandy Solera Reserva) and Veterano, as well as from the Brandy Solera Gran Reserva. Then we moved on to the second nave where they keep premium soleras like Carlos I. It was great to compare the regular version to the limited editions finished in Amontillado casks or Pedro Ximénez casks. For me the highlight of this brand is the excellent Carlos I Imperial XO, which still holds some of the oldest spirits taken over from the lost Bodegas Domecq. We also had Conde de Osborne and the Dalí version straight from the cask. All great products.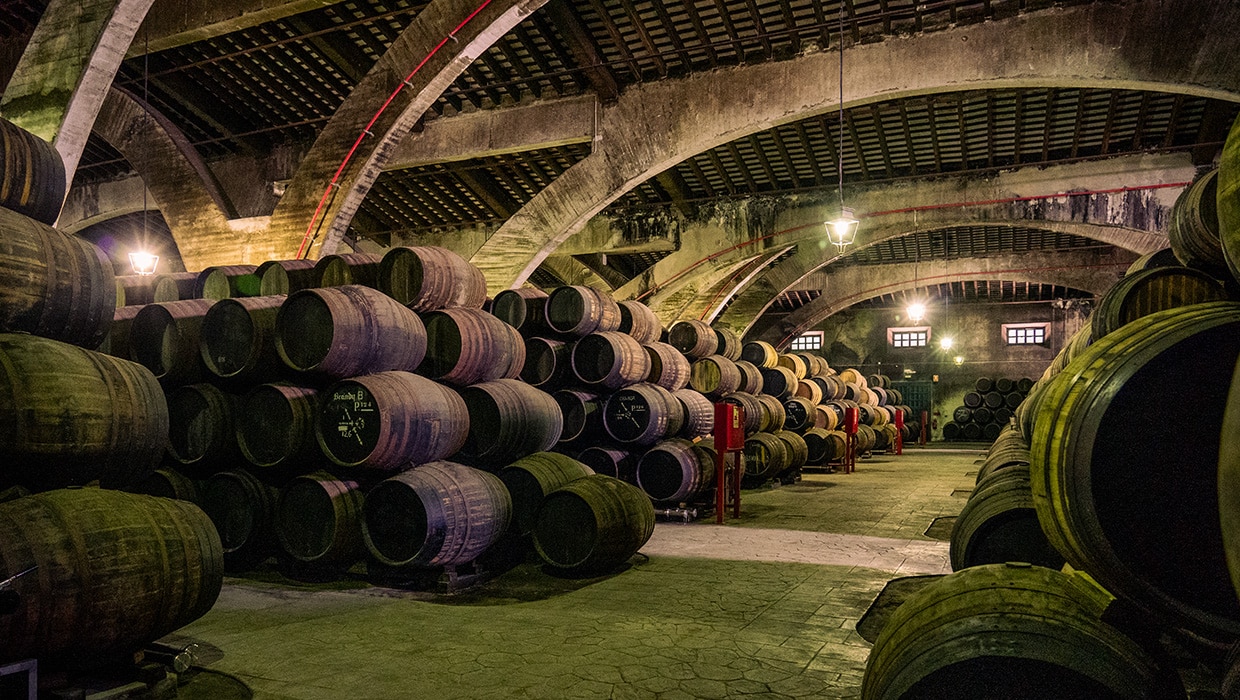 Carlos I Legacy: forgotten brandy
The really impressive part is where they keep the 'forgotten' brandy. For instance, a remaining cask from the dismantled solera of the Brandy Gran Capitán (untouched since the 1980s). Or casks that hold brandy of up to 100 years old, but nobody knows what it is exactly. There's also a stock of higher strength casks or casks with rather extreme flavour profiles. They are sometimes used to 'touch up' and add character to bottlings, but you will never taste them on their own.
I found it quite surprising that Marcos sometimes finds a cask undrinkable, while I thought it was highly characterful. I'm a whisky and cognac aficionado and to me the lower ABV of 40-42% is one of the biggest downsides of Brandy de Jerez. If only they would release higher strength versions… I'm afraid this will never happen though, as producers are diluting the spirit early on during the maturation.
Osborne will soon release the Carlos I Legacy Collection. This series of limited editions will unearth some of these oenological jewels, digging into some of these irreplaceable 'leftovers'. Carlos I Legacy Collection SB will be the first edition, composed around the historic solera from the Calle San Bartolomé. The average age of this brandy will be 27 years.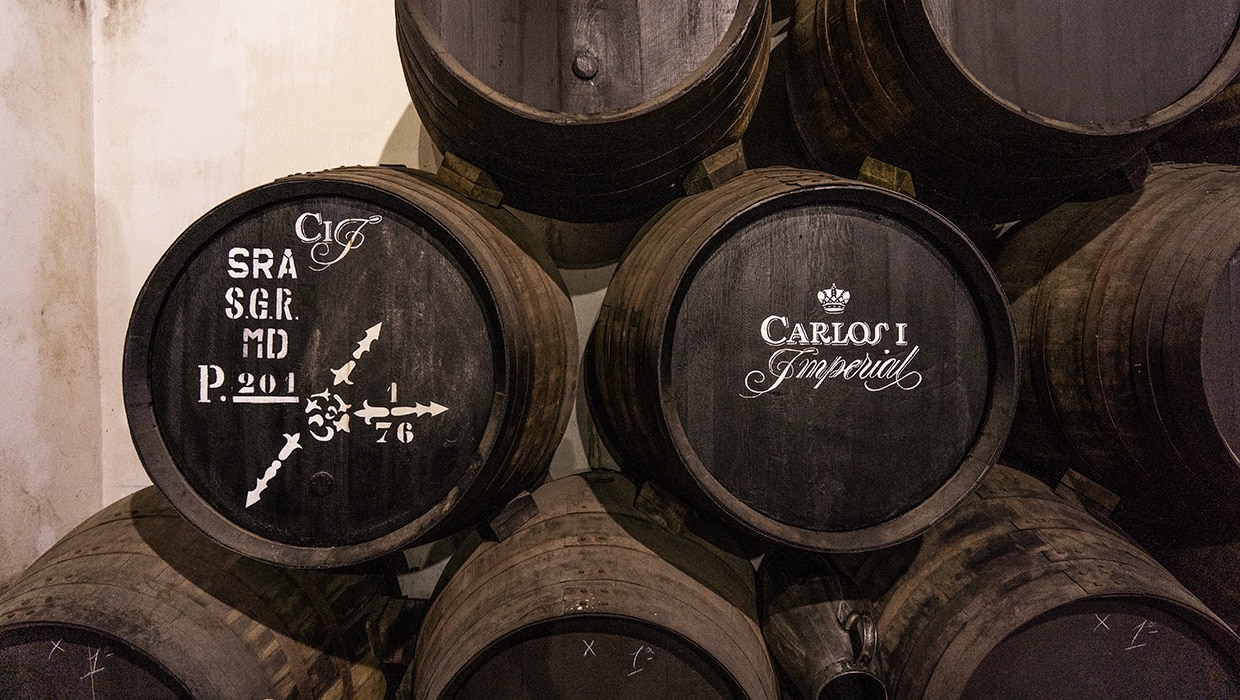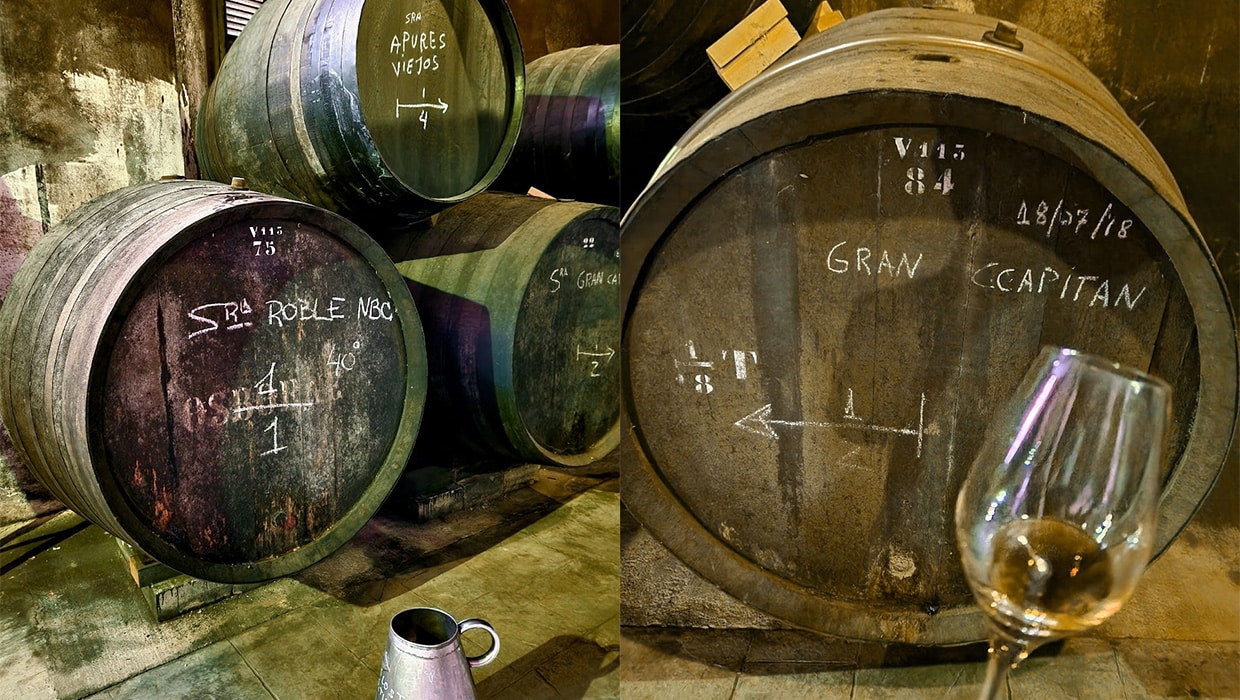 Bodega de Mora
The next day I came back to visit the wine bodega, not far from the Plaza de Toros in downtown El Puerto. This is where Osborne owns an entire block of warehouses that go back a long time. I was welcomed by Blanca Smits, one of the new team members who did an excellent job hosting me in perfect English (even a few words of Dutch, ha!).
The entrance is through a beautiful courtyard lined with trees. If you go left, you can enter the excellent restaurant Toro Tapas, offering typical Andalusian gastronomy in a renovated bodega building. There's also a big shop with sherry wines, brandy and other products from the Osborne group, like the outstanding jamón de bellota Cinco Jotas.
When you move on towards the next courtyard, you enter the Bodega de Mora. This iconic bodega, built in 1772, always held one of the biggest collections of VORS wines in the sherry region. Moreover, it is one of the most atmospheric wineries I've seen. It is really cosy and has wonderful lighting.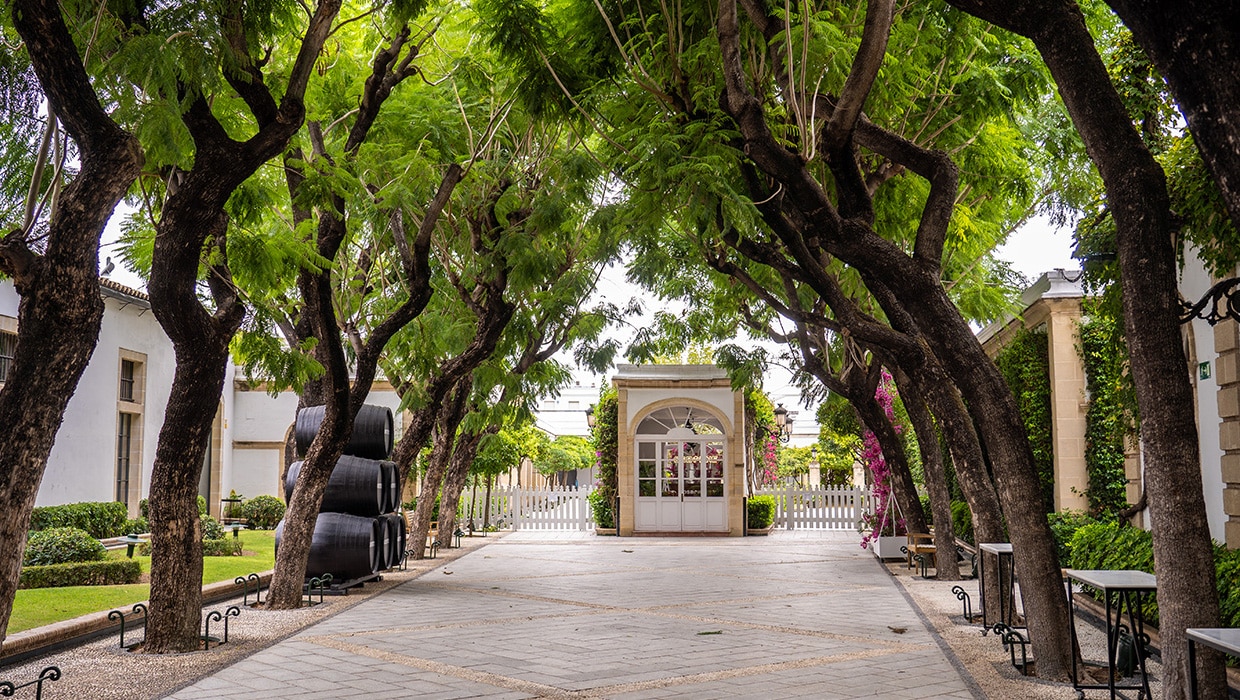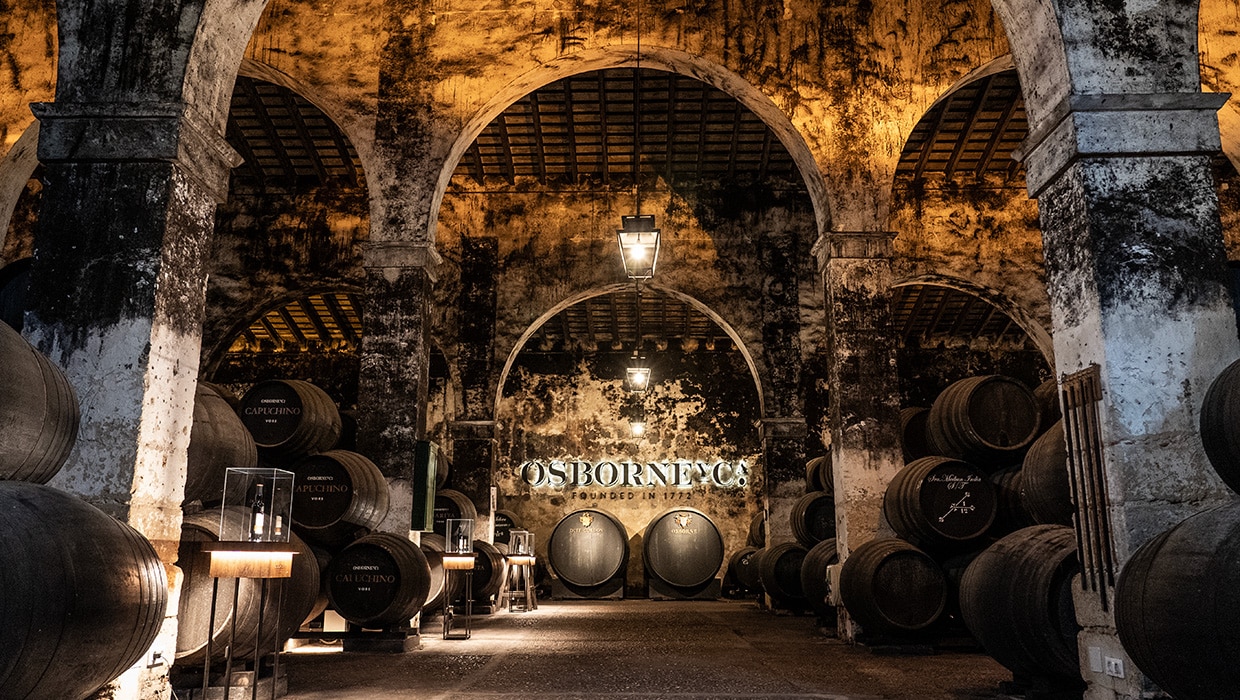 Osborne VORS Sherry wines
Since the year 2008, Osborne owns two sets of really old wines. Nowadays they are divided into two collections:
Osborne VORS Sherry
Osborne Rare Sherry (a bit of an exception to the general names VOS / VORS, granted by the Consejo Regulador because no other bodega holds so many old wines)
The VORS range holds the soleras started by Pedro Domecq: Capuchino, Sibarita (my favourite), Venerable and 51-1a. While my reviews include the older bottle style, they are now bottled in opaque black 50cl bottles, with bronze labels. The Rare Sherry range has golden labels, see my review of the Oloroso Solera India.
Against the east wall there is an overview of all the soleras in order of foundation, beautifully laid out again. Some of the soleras are surprisingly small, such as the remaining botas from the solera El Cid, which is a private solera only available to the Osborne family. In the corner I also noted a huge tonél that holds Pedro Ximénez Viejo.
The Toro Gallery
In the annex bodega María Manuela, which dates back to 1841, Osborne installed the Toro Gallery. This is an exhibition space which displays the great milestones of the company.
One of them is the iconic Osborne bull, of course. It was created in 1956 for the Brandy Veterano. Nowadays it is much more than an advertising medium – in fact it was considered an element of cultural interest (BIC) in 1988. My personal highlights in the room were sketches by Salvador Dalí as well as the Swarowski crystal bull.
The Toro gallery is a nice diversification after the winery. They also have extra buildings which serve as a private lounge or as a space for events or weddings. It is clear that Osborne takes pride in welcoming tourists in a nice way and is investing a lot in these historic buildings. A recommended visit when you're in El Puerto!
Visit Osborne yourself
You can visit the Bodegas de Mora in the Calle Los Moros 7, 11500 El Puerto de Santa María. The brandy bodega is not open to the public.
The bodegas can be visited Monday to Sunday from 10am to 3pm. In summertime also Monday to Saturday from 7pm to 10pm. Depending on the time, you can take a tour with an English, German or Spanish guide. Check their website for the latest information.
Reservation is required through visitas.bodegas@osborne.es or +34 956 869 100.