Bodegas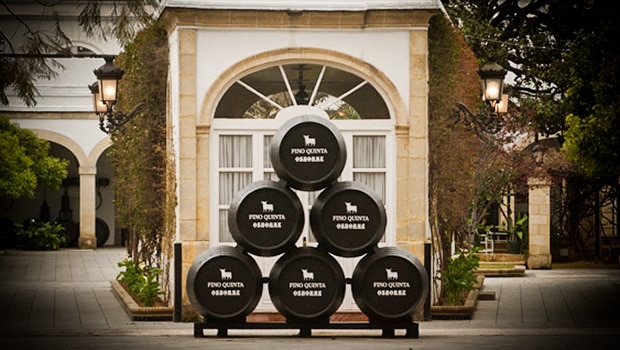 Published on October 2nd, 2014 | by Ruben
1
Osborne
Osborne is one of the oldest firms of wine and spirits in Spain. It was founded by the young English entrepreneur Thomas Osborne Mann, who started shipping his own sherries in 1804. Initially he was using the bodegas of James Duff (from the legendary Duff Gordon company) to store his wines. In 1833 Thomas Osborne became a partner in the Duff Gordon business and in 1872 the Osborne family acquired all the shares. Nowadays Osborne claim they were founded in 1772 but that's before Thomas Osborne arrived in Cádiz – they are probably referring to the foundation date of Duff Gordon.
At first the Osborne name was used exclusively for the Spanish market – Duff Gordon was the export brand. Osborne took over both brands and the original bodegas and soleras. Some products were still called Duff Gordon up to the 1980's when they disappeared altogether and everything was branded Osborne.
Osborne owns a large bodega complex in the outskirts of El Puerto de Santa maría, as well as an older bodega in the centre, a cathedral-type bodega which used to belong to the family Moreno Mora. They used to own over 200 hectares of vineyards in the Pago Balbaina (Viña Atalaya) near Jerez but all of these were sold off in 2010. It's a clear indication of the fact that sherry is increasingly becoming a secondary business for Osborne – the sales of brandy, hams and cheap types of alcohol are much more profitable.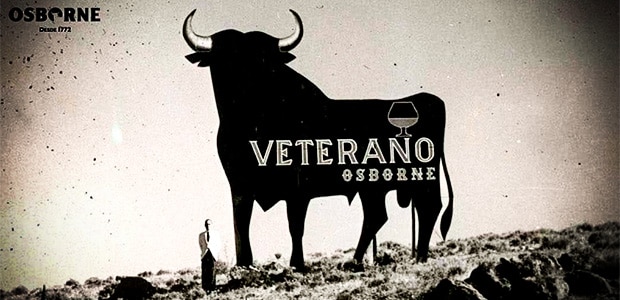 Osborne bull logo
Who doesn't know Osborne's iconic logo and the silhouettes of the Toro Negro that are spread over the Spanish countryside? Originally the black bull was used as a logo for their popular brandy Veterano and it grew to become a symbol for the entire company.
The first bull was placed in 1957 next to the A1 highway Madrid – Burgos, 7 metres high. Current examples are 14 metres high and weigh 40 tons. They used to carry the name Osborne, but in 1988 a law prohibited all kinds of billboards next to roads. In 1997 a compromise was reached: the slogans had to disappear but most of the bulls could stay. Nowadays 90 toros can be seen across Spain, the website of Osborne has a Google Map.
It shows that the bulls became much more than just a marketing element. It's shown on T-shirts, flags and car stickers, Keith Haring decorated it as one of his artworks… It's an important part of the Spanish heritage.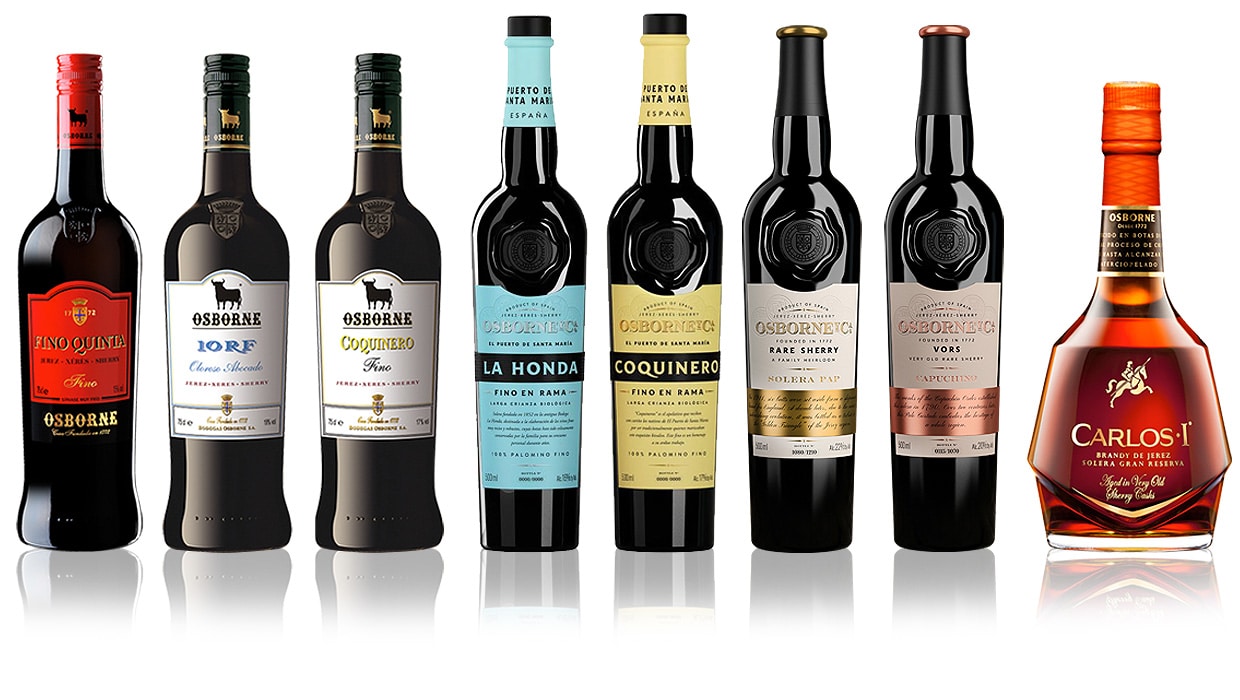 Osborne's sherries can be divided in four large ranges: supermarket sherry, 'premium' sherry, the Rare & VORS range and since 2021 also an En Rama range.
Osborne supermarket sherry
A range of cheap wines that are regularly found in supermarkets in The Netherlands, Germany and other markets.
There's an Osborne Manzanilla, Fino Dry, Medium Amontillado, Amoroso Rich Golden and Sweet Oloroso Cream.
Osborne Premium sherry
Fino Quinta, the house's flagship Fino of around 4 years of age. A wine matured in El Puerto which means it displays some characteristic petrol-like aromas.
Fino Coquinero: a longer aged Fino of around 6,5 years old.
Oloroso Bailén, a dry Oloroso that's 10 years old
Oloroso 10RF, a sweetened Oloroso Medium, around 6 years old
Cream Santa Maria, around 6 years of age
Pedro Ximénez 1824, around 6 years old
Osborne Rare Sherry + VORS sherry
Wines coming from two sources. On the one hand there are the Rare Sherry wines matured in the bodega La Honda, which were once for the private consumption of the Osborne family or for select customers. On the other hand there is a range of sherries from four soleras taken over from Domecq / Pernod Ricard in 2008. In 2019 they received a new packaging with bronze and golden accents.
Amontillado Solera AOS (25yo from a 1903 solera, dry)
Palo Cortado Solera PΔP (30yo from a 1911 solera, 8% PX)
Oloroso BC 200 (40yo from a 1864 solera, 12% PX)
Solera India (25yo from a 1922 solera, 20% PX, this used to be called Oloroso Abocado)
Solera Pedro Ximénez Viejo (30yo from a 1905 solera)
Osborne En Rama sherry
Coquinero Fino En Rama, around 6,5 years of age and bottled with minimal filtering
La Honda Fino En Rama, from a solera founded in 1852 (solera + 9 criaderas) with robust wines, bottled at around 12 years of age at 16% ABV
La Honda Amontillado En Rama, a wine of around 22 years, an evolution of the Fino La Honda
Osborne also produces Portuguese port wines, Spanish local wines (D.O. Rioja and D.O. Ribero del Duero, among others), brandy (Veterano, Magno, Carlos I, Conde de Osborne…) and all kinds of other drinks (Seagram's gin, Santa Teresa rum, Ponche, Markham tonic, Monster and Toro XL energy drinks). They also produce the TORO olive oil and own the excellent brands of Ibérico hams Cinco Jotas and Sanchez Romero Carvajal, as well as a restaurant chain. It's a big brand and sherry seemed to play a minor role at some point, although this is now changing.
Osborne also has a tapas restaurant in El Puerto, check out my list of the best places to eat in the sherry region.
Contact
Bodega del Tiro
Ctra. Nacional IV, km. 651
Bodega de Mora
C/ Los Moros
El Puerto de Santa maría