Oloroso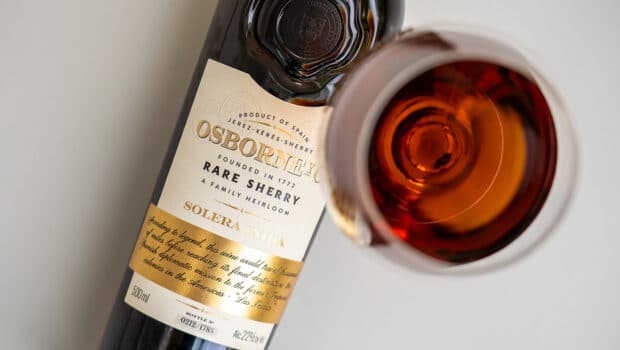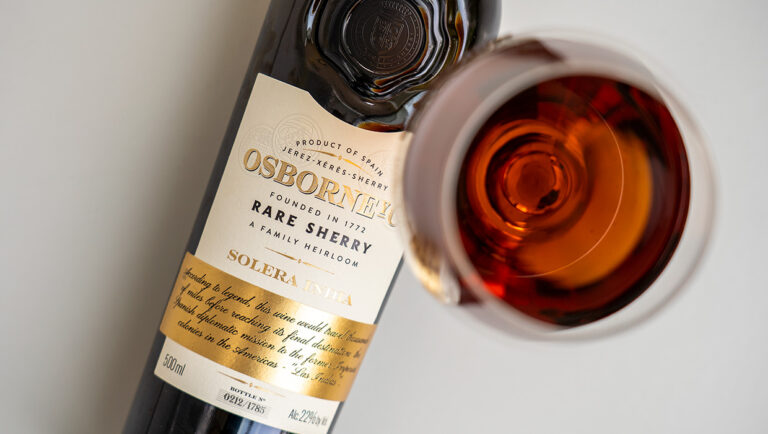 Published on January 28th, 2021 | by Ruben
0
Oloroso Solera India (Osborne)
This is another head-to-head comparison of a very old and very new bottling of the same wine, as part of the Bottle Aged Sherry tasting during Sherry Week 2020.
Osborne is one of the big names in the sherry region. Like so many others, this bodega in El Puerto de Santa María was founded by an Englishman, Thomas Osborne. Currently they have two premium ranges, both recently rebranded. Although they are commonly named the "VORS range", a lot of them are actually under 30 years. Solera India is part of the rarest wines (gold label) that have originated at Osborne, while a second series (bronze label) contains wines acquired from other sources a few decades ago. The top wines were part of the family reserve, it wasn't until 1992 that the bodega decided to release them on the market.
Solera India is an off-dry or lightly sweet sherry, containing about 80% of Palomino and 20% of Pedro Ximénez, aged together from the beginning. Under the latest sherry regulations this is officially a Medium sherry but the biggest part of it would be Oloroso style. The solera was founded in 1922. It was originally exported to diplomats in Peru and Colombia – a part of the world that was referred to as the Indies. It is a sweeter kind of Oloroso, a style known as English back then. Nowadays the solera is not only refreshed with Oloroso and PX, but also Amontillado which supposedly gives it a lighter character. The wine is now around 25 years of age on average.
After double-checking with the bodega they confirmed our oldest bottle was bottled between 1995 and 1998, when the Rare Sherry range had just been launched. The modern version is a brand-new presentation that was introduced last year during Sherry Week. It underscores the premium character of the wines and the bodega, with a low outturn of just 1500 bottles per year worldwide and prices typically around € 200 per bottle.
After the tasting I noticed the old bottle seemed to have two labels glued on top of each other. I soaked off the top label and noticed the one below was almost identical except for the term Oloroso Abocado. Around 2013 this was forbidden by the Consejo Regulador and so the bodega had to replace it with just Oloroso.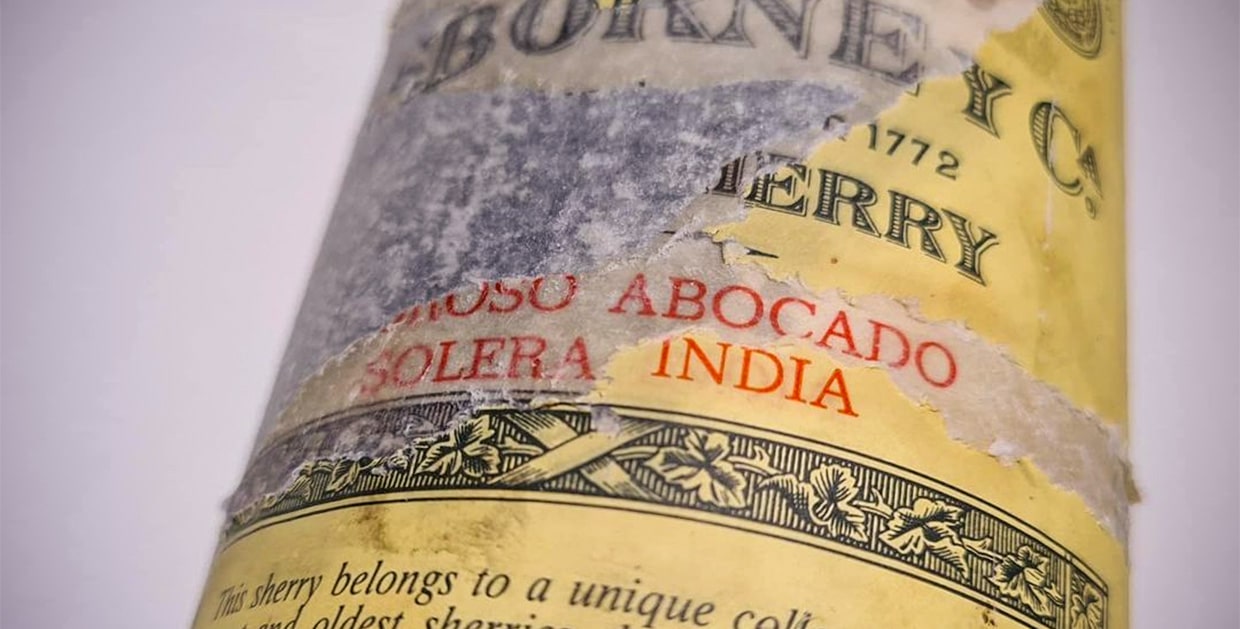 Solera India 'Medium' (22%, Osborne Rare Sherry 2019, 50 cl)
Nose: rather classic and aristocratic, with a very wide and fragrant nose. Lost of furniture polish (love that) mixed with roasted nuts, cinnamon pastry, dark berries and aromatic herbs. Something delicately floral. Dried apricots and orange peel. Toast with honey. I would swear you can sense the Amontillado that went into it – there's a certain round lightness to it. In any case a great bouquet of oxidative influences.
Mouth: rich and unctuous. There's toffee, raisins and apricots at first, but it quickly evolves into Turkish coffee, dark chocolate and dark brewed herbal tea. Some peppery wood as well. Molasses and figs. A generous degree of acidity as well, which balances the other flavours. It's off-dry indeed, I imagine the sweetness took away some astringency but didn't make it sticky sweet. A slight tannic edge, leading to a long, spicy finish.
Availability: rarely seen outside of Spain and quite expensive. Vinissimus and Vila Viniteca seem to have slightly older stock, while the new one is found at Grau Online and Coalla for instance.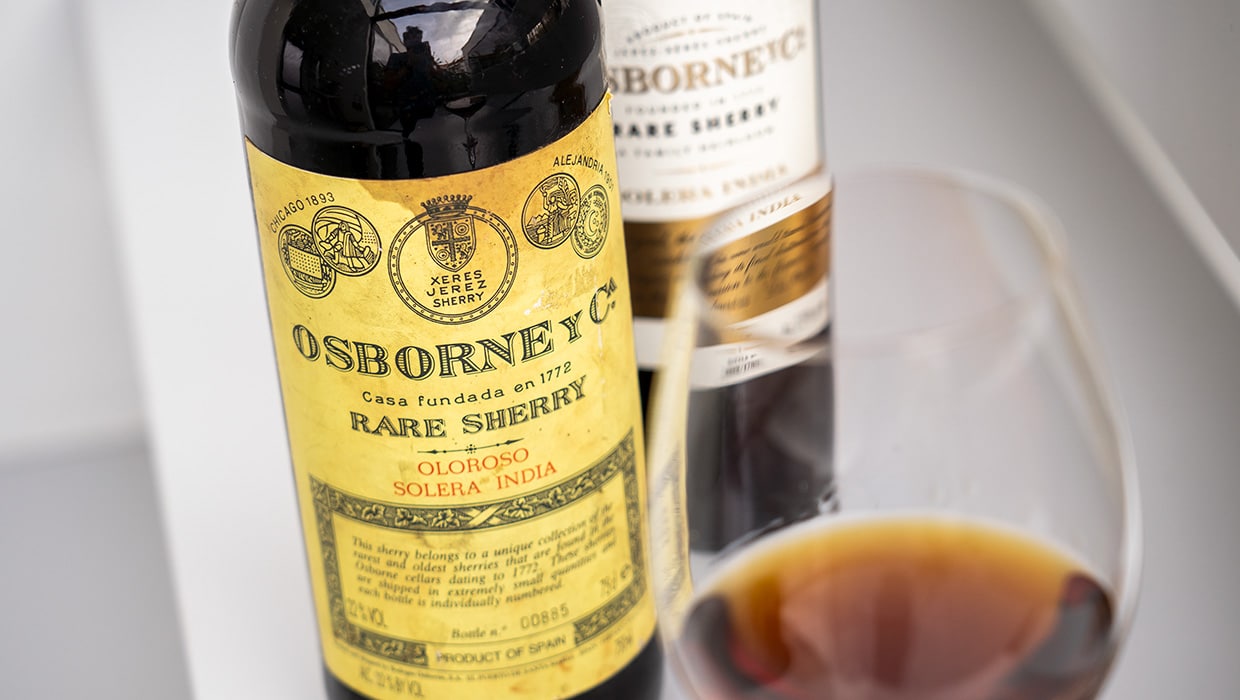 Solera India 'Oloroso' (15%, Osborne Rare Sherry +/- 1996, 75 cl)
Nose: this had a funny synthetic note at first, hard to describe. In between boat varnish, diesel and plastics. Those are not totally unexpected – I've found them in very old PX wines as well. They may seem strange in a wine but I find them rather enjoyable. There's also a balsamic note. After some airing it gets to dark coffee, maple syrup, orange peel and some minty freshness.
Mouth: more on burnt caramel and dark chocolate with a pronounced bitter side, almost medicinal (cough syrup). It's full of clove and cinnamon, with a striking acidity. Some smoky cedar wood  and mint chocolates in the background. It wouldn't misstand in a line-up with some of these early 1900s PX wines. Here bottle ageing has probably intensified and concentrated the wine further, although we'll never know what the starting point was, of course. It simply may have been older or less 'managed' in the past.
Summary: These two wines clearly come from the same family, but I believe the solera has been altered in between bottlings. The bottle aged version has such intensity and power that I assume it was already a heavier profile when it was bottled. Osborne must have upgraded the wine, making it more elegant and balanced (perhaps thanks to the addition of Amontillado?). I prefer the modern version, which is an excellent, aristocratic sherry.