Oloroso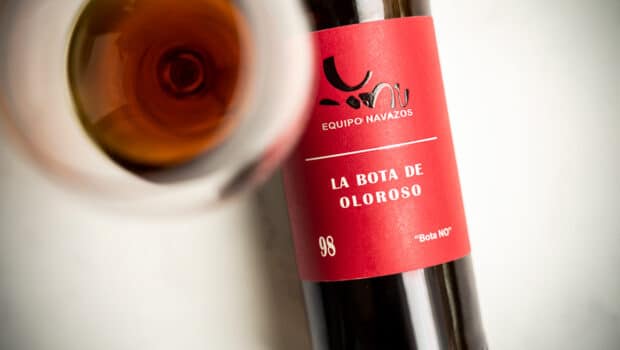 Published on August 29th, 2023 | by Ruben
0
La Bota de Oloroso 98 'Bota NO' (Equipo Navazos)
La Bota de Oloroso 98 is a sister of La Bota 63 which I've reviewed a few years ago. The wine was sourced from a single barrel in a very old Oloroso solera at Manuel Aragón in Chiclana.
This Oloroso is very old, surely close to 90 years. Equipo Navazos seems to have a thing for these extremely old, extremely concentrated wines. Some prestigious reviewers consider them undrinkable because they have such a high acidity and accentuated bitterness. I think they're incredible: not for every day drinking, but always impressive when sipped carefully. I opened this bottle a while ago with friends and everyone was blown away by the intensity.
La Bota de Oloroso 98 'Bota NO' (22%, Equipo Navazos 2020, 37,5 cl, 500 btl.)
Nose: extremely powerful and concentrated. A lot of exotic woods and polished floors, with walnuts and volatile hints of raspberry vinegar. In fact the acidity and fruitiness (plums, raisins, citrus peels) is quite wonderful. Some floral hints as well. Then plenty of herbal extracts and a hint of iodine-laden sea air. Worn leather, light menthol, even a whiff of petrol and lacquer paint. Beautifully exhuberant.
Mouth: superbly sharp and powerful. Extremely high acidity, combined with a firm saline hint of anchovies. Beware! Later it unfolds different registers with some umami notes. Also a smoky edge, plenty of dried herbs and spices. Yuzu juice and soy sauce appear, as well as roasted nuts, wood extract, curry spice and earthy notes. Highly concentrated.
Availability: typically around € 90. Still available from Vila Viniteca or Bodeboca for instance.
Summary: I'm sure you haven't had anything like this before: this wine is like a razorblade. It sharpens your senses and challenges you. Some will find this too sour, too salty, too extreme and painful to drink - others will be blown away by the experience. This Oloroso is a wine to sip slowly, with caution.