Oloroso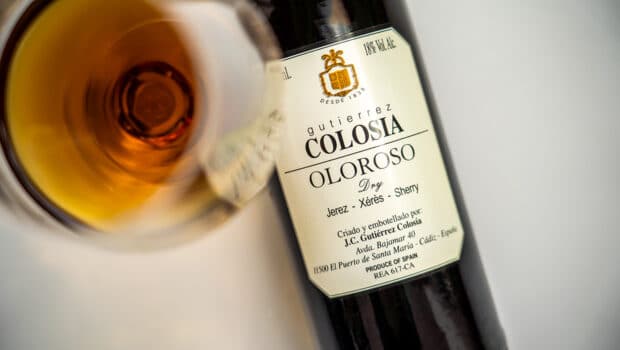 Published on May 17th, 2023 | by Ruben
0
Colosía Oloroso Seco (Gutiérrez Colosía)
This is the classic Oloroso Seco from the standard range at Bodegas Gutiérrez Colosía. Like most of the other wines from this house, it has a good name even though there's little to make it stand out from the crowd. Grapes are sourced from different growers and the age is around 5 years on average. The solera system seems to be founded 20 years ago.
Pretty much an average, traditional Oloroso, except for the fact that it's aged in El Puerto de Santa María which tends to give it a nicely coastal edge.
Colosía Oloroso Seco (18%, Gutiérrez Colosía, L1022)
Nose: pleasant and inviting. There is a big nutty side (walnuts, hazelnuts), with dates and raisins. Hints of toasted brown bread. Then more uplifting hints appear, of polished wood and leather. Overall the nose is quite savoury, albeit with a suggestion of syrupy sweetness in the background. If you get a fresh bottle, then you're probably getting a hint of iodine as well (Colosía is basically made on the quay of the Atlantic ocean) but in my experience this tends to disappear after a while.
Mouth: dry with an assertive acidity. Hardly any sweetness now. Instead there are hints of walnuts and old oak, as well as worn leather in the sun. A little curry spice. Dry figs and tobacco leaves. It's not very old and mid-palate it gets a little thin, with a light bitter edge. Despite the lightweight character, all the typical elements are present. Medium finish, dry and nutty with a nice warmth.
Availability: quite good, typically around € 25. Available from Master of Malt, Vinissimus, Very Sherry and other retailers. Also in half bottles.
Summary: Not the most complex Oloroso, but decent value for money. A classic mellow style with a nice character despite the modest age. My preference inclines towards their other Oloroso Sangre y Trabajadero, but this seems to have a wider distribution.