Cream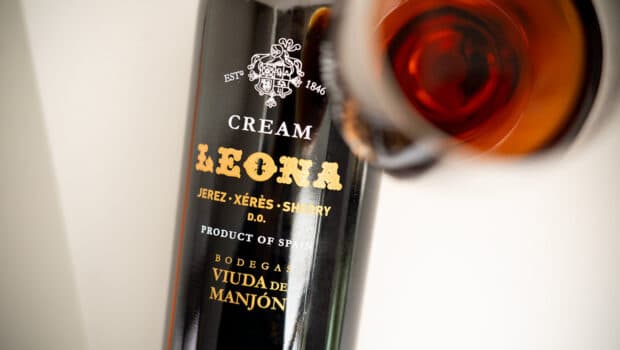 Published on October 23rd, 2023 | by Ruben
0
Cream Leona (Viuda de Manjón)
Leona Cream has an average age of around 9 years
Leona is a series of sherries created in honour of the famous Manzanilla Leona. After many silent years the brand has been revived by the fifth generation of the Bodegas Viuda de Manjón. Currently they have five different wines, which are sourced from one bodega in Sanlúcar and one in Jerez. In the meantime they are also managing a vineyard where they also plan to create a barrel storage.
I would never suggest to judge a house by its Cream sherry, but that's the way it is. I've just returned from a trip to the sherry region and while I was on the lookout for their other wines, I didn't seem to come accross the brand.
Cream sherry brings back memories of grannies sipping from a glass before going to bed. In reality though this type of sherry shines much more as an appetizer, on ice with a slice of orange, as a sweet alternative to vermouth. Other suggestions: a nice pork roast, Beef Wellington or with a cheese plate, replacing the Port wine.
Leona Cream (18%, Viuda de Manjón, Saca n°4, 1300 btl.)
Nose: toffee and hazelnuts, as well as hints of turrón. There's a bright fruity hint of juicy raisins, dried apricots and prunes. Honeyed toast. Some orange peels as well. The Pedro Ximénez is perhaps a little too weighty, but on the other hand you do get a nice hint of well-aged Oloroso too.
Mouth: here as well the Pedro Ximénez stands out. Caramel and burnt sugar, with plenty of prunes and hints of molasses. Then walnuts and wood spices come forward, as well as the savoury notes of the Oloroso. There's some acidity shining through, making sure it doesn't get too cloying.
Availability: around € 16, available from their online shop with shipping to several countries.
Summary: This is quite a deep Cream. While the PX is a bit loud for my personal taste, it also shows a big savoury side from the Oloroso. Very rich, which means it works well with food or on ice.