Vino de Pasto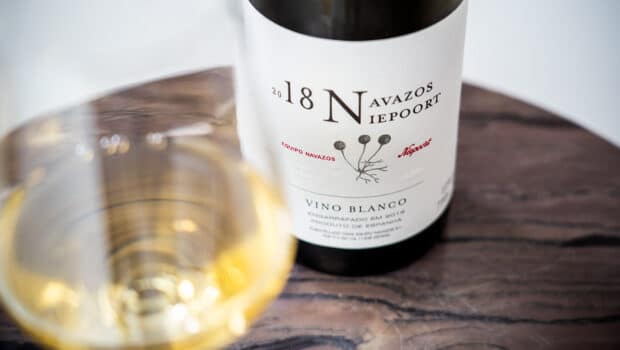 Published on August 8th, 2023 | by Ruben
0
Navazos Niepoort Blanco 2018
In hindset I believe Navazos Niepoort was the first wine to bring back the tradition of unfortified albariza wines. This is a flashback to the 19th century. Everything indicates that in those days the practice of fortification was infrequent, especially in the higher quality white wines destined to local consumption.
Navazos Niepoort Blanco is a white wine from Palomino grapes grown on albariza soils. It is unfortified, fermented in old sherry butts with wild yeast, and aged for 8 months under a layer of flor.
I believe 2018 was the ninth vintage to be produced this way by Equipo Navazos and Niepoort. The 2018 vintage has quite a modest ABV of just 12%. It was a cooler and rainier year.
This collab between Douro's Dirk Niepoort and sherry's Equipo Navazos ticked all the boxes for what we now call a Vino de Pasto, although back then the name wasn't commonly used in the sherry region. On the label it simply says Vino Blanco.
Navazos Niepoort Vino Blanco 2018 (12%, Equipo Navazos 2019, 4000 btl.)
Nose: opens on seashells, with saline yeasty notes and hints of almonds. Apple, lemon (curd) and unripe pear. Also hints of puffed rice. Then dried herbs, like chamomile. Hints of "background flor", as if you're entering a bodega full of Fino barrels. Then plenty of minerals / crushed gravel. There are nutty notes and light oxidative aromas too – surprising to regular wine lovers perhaps, but far less intrusive if you're used to sherry wines.
Mouth: the typical combination of slightly bruised apples, chalky notes and a fairly high citrus acidity. Very pleasantly refreshing. Fresher green apple appears, maybe even some pineapple. Subtle hints of yeasty dough, less than in some other Vino de Pasto. White flowers. The finish is medium long, the low ABV keeps it light and moreish.
Availability: it seems this vintage is still available in some places. See Coalla Gourmet for a nice magnum bottle. I believe the latest (similarly produced) vintage was the 2020 vintage.
Summary: Although it definitely reminds you of a Manzanilla / Fino on the nose, the palate is closer to a classic white wine. A mineral, chalky expression of albariza, which seems to put on a little weight after a few years of cellaring. This wine really likes food: at Celler de Can Roca used to pair this to smoked eel.