Amontillado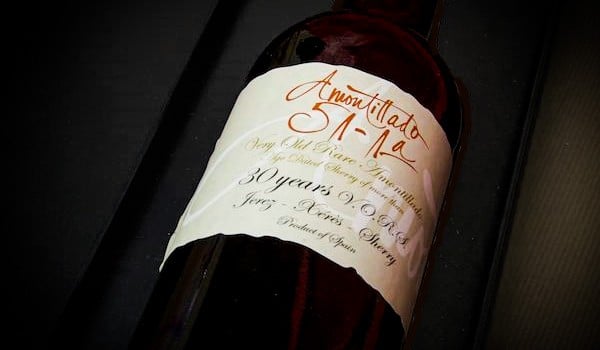 Published on October 21st, 2014 | by Ruben
0
Amontillado 51-1a VORS (Osborne)
Amontillado 51-1a is almost too cheap for such an old wine
Together with the Palo Cortado Capuchino, Oloroso Sibarita and Pedro Ximénez Venerable, this Amontillado 51-1a is part the V.O.R.S. series by Bodegas Osborne. These four soleras were started by the legendary Bodegas Domecq, which fell victim to the sherry crisis in the late 2000's and was sold off by its owner Beam Global. Since 2008 they're owned by Osborne and released in practically the same form.
It may seem a bit of a technical name, but 51-1a (51 primera) is named after the first row of a 51-butt solera, a group of casks first filled in 1830, probably by Pedro Domecq himself. It started as a Manzanilla and turned into Amontillado over time. As a V.O.R.S. sherry, it is guaranteed to be at least 30 years old, but in reality it's probably 50-60 years on average. Only around 725 bottles (50 cl) are withdrawn every year.
The solera system of this Amontillado has 52 butts in total, distributed over 4 criaderas and a solera row.
Nowadays these wines are more about prestige than about profit. You could argue a 60 years old wine deserves a much higher price tag, but there is a small audience for this type of wine and Osborne has an even higher-end range of sherries from its own soleras (e.g. the Amontillado Solera AOS), which means the old Domecq wines are still very reasonably priced. They are among the bargains of the D.O. Jerez-Xérès-Sherry.
Amontillado 51-1a V.O.R.S. (19%, Osborne)
Nose: quite a fruity nose for such an old Amontillado. I get dried apricots and golden raisins, with some bright notes of oranges and clementines. Makes it kind of tropical for an Amontillado. Also lots of nutty notes: almonds, cashews and hints of gianduja. There's a light shade of yeast and brine, but barely noticeable.
Mouth: dry, good acidity, perhaps somewhat straightforward given its age. There are obvious oaky / resinous notes and hints of chestnuts, which take away a bit of the fruity notes that defined the nose. Almonds. Tangy saline notes. Subtle smoky notes as well. Lacking a bit of elegance compared to the best Amontillados. Long finish, nutty with a bitter edge (orange peel and walnut skin).
Availability: available in 50cl (and 75cl bottles in the past). Prices are going up, from around € 45 in the UK up to € 85 in Europe. Check Bodeboca or Master of Malt for instance.
Summary: A nose with an above average fruitiness and a palate that revolves around tangy notes and oak, more than roundness or complexity. A good wine - hard to resist, especially at this price.