Amontillado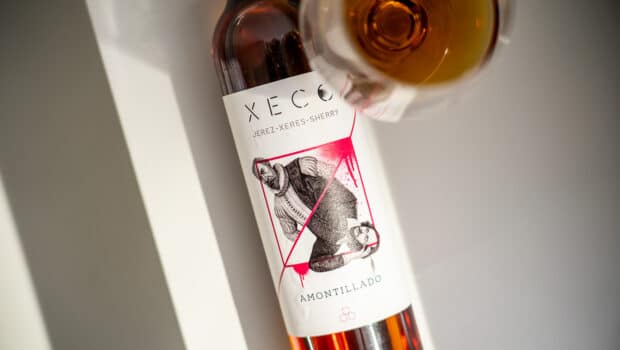 Published on August 22nd, 2023 | by Ruben
0
XECO Amontillado
An ambitious, modern style of sherry sourced from Diéz-Mérito
Xeco is one of the ambitious, modern producers seeking to revitalise sherry's popularity. One of the prejudices they want to bring to a halt is the fact that sherry is always sweet, hence the name Xeco, which is derived from the Spanish word for dry (seco). They started in 2016 with a Xeco Fino and this Amontillado wine, sourced from the cellars of Bodegas Diéz-Mérito in Jerez. Recently a Medium Dry was added to the range.
This should be around 7 years of age. It ages under flor for around three years, then a (second) fortification to 18% ABV kills the flor and induces a period of oxiditive ageing – four more years. Originally it was sold in standard 75cl bottles but at some point they switched to 50 cl. In general I'm a big advocate for smaller bottles anyway.
Availability seems to decline and I'm not sure the project is still actively marketed. Large retailers are out of stock and there were no Instagram posts in the last year for instance.
Xeco Amontillado (18%, +/- 2022, 50 cl)
Nose: a very nutty profile with plenty of caramel notes. Caramelized hazelnuts, walnut skins, buttery toffee and a whiff of marmite. Subtle hints of raisins and figs in the background. Molasses and some vanilla latte as well. This is clearly on the oxidative side of the Amontillado spectrum, with just flashes of its Fino origins shining through.
Mouth: dry and zingy of course, with good intensity. Grilled almonds, lemony notes, with hints of cinnamon and a touch of salinity (enhanced by a faint balsamic edge). Orange peels, clove and light toasted oak. A lot of umami notes with a firm coastal side, now more refreshing than the nose suggested. Long, savoury finish on nutty notes and moderate oak spice.
Availability: typically around £ 17. Available from The Great Wine Co for instance, or Master of Malt with international shipping.