Fino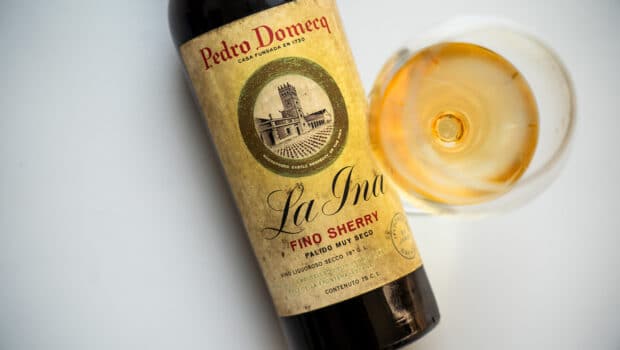 Published on June 8th, 2023 | by Ruben
0
Fino La Ina (Pedro Domecq – 1967)
Once in a while I love to dig into sherry history. Yesterday Van Dyck & Van Dyck invited me to feature in a new episode of their podcast De Smaakadvocaten (still editing – online soon). They ask their guests to bring a nice bottle so that was the perfect occasion to convince more artisan drinks lovers of the qualities of bottle aged sherry.
Bodegas Pedro Domecq
As you know La Ina is one of the benchmark Fino sherries. The solera of this wine was started in 1919 by the legendary bodegas Pedro Domecq (around the same time as Rio Viejo). Although Pedro Domecq has disappeared, the solera and the brand still exist today. La Ina is now marketed by Lustau or more precisely by Bodega La Ina, a separate entity under the same umbrella as Lustau. They took over the solera in 2001, after Domecq's merger with Allied Lyons and later the takeovers by Pernod Ricard and Beam / Suntory.
I already opened a bottle of Fino La Ina from the 1970s, now we're going further back to March 1967. I know because it is embossed into the base of the bottle, and it is confirmed by several old advertisements from that era.
While opening the bottle, it left very little to be desired. The fill level was perfect and the cork came out intact, in perfect condition. The wine itself poured crystal clear with a nicely bright, orange tint. I'm always happy when there are no dark, brown hues that are a sign of excessive oxidation or interaction with sunlight.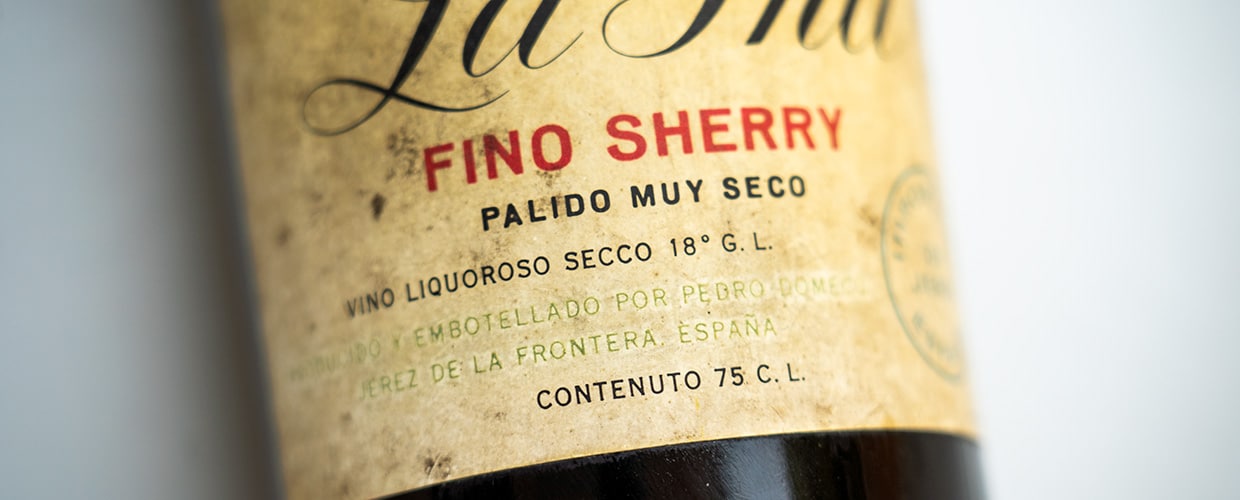 Fino sherry in the 1960s
Mind that La Ina was bottled at 18% ABV at that time. At least for the Italian market – there may have been local differences. Until the 1980s it was quite common to give biologically aged sherry wines a second fortification prior to bottling. The main purpose was to strengthen the wine and stabilize it for long travels. The practice become obsolete with the rise of air freight. Nowadays I only know of two old-school Finos that honour this tradition: the Fino Antique from Fernando de Castilla and the Fino Coquinero from Osborne.
Did you know Pedro Domecq also used to have a version of La Ina a gusto inglés? It was a lightly sweetened Fino with a slightly less edgy profile. However, today's bottle comes from an Italian importer and it says muy seco.
La Ina – Fino Sherry (18%, Pedro Domecq +/- 1967)
Nose: TLDR: like a good, complex Amontillado. Still very vivid, with plenty of that Macharnudo character coming out. Sandy beach, hints of wet chalk and plenty of haybales. Hints of wet wool and sesame seeds. The coastal salinity is easy to notice after all these years. Some lemony acidity and acetaldehydes still, and none of the sulphury hints that I got in the 1970s bottle. Fresh as a daisy, really. Then also hints of caramelized nuts (hazelnuts, pecans). Light curry spice and bready notes in the background, maybe a light whiff of tobacco leaves. Really elegant, really excellent.
Mouth: the 18% ABV gives it plenty of punch – this is not tired at all. A firm salty note, with more hazelnuts and walnuts, as well as a sharp hint of apples. A hint of orange peels, later also the lightly bitter edge of grapefruit peel. A very light peppery feeling. No fatness at all, this has all the coastal intensity you'd expect of a quality Fino. Mediterranean herbs and and dry, almost chalky element in the end. Concentration and elegance are top notch – I'm sure this could have stayed in the cellar for another decade or two. Long, drying finish on citrus peels and flor notes.
Availability: check your grandmother's cellar. Nothing? Too bad!
Summary: A cracking example of a bottle aged sherry. La Ina has always been a high quality wine and the fact that it was bottled at 18% ABV probably helped to withstand time so elegantly (bodegas, are you hearing me?). Still very clearly a Fino sherry, albeit with some Amontillado elements. A priceless experience.