Fino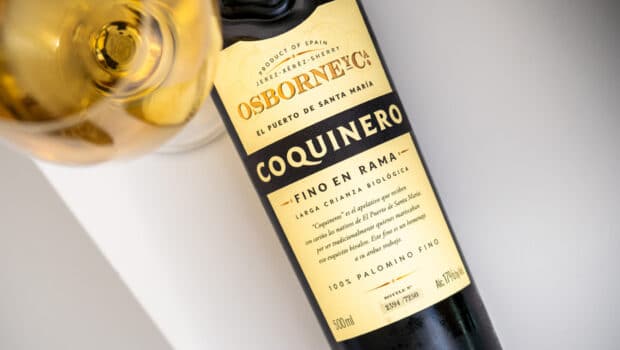 Published on October 14th, 2021 | by Ruben
0
Fino Coquinero En Rama (Osborne)
Coquinero is one of the last Finos on the market that are bottled at a higher strength, now with minimal filtering
Coquinero is a bit of an outsider Fino. Produced by Bodegas Osborne, not only is it one of the few Finos from El Puerto de Santa María, it also comes at a punchy 17 degrees of alcohol instead of the usual 15. After fermentation it is fortified to 15% and stays under a film of flor yeast until bottling. Right before bottling it is re-fortified to 17%, a fairly common practice until the 1980s but nowadays very rare. I can only think of one other Fino at 17%, the Fino Antique from Fernando de Castilla.
It roots are in the pago Balbaína, and it's aged in a solera system with 115 casks distributed over the solera row and 5 criaderas. There has been a regular version of Coquinero in the standard sherry range from this bodega, but in 2021 they presented a new en rama series which also include this Coquinero Fino En Rama. It comes in smaller 50 cl bottles with individual numbering and a bottling date on the back label.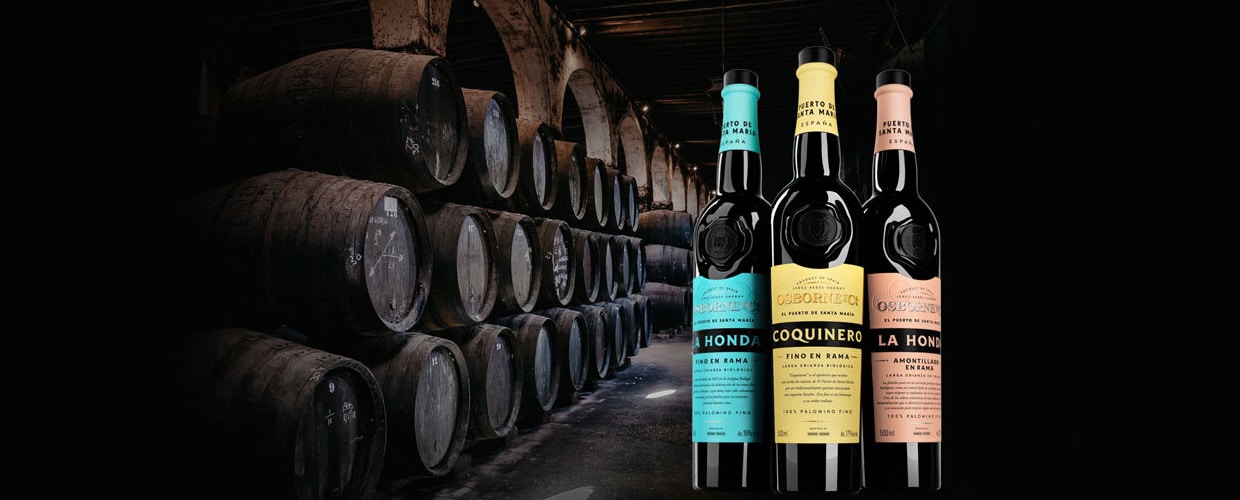 Fino Coquinero has always been bottled as a Fino-Amontillado, a wine in between the stages of Fino and Amontillado (and further back it was simply named Amontillado on the label). It is around 6,5 years old.
In case you're wondering, a coquinero is a cockle-picker, a slang word for people that search for saltwater clams along the coast of Cádiz, and also a nick-name for the people from El Puerto where Osborne is located.
Coquinero Fino En Rama (17%, Osborne 2021, 50 cl, 7250 btl.)
Nose: a bit closed at first, with a slightly metallic note and lots of vegetal elements. Opens up nicely though, on hay, lemon peel, shrubland and almonds. Still a clear hint of flor but in a well-aged form with a light trace of oxidation in the background. Hints of bruised apples, toasted hazelnuts and a touch of polished wood. Quite pronounced but also elegant.
Mouth: dry and definitely a bit richer than most Finos. It's very zingy and pungent, offering loads of flavour. Plenty of green olive brine, with salted almonds, mineral notes, dried herbs and a very light peppery touch. Bread crust. Walnuts. A firm but pleasing bitterness, as well as a whiff of smoke in the background. Medium acidity, but this is really about umami flavours of course. Long finish, with more nuts and coastal flavours.
Availability: the first batch consists of over 7000 bottles, but they are only found in the Osborne webshop for now (around € 17). Later also in specialized stores but certainly not in every country that Osborne is present in. For those of you who like the regular Fino Coquinero, rest assured that this will not be replaced or discontinued by this premium version.
Summary: While the common Coquinero already has a rather unique profile in between Fino and Amontillado, this 'en rama' version amplifies its character. Big salinity with a slight bitterness and extra punch from the 17% ABV. I have a sweet spot for this kind of intermediate style. Worth checking out!