Fino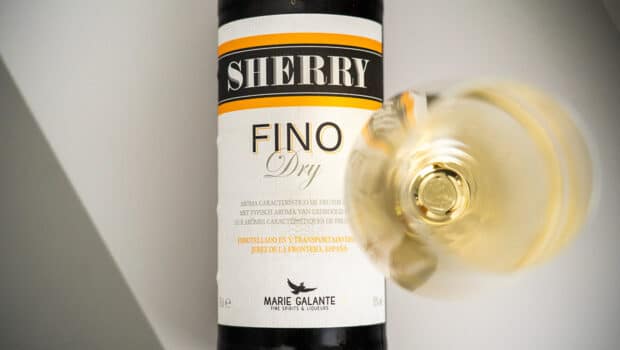 Published on November 14th, 2023 | by Ruben
0
Fino Dry (Marie Galante)
Once in a while I come accross supermarket bottles that pique my interest. This summer I picked up this bottle of Fino sherry which is only available in the Belgian supermarket chain Colruyt (known for its low prices).
The name Marie Galante is interesting. It is an island belonging to Guadeloupe, an oversees French territory in the Caribbean. A silly choice in my opinion: despite the fact that it was discovered by Columbus in 1493 (who sailed with a ship that was called Santa María Galante), it has very little to do with sherry or Spain. It seems Colruyt is using this name for all of its white label drinks, including Calvados, Pastis or Aperol lookalikes. In reality the Fino sherry comes from Bodegas Williams & Humbert. Remember the R.E.-xxx-CA code can inform you about this, and it's obligatory even on white label bottlings.
I bought this out of curiosity, especially since the bottling code indicated it was rather fresh off the line (end of February 2023). With this kind of lower-end Fino, the bottling date is critical in my experience. Getting a recent bottle or an older one can make a big difference and sadly the rotation of Fino in Belgian supermarkets is often not great.
Fino Dry (15%, Colruyt / Marie Galante, L23051)
Nose: much nicer than I expected. Round, fruity echoes of ripe apples and pear, sweet almond and dough. Mild flor notes, but it's definitely there with a good hint of hay and dried Mediterranean herbs. Probably not very old, but so far really inviting.
Mouth: again this apple and pear roundness which is probably a sign of youth. Fairly low acidity, almost a sweet edge even (stewed pear). In a second wave it becomes drier, towards sourdough, wildflowers and almonds. Light herbal notes. Lacking some complexity and depth now, and not as saline and pungent as I'd hoped.
Availability: exclusive to Colruyt supermarkets, where you can buy it for € 3,79 (no kidding).
Summary: This is quite a round and fruity Fino. It may simply be young (not entirely hiding its mosto origins) or maybe Colruyt specifically asked for this kind of accessible selection. I wouldn't be surprised if this were a younger vatting of the Dry Sack Fino. Basic but proper Fino, better than I expected, but the pricing is incredibly noxious to the sherry category.