Bodegas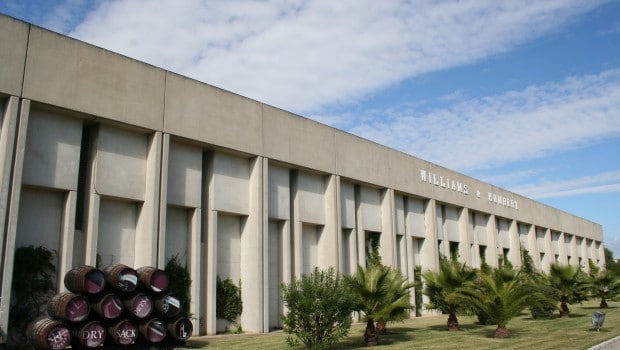 Published on July 28th, 2013 | by Ruben
1
Williams & Humbert
The history of Bodegas Williams & Humbert goes back nearly 130 years. The winery was founded in 1877 by Sir Alexander Williams and Arthur Humbert, whose sister Amy was also the wife of Alexander Williams. Their first order were two half butts of Fino sherry, which at that time wasn't commonly sold outside of Spain. About 30 years later, in 1906, they introduced the Dry Sack brand, a blend of amontillado and oloroso with a touch of PX. It has been their most popular and iconic product ever since.
In the 1920's they participated in the creation of the Jerez-Xérès-Brandy Quality Demarcation and the foundation of the Consejo Regulador.
Rumasa and Ahold
In 1972 Williams & Humbert were bought by Rumasa, a giant company with fraudulent practices. Being the biggest case of fraud in the history of the country, the company was expropriated by the Spanish Government in 1983. They sold it to the Dutch Ahold / Albert Heijn supermarket chain who in turn sold it to Jose Medina and his brothers, the current owners. The four Medina brothers were former bodega workers who started their own export company and eventually ventured into production.
Bodegas Williams & Humbert today
Nowadays the company owns over 300 hectares of vineyard consisting of 2 plots, Las Conchas in the Balbaina, and Dos Mercedes in Carrascal with a production of 4 million litres. These vineyards deliver the grapes used to make their own brands of sherry, but other grapes are acquired to produce white label sherries for various buyers.
The Bodega complex in Jerez de la Frontera is the largest winery premise in Europe, housing more than 65.000 casks and bottling 9 million bottles a year. The most famous part of the building is the Sacristia where the oldest wines – most dating from foundation or before – are being guarded. The company's diversification has led them to add products from other quality demarcations such as Ribera del Duero (Marqués de Polavieja red wines), Rioja (Viña Paul and Peñazola red wines), Rueda (Viña Saltés) and Albariño (Espírito da Terra).
They've also taken an entrance in the food sector with the Medina del Encinar brand, comprising pure sheep's-milk cheese and Iberian pork products. All of these products are distributed by their logistics sister Sovisur.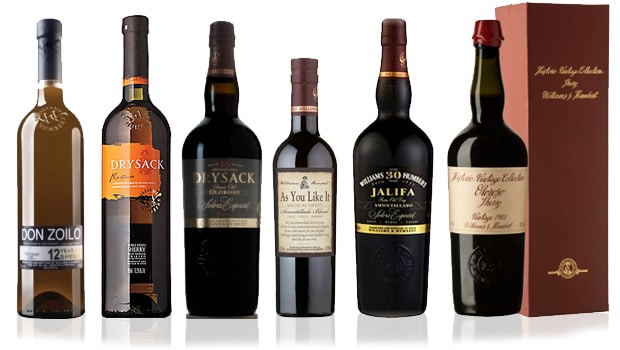 Williams & Humbert products
Williams & Humbert are best known for their sweetened Dry Sack sherries, but obviously they produce drier examples as well.
Dry Sack range: Dry Sack Fino (around 5 to 6 years old), Dry Sack Medium, Dry Sack Oloroso Solera Especial 15 years. All blended sherries except for the Fino.
Collection range, sometimes also branded Don Zoilo: Collection Manzanilla (around 8 years old), Collection Fino (around 8 years old), Collection Amontillado 12 years, Collection Oloroso 12 years, Collection Cream 12 years, Collection Pedro Ximénez 12 years
Canasta Cream, a blend of Oloroso and Pedro Ximénez
Amontillado blend 'As You Like It', a 30+ years old, sweetened Amontillado. Its solera of only 27 butts was used until the 1970's but was then forgotten amongst casks of Canasta, until it was 'rediscovered' in 2012. A unique blend.
Dos Cortados VOS 20 years (Palo Cortado)
Don Guido VOS 20 years (Pedro Ximénez)
Jalifa VORS 30 years (Amontillado)
The house is also known for its collection of añadas or single vintage sherries, dating back to the 1950's and beyond (see the Oloroso Vintage 2001 for instance). However they are very expensive and their quantities are often too minuscule for the bottles to appear on the regular market. Their experimental Fino En Rama Vintage 2006, bottled in 2014, was the only vintage Fino so far (at least within the D.O. Jerez).
The popular brandy Gran Duque de Alba is also produced by Williams & Humbert. They also have Dos Maderas, a rum which is matured in the Carribbean for five years, before being finished in Dos Cortados and Don Guido casks.
Contact
Williams & Humbert
Autovia Jerez-Puerto de Santa Maria, Km 641.7
11408 Jerez de la Frontera, Cadiz
Tel: (+34) 956 353 400
http://www.williams-humbert.com/
The Bodegas are open to visitors. The one and a half hour show includes an equestrian demonstration, a 3D audiovisual and a tasting of three sherries. Reservation required.