Amontillado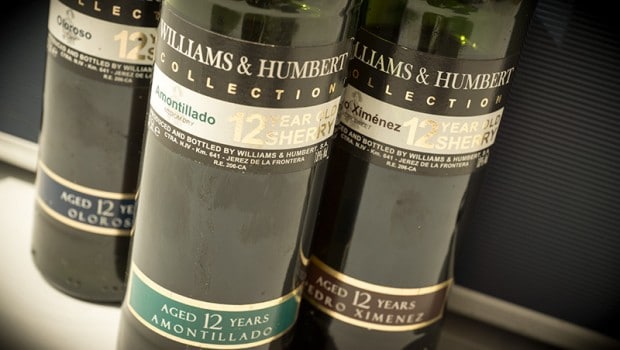 Published on July 25th, 2013 | by Ruben
0
Collection Amontillado 12 years (Williams & Humbert)
Famous for their Dry Sack brand, Williams & Humbert have a series called Collection, displaying different styles of sherry. There's an 7-8 year old Fino and Manzanilla, and 12 year old versions of Amontillado, Oloroso, Cream and Pedro Ximénez. They exist in full size but most of them seem to be distributed in 37,5 cl bottles, my preferred size but that's another story. Note that the series was created only for export (usually not a very good sign).
The Collection 12 year old Amontillado originates from the Collection Fino, with at least a further 4 years of oxidative ageing
It was the Solera used for the Don Zoilo range which was used as the base for this collection. Part of it was kept aside and aged a couple of extra years before being introduced as 12 year olds in 2008. The age statement was new back then, and it's still quite rare except for the VOS and VORS labels. Marketing-wise, it is slightly cumbersome to combine the solera principle with the age statement and make this clear to consumers. The statement probably makes it look older than just a brand name, but in fact 12 years is not that old for an Amontillado.
Collection Amontillado 12 yo
(18%, Williams & Humbert)
Bottling code: OWV01601148
Nose: leathery and nutty, with plenty of ripe figs and dates. Lots of hazelnuts and salted peanuts. Some walnuts as well. Roasted bread. A little heavy on the caramel / brown candy sugar and oak maybe. What I personally don't like too much, is the heavy aroma of dried mushrooms and lovage that this Amontillado displays.
Mouth: much more Fino-ish than I expected. It's briney and has a lot of citrus flavours. High acidity. Quite light, it even seems a little diluted at some point. Much less nutty than on the nose as well. An Amontillado that's still close to where it came from. Rather short finish, still quite acidic.
Availability: only in the UK, Germany and Holland. Around € 10 for a half bottle or € 15 for a full bottle.
Summary: As an Amontillado, slightly light and acidic with plenty of Fino notes. Sits between two chairs so it may have been better at a different age. The age statement is slightly disorienting anyway.