Amontillado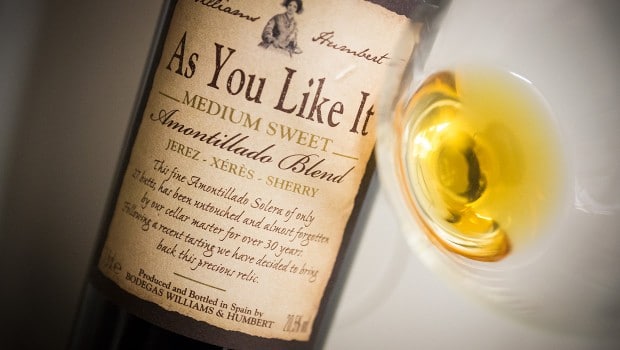 Published on February 18th, 2015 | by Ruben
1
'As You Like It' Amontillado blend (Williams & Humbert)
A 30+ years old, medium sweet blend composed around Amontillado
Bodegas Williams & Humbert are famous for their sweetened blends (especially Dry Sack) that are solera-matured further after blending, giving them a better balance and flavour integration. While sherry blends can be a bit flat and uninspiring, this As You Like It is an uncommonly old example of this style.
As You Like It is an old brand of Williams & Humbert. It was regularly bottled in the 1970's but it was discontinued because of lowering interest for sherry in general and expensive sherry in particular. The solera of only 27 butts was then left untouched, hidden amongst casks of Canasta, and almost forgotten. At the end of 2012, the casks were rediscovered when the W&H soleras were moved to their current facilities, and they decided to introduce it again – in very limited amounts.
The name is supposed to come from the old custom to add a little sugar to dry, sometimes austere, old Amontillados. Alexander Williams, one of the founders of the bodega, frequently did so for his wife Amy. As many of his relatives liked their sherry that way, he decided to turn it into a commercial product, based on the Solera Reserva de Familia that was originally reserved for the owners.
The label says Amontillado blend which means the amount of Amontillado would be high enough to still be noticeable in the final blend.
Amontillado blend 'As You Like It' (20,5%, Williams & Humbert)
Nose: rich and powerful, starting on walnut cake with pieces of banana inside, lovely! It certainly has the typical elements of an old Amontillado, like dried tobacco, polished oak and a woody tang. But these are nicely balanced with vanilla cream, dried yellow plums and toffee. Hints of incense and eucalyptus as well.
Mouth: quite sweet but also quite sour and tangy, still Amontillado. Dates and lots of honeyed notes. Sugared almonds and latte. Werther's Echte. Subtle smoke and roasted coffee beans too, alongside dried herbs and a fair amount of oak. Develops more and more acidity towards the end, staying clear from the cloying sweetness of cheap blends and coming close to great Madeira wines.
Availability: only 2400 bottles were bottled in 2012. Although originally only available on the German market, if I'm not mistaken, it is now mainly found in the UK. Only available in 50cl. Prices tend to differ. See The Whisky Exchange for instance.
Summary: As You Like It is a sherry that falls in between many stools. It's far from dry, but not as sweet as Cream sherry either. It also shows many characteristics of very old wine. A highly energetic, delicious sweet sherry!