Oloroso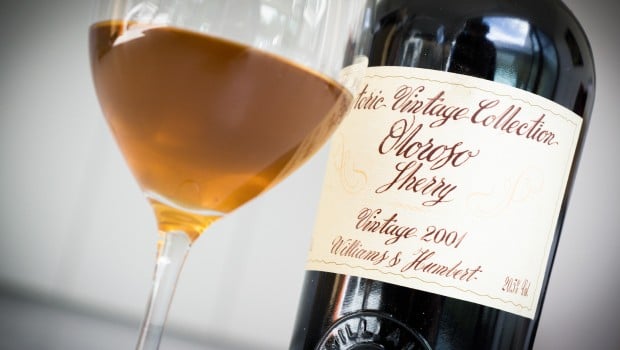 Published on May 19th, 2015 | by Ruben
0
Oloroso 2001 Historic Vintage (Williams & Humbert)
Since 1920, Williams & Humbert has been laying down a butt of wine for maturation as a vintage sherry (añada). These young wines only receive the initial fortification to 18% and then age untampered, not subjecting them to the traditional Solera process.
While the older vintages are only available as Oloroso (made from more robust musts), the cellarmaster decided to work with the finest base wines since 2001 (from free-run grape juice) which results in finer wines and sometimes other types of sherry. Williams & Humbert even has a vintage Fino, which no other bodega had done before.
Among the recent vintage Olorosos, 2001 is the youngest. The 1982 and 1975 are also found here and there.
Oloroso Vintage 2001 (20,5%, Williams & Humbert, Historic Vintage Collection, April 2012)
It shows a pale-brown colour with orange hints. It's rather cloudy with quite a bit of floating particles. We love minimal filtering.
Nose: aromatic and rather delicate. Nutty and dry, with almonds and hazelnut, as well as a few mineral notes. Hints of damp wood. Initially there was also an earthy / mossy / meaty side, but that disappeared over time. Orange peel. Nice notes of chocolate, soft vanilla and exotic spices.
Mouth: relatively light and delicate again, with a bright acidity but also a smooth, round texture. A lot of citrus notes – lime juice and grapefruit. Nice contrast with notes of toasted oak in the background. It doesn't have the thick body of a normal Oloroso, yet it doesn't feel unbalanced. An interesting hybrid sherry that is hard to pin down. Long finish.
Availability: around € 40 but very limited and hard to find. I found mine at Vila Viniteca.
Summary: To me this isn't a classic thick Oloroso, it's closer to the finesse and duality of a Palo Cortado. There's even a subtle hint of old Amontillado. Whatever the classification, this is a delicate, interesting wine with a unique character. Works particularly well with food.