Fino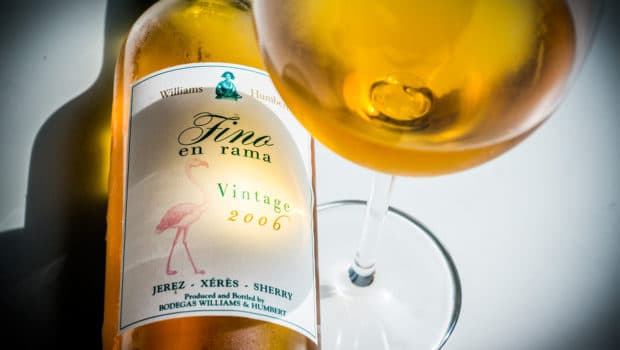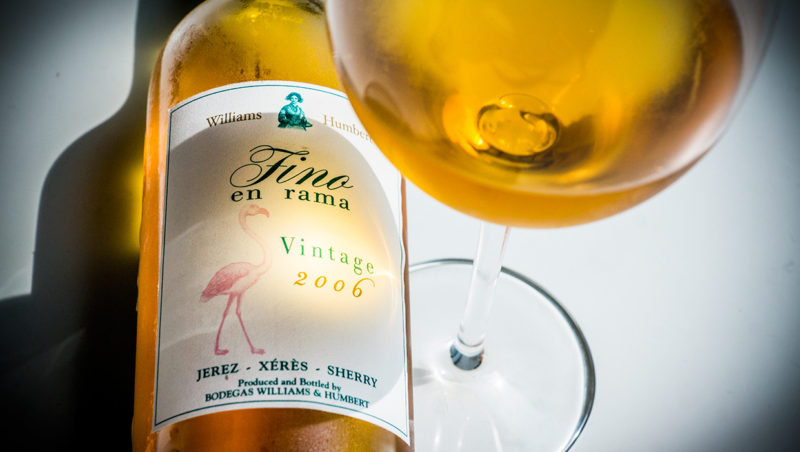 Published on September 14th, 2015 | by Ruben
6
Fino En Rama – Vintage 2006 (Williams & Humbert)
When we think of Fino sherry, we think of criadera and solera, the system of continuous blending that provides renewed nutrition for the development of flor. Forget that idea for a second: this Fino En Rama 2006 is a vintage Fino which matured in separate casks that haven't been refreshed. This is the first time a vintage Fino is produced in the sherry region (well, in modern times at least).
In 2006, Williams & Humbert selected their most delicate grape musts from the Balbaina Añina zone and fortified them to 15.6° alcohol. Normally they would have been added to the Fino Pando solera, but this time they kept aside specific barrels to mature as añada or vintage sherry. As with all vintage sherries, the Consejo Regulador closes the barrels with a wax seal to ensure they are left untouched. For a Fino this can be problematic as it usually causes the flor to die rather quickly. To give you an idea, 15 barrels were filled in 2006 and only 2 of them developed into a Fino with an active flor at the time of bottling. It has been bottled in 2014 with minimal filtering (en rama).
Let's a have a closer look at the maturation. The development of flor has a big impact on a maturing wine, protecting it from oxidation but also consuming sugars and glycerol and producing acetaldehydes. In a solera system, this process takes about 10 years before the flor starts to fade away and eventually expose the wine to oxygen, creating an Amontillado. This vintage Fino was opened when it started to oxidize, although some patches of flor were still present inside the barrels. The perfect moment for a wine that falls between different stools.
This Fino En Rama Vintage 2006 won a gold medal in the International Wine Challenge 2014 and silver in the IWSC 2014.
Fino En Rama Vintage 2006 (16,5%, Williams & Humbert 2014)
A surprisingly golden colour that would suit a mature Amontillado, really lovely.
Nose: very complex, with a great yeasty start. Hints of flor, hay and light bread crust. However it doesn't have any of the pungency that usually comes with Fino, this is much more elegant. Soft hints of dried herbs and the roundness of fresh oranges. Almonds. Traces of minerals, as well as divine hints of warm polished furniture and some used leather. I would have sworn this was an Amontillado nose, with some hybrid elements maybe. In any case I love it.
Mouth: wow, very rich and wide with more oaky notes again than you'd expect in a traditional Fino. There's also a weighty implied sweetness of caramelized apple and dried fruits that's similar to what you can experience in very old Amontillado, although the olive brine and punzante side of a classic Fino is also present. Less salty than a common Fino, with a faint sweet and sour touch that makes me think of Madeira. A very interesting mix of savouriness, coastalness and sweetness. Subtle spicy notes in the aftertaste, as well as some almonds and walnuts. Overall very rounded, with this specific waxy edge. Long, dry finish.
Availability: I have only seen it on sale in Spain and in the UK. It's not at all easy to find, but very much worth the effort. Around € 14 for a 50 cl bottle in Spain. Make that € 35 in the UK.
Summary: Is it a Fino? Is it an Amontillado? Whatever. It is an exceptional wine that is hard to classify but very easy to love. The added fruity, waxy and oaky notes make it stand out. A very unusual and rare Fino which proves that there is a bright future if we dare to colour outside of the lines. Don't miss it.