Pedro Ximénez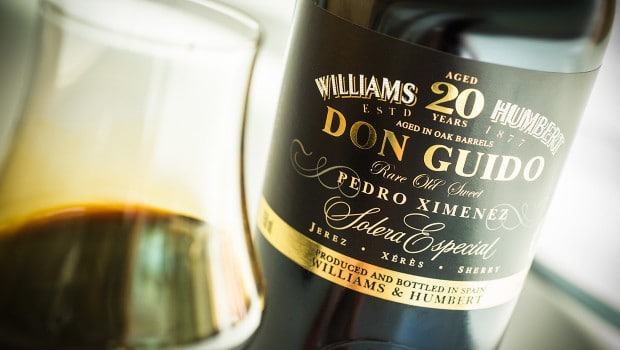 Published on October 1st, 2015 | by Ruben
1
Pedro Ximénez Don Guido V.O.S. (Williams & Humbert)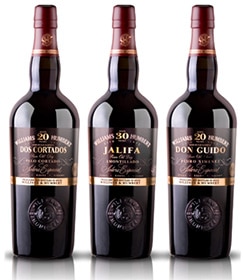 Don Guido is the oldest Pedro Ximénez wine in the range of bodegas Williams & Humbert. It is one of three VOS / VORS sherries of the house (20+ years old in this case).
Guy (Guido) Williams (1889-1959) was the son of Alexander Williams and Amy Humbert. His father had come to Jerez in the 1860s to work in the bodegas Wisdom & Warter, where he met his wife and later (1877) set up the Williams & Humbert business with his brother in law Arthur Humbert. Don Guido started working in the business just before the first World War while also becoming the viceconsul of Britain in Spain.
The Pedro Ximénez grapes for this wine are dried in the sun for 15 days before being pressed, and the musts are immediately fortified to 9%. They are then decanted, filtered, fortified further to 18% and added to the solera where they stay for at least 20 years. The bottled wine contains around 380 grams of sugar per liter.
Don Guido Pedro Ximénez V.O.S. (18%, Williams & Humbert)
Nose: full of prunes, dried figs and sweet raisins. Caramelized sugar, sticky toffee pudding and cocoa nibs. Very sweet of course, but nicely balanced with spicy notes (pepper, cinnamon) and light herbal notes. Its age also brings out a hint of polished oak.
Mouth: concentrated with a low acidity and an impressive viscosity, yet it's easy to drink. Chocolate coated raisins, dates and hints of Dutch liquorice. Some nutty notes and spices. A very light mentholated edge. Ends with a hint of Turkish coffee.
Availability: quite easy to find. Now mostly sold in 50 cl bottles for around € 25-30. Check The Whisky Exchange for international shipping.
Summary: A really good Pedro Ximénez, which at this age becomes more complex, balanced and spicy than its younger siblings. A fine wine and a great homage to an important man in the history of this bodega.