Background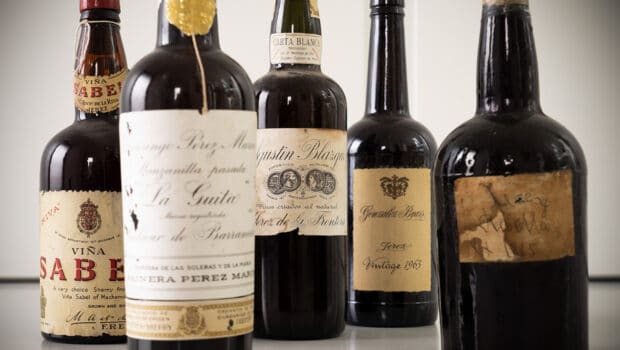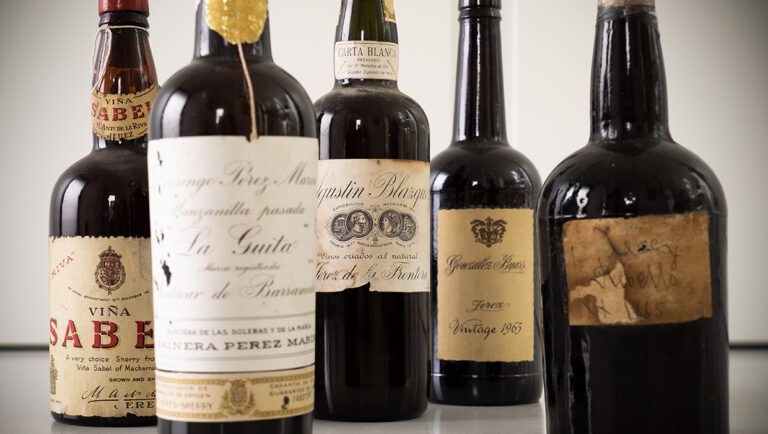 Published on October 8th, 2020 | by Ruben
0
Bottle ageing: a guide to old bottles of sherry
Bottle aged sherry is a discussion point among sherry experts. The widely accepted view is of course that sherry isn't intended to be cellared. Most stick to the traditional adage of opening sherry bottles as soon as possible, especially the biologically aged sherries (Fino and Manzanilla). For oxidatively aged sherry (Oloroso and sweet styles) most agree that they don't necessarily deteriorate in the cellar but won't improve either. I remember bringing up this topic during my Sherry Educator course: most producers and some very knowledgeable sources at the Consejo Regulador think it is a weird idea to open 'overdue' bottles of Fino or Manzanilla.
However in the past ten years or so, some people started to praise the merits of opening a bottle of Fino that had been cellared since the 1960s, or very old bottles of sweet sherry. Slowly the old views seem to change. Some time ago I was part of a Sherry Roundtable hosted by Lustau which discussed the truths and myths about bottle aged sherry. It inspired me to write a longer article about this topic and bundle my experiences.
Fino or Manzanilla that is 'remontado'
In the sherry region they use the word remontado for a Fino or Manzanilla that went too far. It means the wine spent too much time in a bottle (usually open, but also closed), causing oxidation and making it lose most of its pungent flor character. Often it is slightly turbid, with a darker colour and a faded profile overall. This mostly happens in bars or shops that have a low turnover in sherry.
From a producer's point of view, keeping your wine close to the intended profile is a primary concern – not an easy task if the wine revolves around a living flor yeast. Bottling, distributing and selling a wine with flor used to be a challenge. In the 1970s and 1980s the fear of oxidation led to a market-wide choice for heavy filtering and thorough stabilization, in order to take away even the smallest trace of yeast (and colour) and have a longer shelf life.
It even got to the point where consumers started to associate the pale character of a sherry with supposed high quality and higher freshness. Wines with the slightly hint of golden brown were sent back to the bar claiming they were remontado. This also resulted in a move towards younger Manzanilla, eliminating the Manzanilla Pasada style almost entirely. A well-known product like the Manzanilla La Guita used to be bottled as a near 10 year-old wine in the 1960s but became a 4-5 year-old over the course of a few decades.
Renewed interest in cellared sherry wines
Safe to say the pendulum had swung a bit too far: the requirement to heavily filter also means you're taking out a bunch of flavour components and leaves you with a stable but often far less interesting product. After all higher age and balanced oxygenation can lead to interesting results… Let's not forget that the Amontillado style once originated as a Fino style that went too far, and became oxidized on its journey from bodegas in Montilla to the port of Cádiz.
In recent years there has been a growing group of sherry lovers (the Los Generosos club deserves a mention here) suggesting older bottles aren't necessarily lost and telling us they thoroughly enjoyed old bottles that would technically be rejected by the bodegas. Also in wine auctions it's clear to see the price of really old bottles of sherry has risen significantly (not to say skyrocketed) in recent years as more people are actively tracking down certain old bottles.
Where does the interest in old bottles come from?
I think there are different reasons for the interest in aged bottles of sherry. First of all there are young winemakers and aficionados trying to understand lost winemaking traditions and lost styles of sherry. Opening bottles from a different era may give an insight in how the wines were different back then. In a sense they let you experience the history of sherry first-hand. For instance there are still some bottles to be found from legendary bodegas that ceased operations long ago, like Domecq, or even further back legendary names like De La Riva and Agustín Blazquez. Experiencing the production of these bodegas is priceless.
At the same time more producers are launching En Rama versions of their wines, as they realize these wines have a potential to be cellared since they are hardly filtered, full-bodied, more flavoursome wines. A good example is Tio Pepe En Rama. In the first releases Gonzalez Byass included a 'best before' date on the back label. After a few years this was removed and since 2018 it was also bottled in magnum bottles, specifically aimed at cellaring (the evolution will be more subtle and slower in a larger bottle). It is clear sherry bodegas are getting more confident about suggesting cellaring for their wines.
From remontado to bottle ageing: ups and downs
In my personal experience, the quality of a bottled sherry (or any other wine for that matter) will show a certain curve. Getting a super-fresh bottle is great of course: this really shows the wine as it was intended by the producer. Especially En rama releases are nowadays announced beforehand and distributed rapidly – that helps to get the true experience. After bottling there is a window of several months to drink it and get the original wine character. For oxidatively aged sherry you have a significantly larger window.
After that I find most Finos and Manzanillas (other types of sherry to a lesser extent) go through a difficult period of a few years. The wine might close down, becoming flat and sometimes showing sulphurous or vegetal aromas, not unlike a remontado sherry. However if you have patience, a lot of them will get through this and transform themselves, becoming a properly bottle aged sherry.
I've experienced this a few times by storing multiple bottles of the same wine and opening them over the course of several years: the evolution isn't linear and tends to go in ups and downs. In fact, even when you open a wine that doesn't seem to be very appealing, keeping it open for several weeks will sometimes open it up again, loosing the off-notes. Don't give up on old bottles too quickly: patience is key.
Accepting the idea of bottle aged sherry comes down to opening up towards new profiles: the wine won't have the same profile as the original, but a style of its own. Once you realize this, it becomes clear that the options of opening bottles while still fresh and cellaring them for a long time are both valid but require a different appreciation mindset.
Which evolution to expect from bottle aged sherry?
Bottle aged sherry will gain maturity, but in a different way than what you get from barrel ageing. Barrel ageing in the bodega is mostly a process of intensification and concentration, finding a balance between the primary aromas of the wine and the secondary aromas of the oak. Once you go beyond a certain point (VOS / VORS and older), acidity, glycerol and other components will skyrocket, alongside a herbal bitterness from the wood itself. Equipo Navazos released a couple of super intense sherries (check La Bota de Palo Cortado 47 or La Bota de Oloroso 63) that are wonderful examples of entensive barrel ageing but perhaps not the epitome of balance and sheer drinkability.
Bottle ageing on the other hand is not about concentration but all about integration, complexity and mellowing. For a Fino, expect the zingy sharpness to disappear after some years, as the wine becomes rounder due to slow oxidation. Most of the aromas will be in a lower register: the fresher notes will disappear and make place for hay and overripe / stewed fruits. Bitterness can become sharper though, in my experience. As a general rule of thumb, you could say fruity notes (apple, quince, lemon) will slowly turn to notes of dried fruits and eventually evolve into nuts and herbs. Herbal notes in the original wine will turn into spice (pepper, ginger).
Fino becomes a kind of Amontillado
Allow me to repeat that bottle aged sherry will evolve up to the point where the typology of the wine changes. A bottle aged Fino will be closer to an Amontillado in a sense (yet with the delicate finesse of a Fino). An Amontillado will often shift towards a Palo Cortado, showing some deeper caramel notes and dried fruits. Oloroso and Pedro Ximénez will not change drastically in my experience as they have been exposed to oxygen during maturation, but they will highlight and intensify certain aromas (I've often witnessed coffee and roasted nuts) and loose some others. Oxidatively aged sherry can also show a velvety, creamy texture over time.
Which sherry has potential for bottle ageing?
Taking this idea further means the best wines for ageing (and this is not specific to sherry) are wines with a lot of body and a firm, even slightly rough, character. Slightly older Finos and Manzanillas, which may have had very light oxidative effects during their maturation already, seem to work better than the ones that are entirely undressed by flor.
The fact that Carta Blanca from Agustín Blazquez seems to age so well for instance, is definitely related to its higher age (Fino-Amontillado) but probably also to a richer, more muscular profile to start with. Let's not forget Finos from that era were often unfortifed, exposed to a short asoleo, from heavier mosto and made with grapes from vineyards that are known to produce muscular wines (Macharnudo and Carrascal).
This is also why modern En Rama sherry has better chances to age well in the future: keeping more character in the original wine leaves more room to chisel it in the cellar. Start with a light, fine and heavily filtered commercial Fino from the 1970s or 1980s and it can only deteriorate.
Sweetness and acidity help to make to make a wine more stable, which is why Cream sherry and Pedro Ximénez will show a less spectacular evolution. However sweetness will slowly decrease over time, so expect the sweetest wines to become more balanced and very smooth. In the same way highly acidic wines may loose some of it and become more mellow, allowing it to express more complexity.
Guidelines for picking bottle aged sherry
In short, here are a few tips when looking at really old bottles of sherry:
Seek out the best wines made at that time. Go for the well-known brands and producers of bygone eras, like La Guita or Domecq La Ina. Some of the best houses like Agustín Blazquez or Antonio de la Riva will have disappeared or absorbed by more commercial names, so it doesn't hurt to read up on the history of sherry.
While oxidative styles are safer to open, don't be afraid of biologically aged wines like Fino and Manzanilla. Of course bottle ageing will inevitably cause oxidation and will lead to a wine that is not a clean Fino or Manzanilla any more, but you might end up with a unique hybrid wine that simply cannot be produced by barrel ageing. Full-bodied Finos seem to work better.
Some of the wines in the past specifically mentioned vineyards like Miraflores or Macharnudo. On the one hand it allows you to select full-bodied wines, on the other hand it means the producer cared about terroir and were proud of their plots. In most cases this also means they paid great detail to their winemaking process and produced high quality products in general.
Remember the sherry industry saw a vast expansion in the 1970s and 1980s. This led to industrialized processes and a noticeable loss of quality. Beware of the numerous high volume sherries from this era: successful bottle ageing requires a quality sherry to start with.
A word of caution…
Opening old bottles of sherry is a bit of a hit-or-miss game, pretty much like opening other old wines, I guess. While barrel ageing takes place in the controlled environment of a bodega, bottle ageing is less controlled. Unless you've kept the bottles in your own cellar the whole time, you can never be sure of the temperature, the condition of the cork or whether they were stored upright or lying down. Shipping and handling after buying in auctions can also deteriorate a bottle and cause a bit of a shock.
I've opened dozens of bottle aged sherries over the years. Less than half of them were truly remarkable, I would say. One out of three simply went down the drain. Nobody can predict the shape of a wine after so many years, so be prepared for a couple of losses.
… but also a positive note
However I don't want to end with this article with a word of caution but with a positive note. Sherry allows us to taste the same wine at different barrel ages (different sacas) and different bottle ages simultaneously, something that is impossible with traditional vintage wine. It is good fun, and if you hit the sweet spot, aged sherry can bring out flavours that you didn't expect.
Go ahead and try it yourself. A good first experiment would be to buy a bottle of Tio Pepe En Rama, store it in a dry and cool place, and open it after five years or so, preferably side-by-side with the current edition. Maybe you can still find an older version in a shop, or get an old bottle of Dry Sack or Bristol Cream in a wine auction. All inexpensive ways of getting into this.
To experience the real potential, you can head over to restaurants in Spain that can serve you old sherry, e.g. Corral de la Morería or A'Barra in Madrid, or La Bien Pagá in Murcia and a few other lesser known places. Enjoy the adventure!