Fino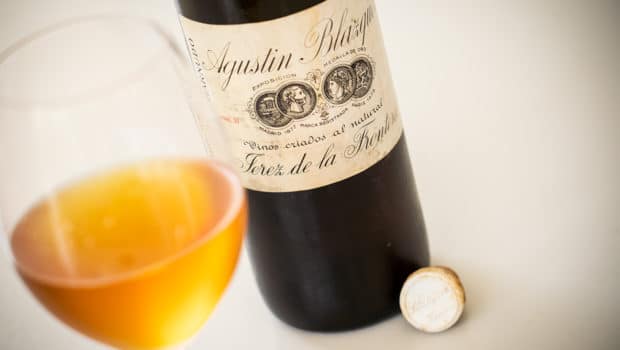 Published on October 12th, 2018 | by Ruben
0
Carta Blanca 1950s (Agustin Blazquez)
For a few years now I have been collecting bottles of Carta Blanca, a legendary wine produced by Agustin Blazquez, a bodega that is now lost. Originally from Antequera near Málaga, Blazquez became a wealthy bodeguero through his marriage with the Paúl y Picardo family. He even becames mayor of the city of Cádiz between 1925 and 1927. In 1973 the bodega was sold in parts to Domecq, González Byass and Osborne. Domecq kept bottling Carta Blanca but the wine seems to have changed until it was discontinued completely in the 1990s. The only remnant nowadays is one of his old warehouses in the Callejon de los Bolos, close to where the Consejo Regulador is located in Jerez.
Beside Carta Blanca, Agustin Blazquez also had the older Amontillado Carta Plata (silver) and Carta Oro (gold), as well as a PX Carta Azúl (blue). Another wine you might know is the Palo Cortado Capuchino, first taken over by Domecq and now marketed by Osborne – probably the only one still maintained as we speak.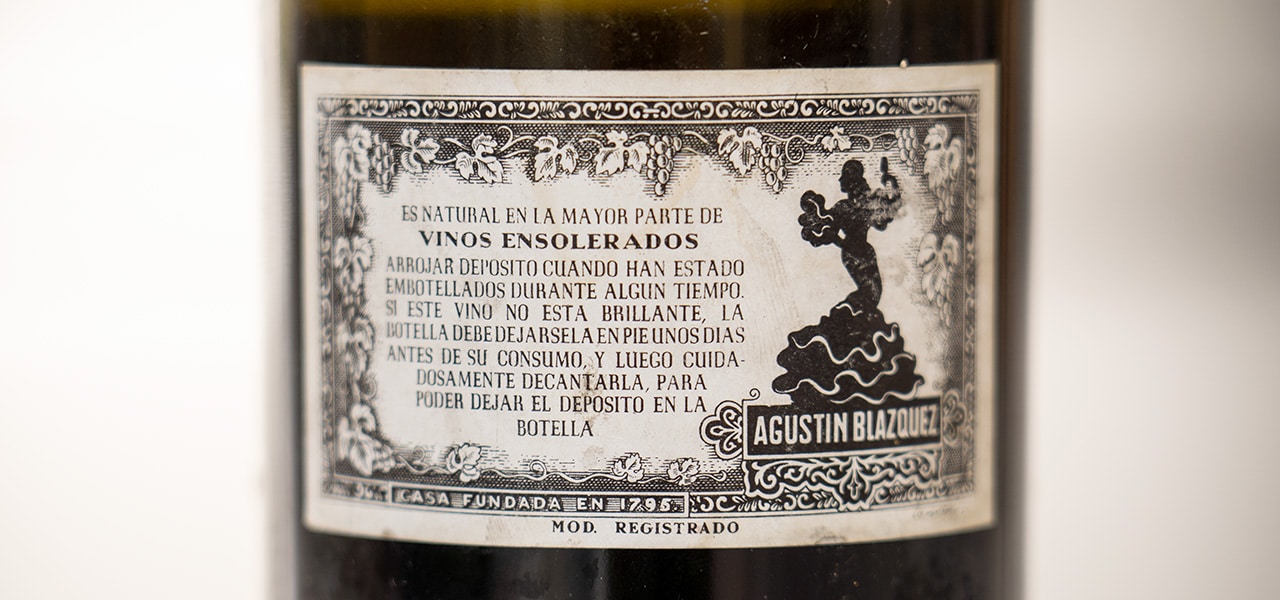 The label says Amontillado Fino, a name that is now forbidden but which indicates the intermediary stage of a wine that started as a Fino but started losing its layer of flor and is now on its way of becoming an Amontillado. Often an interesting moment. From the mid 1970s onwards this wine would simply be called either Fino or Amontillado on the label.
One of the reasons why sherry lovers are looking for bottles from this bodega is the fact that they made single vineyard sherry, in this case made only with grapes from the pago Macharnudo. Nowadays there is a renewed interest in specific soils and individual vineyard estates but let's not forget that in the past decades most bodegas sold off their vines and started buying must from cooperatives, thus mixing grapes from different terroirs.
Nobody ever thought these wines would cellar well, so bottles are now very hard to come by. In fact even today most sherry bodegas don't consider bottle ageing to be valuable. Nonetheless, anyone not convinced that authentic sherry wines can age well, should find this kind of bottle of Carta Blanca.
Even though I was advised it was in perfect condition, this particular bottle leaked during transport. The level had dropped just under the neck which is why I opened and tried it as soon as possible. It turns out the effect on the wine was minimal. Luckily my other bottles have a level high in the neck. Decent bottles with decent stoppers are a prerequisite for bottle ageing.
There's quite an impressive golden – orange hue to this.
Carta Blanca Amontillado Fino (Agustin Blazquez, pago Macharnudo, 1950s)
Nose: for me the striking element here are the pastry notes. Lots of butter cream and biscuits. Light toffee and honey. While swirling it shows soy sauce and a hint of incense smoke or camphor, both of which disappear over time. A bit of curry spices. Then lots of chamomile hints, still some classic haybales, apples and aldehydes. Almonds. Even a hint of Mexican (spiced) chocolate and coffee beans. Also interesting notes of black sesame seeds. Toasted sesame oil indeed. Just a touch of mentholated wood and lovely beeswax after a while. Needed time to really open up, but a complex and perfectly elegant nose nonetheless.
Mouth: Amontillado indeed, very elegant but with a more voluminous, almost 'fat' body. Very few traces of tiredness, it's still vivid, with decent acidity and a balanced bitter edge. Growing more robust, with hints of toffee, almonds and hazelnut. Some tobacco and light vanilla before it moves towards soft saline notes and Mediterranean herbs. Chalky notes too, this is still Macharnudo. Sometimes these wines get too concentrated (especially with a low level) but this one was perfectly enjoyable. Excellent.
Three days after I opened the bottle (kept in the fridge) the wine was still remarkably fresh and perhaps a little more 'classical' than it was at the beginning. Some would say it improved, but I really liked the initial notes too. What a gem.
Summary: What can I say? This bottled of Carta Blanca is liquid history. A wine that keeps its head up after some 60 years in the bottle must have been a top-class wine, and even in its current state it still is. While it is difficult to catalogue as Fino, Amontillado or whatever, above all it is simply a very characterful advocate of Macharnudo, and in general an advocate of the terroir concept in Jerez.