News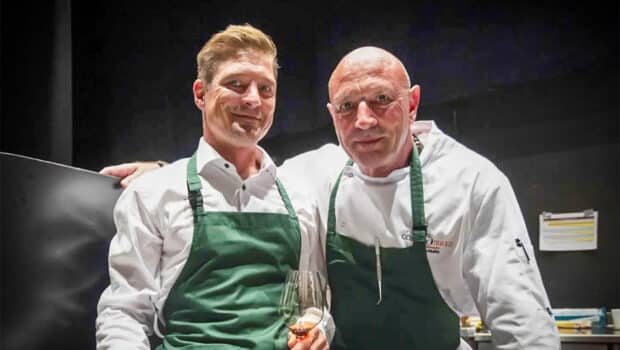 Published on October 5th, 2023 | by Ruben
0
Denmark wins Copa Jerez 2023
In early October, the culinary world gathered for the yearly culinary spectacle known as the Copa Jerez. Now in its 10th edition, the nickname was #CopaJerez20 as it is a biannual event. This sherry food pairing competition for chefs and sommeliers celebrates the harmonious marriage of sherry and gourmet cuisine. The 2023 edition was preceded by a series of pre-selection rounds across various nations, each vying for the honor of representing their homeland on this stage.
The Copa Jerez is not merely a competition; it's the pinnacle of a larger culinary symposium, aptly named the Copa Jerez Forum. Well-known names from the gastronomic world, such as Luis Gutiérrez, Josep Roca, François Chartier, Ferrán Centelles, Kristell Monot and a whole list of winemakers graced the stage with enlightening talks and debates. Afterwards attendees were treated to an array of tastings and exquisite dinners, accompanied by a wine fair featuring the finest bodegas.
Copa Jerez 2023: sherry pairing competition
In the cooking and wine pairing contest, each team (chef + sommelier) creates a starter, main course and dessert, accompanied by specific sherries. Here's a full list of the finalists:
Ambivium, Spain
Cook & GTD, Belgium
The Wolf's Tailor, United States
Dinings SW3, United Kingdom
Ackermannshof * & Mandarin Oriental Savoy, Germany
Parsley Salon, Denmark
Vigor *, The Netherlands
Denmark is the overall winner (Parsley Salon)
Chef Allan Schultz and sommelier Alexander Berntsen from restaurant Parsley Salon, just north of Copenhagen, make up the winning team for 2023. Denmark also won in 2019 – it is definitely a country with an avid community of sherry lovers.
First, the Danish team presented a starter composed of poached prawns seasoned with a vinegar beurre blanc and pickled rye. Green celery, sea lettuce and sisho. With this course they served the Manzanilla Soluqua from Bodegas Baron. Then the main course was quail, dry-aged for 2 weeks. It was served poached and flambéed with a stuffing of veal sweetbreads. The sauce was made from quail liver, bones, spices and caramelised garlic. To accompany the main course they choose the classic Oloroso from Bodega Rey Fernando Castilla. Finally they had an ice cream over caramelised ripe figs and toasted butter, served with peanut praline and sea salt. The Pedro Ximénez 20 years old wine from Bodegas Tradición came with the dessert.
A predictable line-up
The winning menu is a fairly classic (not to say predictable) build-up from Manzanilla over Oloroso to Pedro Ximénez. The US, UK and The Netherlands all went for this structure. Only Belgium surprised us by using two biological wines,  starting with the Fino Inocente and moving on with a Manzanilla Pasada La Bota 103. Spain and Germany used Amontillado. Also surprising: Denmark was the only team to go for a heavyweight Pedro Ximénez at the end. All other teams went for a lighter style like Moscatel or Cream.
It is clear that the combination of Fino/Manzanilla with Oloroso and a sweet wine at the end is the best bet to win this competition. Looking back at the winning menus from previous editions, you'll have a hard time finding other combinations. It always surprises me how little Amontillado and Palo Cortado are represented, only two entries on a total of 21 wines this year.
Sommelier and sherry pairing awards
Apart from the overall winner there is always a list of specific awards, highlighting certain combinations or achievements:
Juli Soler Award for Best Sommelier: Gianluca di Taranto from Cook & GTD, Belgium
Best Chef: Allan Schultz from Parsley Salon restaurant, Denmark
Best Pairing with Starter: Cured Red Snapper, Shiso Emulsion, Yuzu Koji Vinaigrette, Olives, Shallots, and Pink Peppercorns, paired with Manzanilla Pasada almacenista Cuevas Jurado from Bodegas Lustau. From Dinings SW3 restaurant, United Kingdom
Best Pairing with Main Course: Sweetbread, Eel, and Vigor 'Wasabi,' with Oloroso from Gutiérrez Colosía. From Vigor restaurant, Netherlands
Best Pairing with Dessert: Fermentation composed of Cocoa, Hazelnuts, and Tonka Beans, accompanied by Cream 79 "Bota No" from Equipo Navazos. From Ambivium, Spain
Most Creative Pairing: Germany, represented by brothers Daniele and Gabrielle Tortomasi, chef and sommelier at Ackermannshof* & Mandarin Oriental Savoy restaurant, presented a menu to the jury in which grapes were the main ingredient for all courses.