Vino de Pasto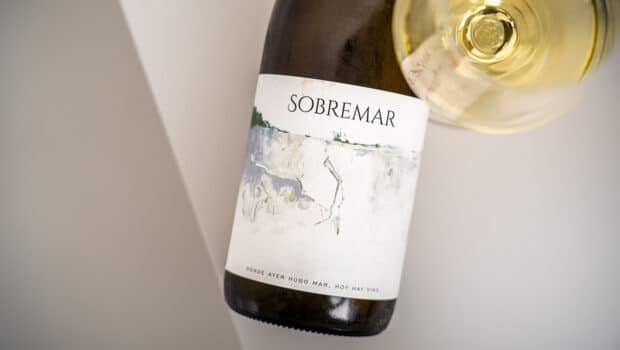 Published on May 11th, 2023 | by Ruben
0
Sobremar 2021 (Meridiano Perdido)
Donde ayer hubo mar, hoy hay vino…
Sobremar 2021 is a new wine from enologist Joaquín Gómez Beser, focusing on the Palomino grape and the pagos around Jerez. It is a Vino de Pasto, made with Palomino grapes from the 3.5 hectare "La Mendoza" vineyard in the pago Cerro Pelado near Jerez. The estate is currently in ecological conversion.
The wine is fermented and aged for 11 months in stainless steel and 50% concrete. A very light veil of flor appeared, just enough to prevent oxidation, but certainly not a primary element in its profile.
Meridiano Perdido is a project by the Gómez Beser brothers that was born in 2019. Joaquín committed to making great white wines in the Marco de Jerez. The first was the eponymous Meridiano Perdido 2019, with grapes sourced from Trebujena.
The name refers to the Meridian of Cádiz, which governed all Spanish cartography from the 1730s until 1884, when Greenwich was established as the universal meridian. Since then it has been known as the lost meridian.
Sobremar 2021 (12%, Meridiano Perdido, 6000 btl.)
Nose: white fruits, quinces and grapefruits. A lot of mineral notes as well, like gravel and crushed seashells. Whiffs of sea spray, dried flowers and warm shrubland. A very light hint of tar as well, in the background.
Mouth: fresh and mild attack, with a vivid sapidity (lemons) but also this clear mineral side. Subtle hint of cider apples, a faint metallic edge as well. Faint white fruits but mostly on marine flavours, dried herbs and a touch of salt.
Availability: typically around € 10, available from Lavinia for instance.
Summary: This is one of the lighter Vinos de Pasto I've had, with a really characteristic nose but a slightly simpler profile in the mouth. Highly drinkable and a perfect stepping stone to the more serious wines in the region.