Manzanilla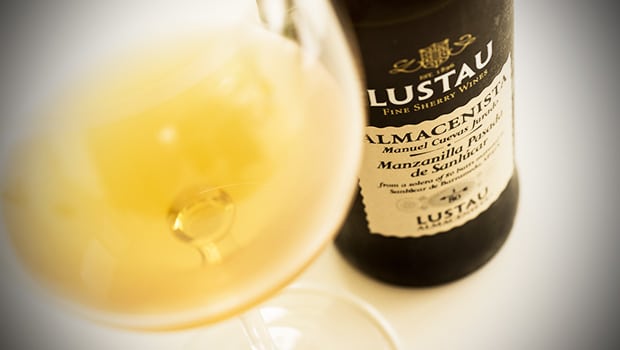 Published on August 24th, 2013 | by Ruben
0
Almacenista Manzanilla Pasada (Lustau)
The Almacenista range is probably the best known range of Bodegas Lustau. Today we're having the Almacenista Manzanilla Pasada, a wine taken from a solera of 80 butts matured by the small producer Manuel Cuevas Jurado in Sanlúcar de Barrameda. It was aged for seven years and although it isn't mentioned on the label, it is said to be bottled en rama, with minimal filtration.
The butts used for this Manzanilla Pasada are over 80 years old
Lustau also has a Manzanilla Amontillada 1|21 from the same almacenista, which matures its wines in a small bodega in the Calle Trabajaderos.
Manzanilla Pasada de Sanlucar – Manuel Cuevas Jurado (17%, Lustau Almacenista 2011, 1|80, 50 cl)
Nose: complex nose, with a particular aroma of the fat of cured Serrano ham (or beef jerky) at the forefront. Some farmy and vegetal notes, say green olive tapenade and mushrooms. Yeasty notes. Almonds and walnuts. Soft touches of iodine and green herbs.
Mouth: dry and refreshing. Not extremely full-bodied, but nicely oily. Still some hints of beef consommé. Mineral notes and gentle brine. Almonds. A light praliné edge as well, the first hint of oxydation. A nicely fresh flavour of oranges and apples too. A good example of the Manzanilla Pasada style, complex although it stays pretty much on the smooth and delicate side. Long finish.
Availability: rather easy to find in specialized stores. Around € 35 for a full bottle, or € 20-25 for a 50 cl bottle.
Summary: One of my favourite wines in the Lustau Almacenista range and a good example of the Manzanilla Pasada style. Rich but at the same time a bit too smooth.