Moscatel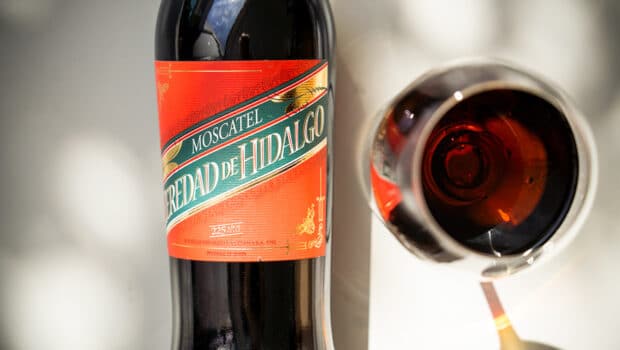 Published on June 30th, 2023 | by Ruben
0
Moscatel Heredad de Hidalgo (La Gitana)
Heredad de Hidalgo is a low-end range from Bodegas Hidalgo La Gitana. It includes all types of sherry wines from dry Manzanilla to very sweet Pedro Ximénez, even including a Fino de Sanlúcar. As often with these ranges, distribution can be precarious and wines come and go regularly. The range isn't mentioned on the La Gitana website either, which is usually not a good sign. In general the sherry industry is trying to phase out the bottom end and move upwards, with more sustainable pricing.
A few years ago the label received a succesful (retro) makeover compared to the old label. The price is still very low in Spanish supermarkets.
Moscatel 'Heredad de Hidalgo' (17%, Hidalgo La Gitana)
Nose: a lot of dates and figs, with caramelized nuts and some molasses. It's easy to get the sun-dried grapes in this nose. Hints of Port wine too. There's a faint coastal note to it, as well as a hint of Earl Grey. Nonetheless I expected more floral elegance from this grape. Some alcohol (orange liqueur) shows as well.
Mouth: sweet but not too cloying. Plenty of sun-dried raisin character again, as well as toffee flavours and brown sugar. Hints of cinnamon and brioche. The typical Muscat aromas are somewhat suppressed and it feels a little hollow in the middle. There's a metallic touch and an alcoholic edge showing through.
Availability: so and so. Mostly sold in Spain (as low as € 6 in supermarkets like Alcampo). Closer to € 10-15 in other countries, but not widely available.
Summary: The retro label makes it seem more valuable than it actually is. It's a cheap Moscatel that misses some of the typical aromas, as well as a little refinement. A price driven supermarket option, but there are better offerings that are still really affordable.