Other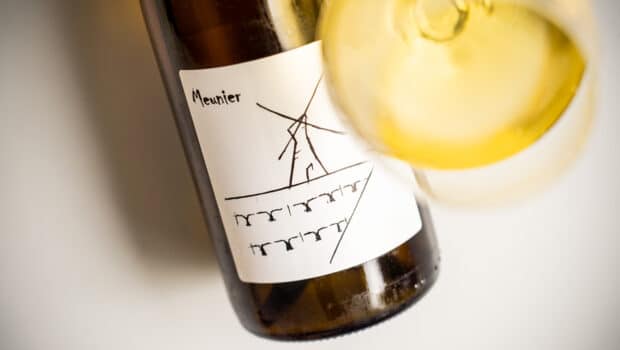 Published on December 13th, 2022 | by Ruben
0
Meunier 2020 (4OjosWines)
It has been a while since we've covered one of the white table wines coming out of the sherry region. Today we present you 4OjosWines, a winery run by three women, all technicians in viticulture: Lucía Fuentes, Olga Sánchez and Desirée Rodríguez.
I discovered 4 Ojos while having dinner at Aponiente ***. They put this winery on the map and at that time they served a wine made exclusively for them, called La Má. It is a wine made with 100% Muscat of Alexandria, so in a way it was a sister wine to this Meunier 2020.
In fact Muscat is the protagonist in all of their wines, so contrary to what you may think, the name Meunier has nothing to do with the Meunier grape. Meunier is French and translates as Molinero in Spanish, or miller. It is a tribute to Ms Molinero, their teacher while getting their viticulture degree. I believe other vintages were named Molinero at some point, adding to the confusion.
The Moscatel grapes grow on albariza soil in the María Luísa vineyard in the pago Balbaína. The wine undergoes slow fermentation (dry) and ages on its lees for 7 months. Interestingly, they use ex-Oloroso and ex-Amontillado barrels to age the wine.
If you're interested in their other wines, be sure to also check out Contratiempo (their first wine ever), Al Tun Tun or Desvelao wich undergoes a short period of ageing under flor.
Meunier 2020 (12,7%, 4 Ojos, 1097 btl.)
Nose: highly reductive at first. In fact I opened the bottle, poured a glass and put the bottle in the fridge. The second day the typical floral Muscat aromas were back! Floral hints (jasmine) and a whiff of lychee in the background. In addition to these typical notes, there are also more funky elements. Plenty of chalky minerals. Some toasted almond, lemon acidity and a funny hint of… tinned sardines in escabeche.
Mouth: again a difficult combination of the rounded Muscat fruits, the mineral notes from the albariza, as well as some grapefruit bitterness and nutty, lightly oxidative flavours of the sherry casks. With so many influences fighting for attention, the harmony is lost a little.
Availability: very limited. They sell it directly for € 17. Check this page for a list of restaurants and shops in the area that stock their wines.
Summary: I had two bottles of this. The other bottle never recovered from the reduction (too bad) and even though this bottle became fresher, I'm not quite sure how many of the funky notes were intentional. I loved La Má but this never really worked for me. Quite funky, lacking a bit of harmony, and possibly having stability issues.