Background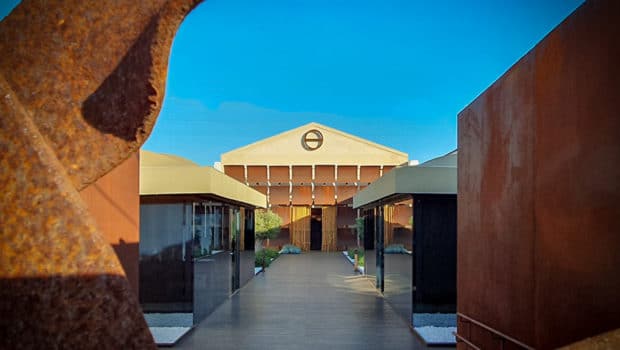 Published on April 30th, 2019 | by Ruben
0
Dinner at Aponiente *** (Ángel Leon)
It's a nice Friday in April and we decide to leave the rental cars at the hotel in Jerez and take the train to El Puerto de Santa María. We're a group of 11 Belgian wine lovers and having to drive back soberly to the hotel would be a torture for the three drivers in our group. We've booked dinner at Aponiente, the three star Michelin restaurant of chef Ángel Leon and sommelier Juan Ruiz. It's part a three-day sherry trip with bodega visits and this restaurant as a gastronomical highlight.
Aponiente is all about fish and seafood
Aponiente is in an old tide mill on the outskirts of town, and behind the impressive corten steel gate you are greeted in a patio with two small glass pavillions. This is where the appetisers are served, accompanied by a glass of sobretabla that is made at the winemaking cooperative Tierra de albarizas in Trebujena.
A young white wine with the classic freshness of Palomino (not yet sherry but ready to be poured into a solera), paired to excellent bites like charcuterie made from fish (sobrasada from horse mackerel or mortadela from sea bass), a white cannelé of oak-dried sardines and the famous tortillita de camarones (shrimp fritter), light as air.
A great start and a perfect showcase for what this restaurant is famous for: all kinds of local fish and seafood dishes, small explosions of the ocean but often disguised as culinary trompe-l'oeils tricking you into thinking it's actually something else, even meat.
Cooking fish with liquid salt
After the appetizers we are accompanied inside, walking past the remains of the old mill, the glass wine cellar and the meat cabinet. Hanging down from the cords are actually fish sausages and fishes that are slowly cured and dried. Behind this there is the open kitchen with around 20 cooks – add to this easily the same amount of waiters and sommeliers, for just 30-35 guests. At the table the first things served are bread and a wonderful plankton-infused olive oil.
Earlier this year at the Madrid Fusión fair, chef Ángel Leon got a lot of attention for his new technique of cooking fish with a special liquid salt. He combines four types of salt which are dissolved in a watery liquid, brought to the table in Erlenmeyer flasks covered by a layer of parafilm. They are quickly uncovered and we are invited to pour this over the fish on our plate.
As soon as the liquid hits the plate it crystallises before our eyes, creating a thick crust and at the same time generating some heat, cooking the (small) fish. Pure magic and a very beautiful process to witness.
It is performed twice during the night: once on a plate with three goose barnacles (for which it had no added value at all in my opinion, as the salt hardly touches the barnacles) and another time to actually cook a small spotted flounder, which is then taken back to the kitchen to be uncovered and finished by the chefs. Hats off to the caviar-fermented butter (12 months!) that comes with the fish, just heavenly.
Mar de Fondo menu
The rest of the courses in the 'Mar de Fondo' menu (Groundswell menu) are always packed with flavour, very intense but very balanced at the same time. Special mentions for the anchovies with gazpacho, the inflated razor clams filled with a pea purée and served with mojama stock, the delicate fiddler crab dish and the 'roasted chicken' which is actually made with a meaty local fish, the crispy skin of a morey eel, oignons and a sauce that has echoes of chicken stock and Armagnac.
Among the 13 main dishes, two things were less to my liking: the combination of oysters and kidney sauce (although it is announced as liver sauce). This didn't work too well in my opinion, and the wine pairing was struggling as well. Also some of the sauces had a thick, very sticky texture that reminded me of Chinese cuisine and seems at odds with the generally lighter sauces that we are seeing in high-end restaurants nowadays.
Sherry and other wines at Aponiente
Part of the reason for coming to Aponiente is the wine pairing. We had 10 wines and one Kombucha with the main dishes, eight of which are specifically made for the restaurant. Six were sherry wines:
Burbuja Blanc de Noirs 2017 by Bodegas Forlong, a fresh and balanced sparkling wine from Palomino, with hints of pear, blackcurrant and wild flowers and a low acidity.
Agostado 2016 by Cota 45 (Ramiro Ibáñez), a young yet old-fashioned Palo Cortado made with grapes of the inner bunches (more malic acid), aged half of its life under flor. Basically the new version of his Encrucijado.
La Má made by 4ojoswines. A dry, oxidatively aged Moscatel with a very aromatic nose, including tropical fruits and elderflower. To my surprise it works with salty food.
Fino En Rama Yodo (third edition, 300 bottles) made by Bodegas Lustau. A wine of which I tried the first edition already and this edition was just as beautiful.
Isla Topo, a white wine from Primitivo Collantes, made in the finca Matalián.
Mahara from Vinificate (Gómez Lucas brothers), a white wine made from Tintilla de Rota grapes.
Oloroso La Barajuela 2013 by Luis Pérez. A must-have when it comes to promising winemakers. A mix of sherry notes and full white wine, fruits and minerals in a rich combination. A highlight of the evening.
Oloroso Txodo from Bodegas Lustau. Another highlight, over 20 years old mostly with static ageing, showing a beautiful waxy and polished nose and a glyceric body.
Oloroso Anticuario 1|7 from El Maestro Sierra, one of the best old Oloroso wines around, between 80 and 100 years of age.
Kombucha with ginger and turmeric by SoulK
Moscatel Pico Plata Viejísimo from Bodegas Yuste, an old version of this wine. Really good, with a balanced acidity and sweetness.
Local wines from promising winemakers
All of these wines are produced in the Cádiz area and most come from young and promising winemakers. While I love this style of wine, I think it takes a bit too long before there is a crescendo in the line-up. Isla Topo and Mahara seem a step down from the intense Yodo for instance. The three Olorosos are by far the best wines of the evening and the ones before revolve around the "let's prove there is good wine from Palomino" idea too much.
I am well aware of that already and personally I would have loved to see two or three pairings with stunning wines from other Spanish regions as well, especially given the price. I appreciate the idea to think locally but some are not necessarily 3-star level, contrary to the dishes. Shoot me.
Magical bioluminiscent plankton
After the main dishes, it is time for culinary theatre again. As all tables are brought to the same point in the menu, the lights go out and the sound system tells a story about the light of the sea. At the same time a special drink is served, a kind of fruity water that lights up in the darkness. Apparently it is made from crabs that eat bioluminiscent plankton. A magic moment.
The four cheeses from the cheese board are prepared for Aponiente by Bucarito in Rota and all had a marine element, like plankton Livarot or a Comté type with sea asparagus. Desserts are excellent as well, especially because they revolve around acidity and savoury flavours instead of sweetness, I like that. The first had lemon and basil, the second avocado, rock chocolate and hot chilli oil.
Aponiente: our conclusion
Service is near-perfect. To give you an idea: some of us are left-handed and it only takes them one course to identify them and prepare the table differently for the next dish. Some people in the team are really struggling with the English language though. Thumbs up for the fact that you can always ask to have another glass of a certain wine to revisit, even further down the menu.
Dinner at Aponiente in El Puerto is a special experience, a culinary theatre with superb food, often surprising but never too far-fetched, accompanied by great local wines and perfectly directed by the team. Highly, highly recommended.
–
The menu 'Mar de Fondo' is € 225 + € 100 for the wine pairing. Add around € 30 for water and coffee. Aponiente is found in the Calle Francisco Cossi Ochoa in El Puerto de Santa María, about 20 minutes from Jerez. Reservations through www.aponiente.com
Also check out my list of the best restaurants in the sherry region