News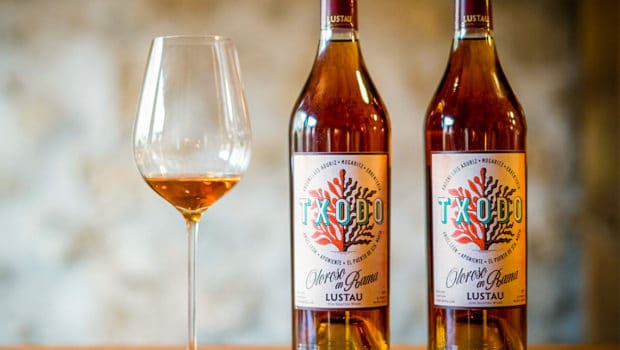 Published on March 14th, 2019 | by Ruben
0
Txodo Oloroso En Rama (Lustau)
Bodegas Lustau have just announced Txodo, a new Oloroso, taken from a single cask selected by Mugaritz ** (Andoni Luis Aduriz) and Aponiente *** (Ángel León) alongside Lustau's winemaker Sergio Martínez.
After the well-aged Fino Yodo and Amontillado Yodo, launched in 2016 and 2017, the new Oloroso is the third in a series of collaborations between the bodega and Ángel León. For this occasion they also invited Mugaritz, uniting these 2- and 3-star Michelin restaurants from the North and South of Spain, both great ambassadors when it comes to serving sherry wines alongside their dishes.
Txodo should be seen as an homage to the Basque cuisine of the North, says León, and the fact that they share a similar passion for food and wine. As you may know, the letter tx (ch) is typical for the Basque language, so this time we get a Basque variation of Yodo, which is the name of Ángel León's boat by the way.
Oloroso Txodo
The Oloroso Txodo comes from a very small group of casks (9 in total) which had over 20 years of oxidative ageing, 18 of which in a static way without refreshments, hence the relatively high 22% ABV. It was bottled in March 2019 with minimal filtration (en rama). The label unites the algae that are so typical for Aponiente with the oak leaf from the Mugaritz logo.
As Txodo comes from a single barrel, only 1000 bottles (50 cl) exist. The wine will not be for sale, it will be exclusively available in the pairing menu at both restaurants. Aponiente starts its 2019 season on the 19th of March and Mugaritz starts 10th of April.