Bodegas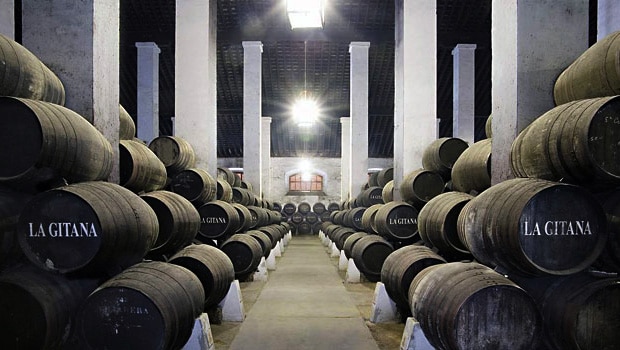 Published on October 7th, 2013 | by Ruben
0
Hidalgo La Gitana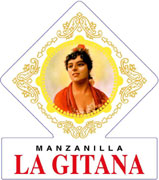 Bodegas Hidalgo, or Hidalgo – La Gitana to make sure it isn't confused with Bodegas Emilio Hidalgo, was founded in 1792 by José Pantaleón Hidalgo, who was originally from Santander in the North of Spain. Especially during the 19th century it grew into the well-known company of today.
The operations of Hidalgo – La Gitana are old-fashioned in a positive way, in times when most other bodegas have been modernized. First of all, it is a true family business (sixth successive generation) and one of very few remaining independent. Secondly, it still relies on its own vineyards in two of the best pagos: Balbaína – in between the sea and Jerez – and Miraflores, the great Sanlúcar vineyard. They own about 170 hectares in total – all organically farmed.
Manzanilla La Gitana
The bodega itself is called San Luis and resides in Sanlúcar de Barrameda near the Guadalquivir River, at sea level. Actually it was right on the shore until the 18th century, when the sea started to move away. No need to say there is a constant exposure to sea breezes. The bodegas contain about 10.000 botas, many of them over 200 years old. Hidalgo – La Gitana produces about 200.000 cases of sherry and brandy each year.
About 70% of this production is down to the Manzanilla La Gitana, Hidalgo's flagship wine, produced in a family solera which dates back to the early 19th century. In fact it dates back to around the same time when Manzanilla as a wine type came into existence. The name La Gitana means the gypsy woman, and comes from a bar in Málaga run by a gypsy, where Hidalgo's Manzanilla was particularly popular. Nowadays it is probably the most common Manzanilla in Andalusian restaurants and bars.
In recent years the family also started a restaurant chain and bought a wine bodega in the Rioja area, but most of these activities have been closed down and their focus is now on sherry again. They also produce brandy Fabuloso, vinegar, Ponche liqueur and table wine.
Hidalgo – La Gitana: Manzanilla and sherry
Manzanilla La Gitana, around five years old, from a solera of 14 criaderas.
Manzanilla La Gitana En Rama, 300 bottles were released in 2011 for the first time. Since then two sacas a year. Hard to obtain.
Manzanilla Pasada Pastrana, launched in 1997, about twice the age of La Gitana and only 5% of its volume. Though not explicitely en rama, also bottled with minimal filtering.
Premium range: Amontillado Napoleon, Oloroso Faraon, Cream Alameda and PX Triana, all between 6 and 20 years old.
VOS / VORS: Amontillado Napoleon VORS (around 40 years old), Oloroso Faraon VORS (around 40 years old), Palo Cortado Wellington VOS (just under 30 years old) and Palo Cortado Wellington VORS (nearly 50 years old), Pedro Ximénez Triana VORS (around 35 years old). Previously in bottles with 'handwritten' labels and a Viejo mention, now in more minimal 50cl bottles and named after their Premium range counterparts.
Special releases like the Oloroso 1986, a vintage sherry from 12 old barrels filled in 1986 from the El Cuadrado vineyard. The wine matured for 20 years in the San Francisco bodega and 2800 bottles were filled in 2007.
Hidalgo La Gitana also commercializes a low-end range Heredad de Hidalgo. It includes a Manzanilla, Fino and Cream sherry. In most of the books on sherry, this range isn't even mentioned. It seems to be distributed mostly to supermarkets and wine stores that are looking for cheap wines to fill their racks.
Contact
Bodegas Hidalgo La Gitana
Banda de Playa, 42
Sanlucar de la Barrameda
Tel: (0034) 956 385 304
Visitors welcome. La Gitana also has a restaurant inside the bodega called Entre Botas. It is featured in my article about my favourite restaurants in Jerez and Sanlúcar.