Other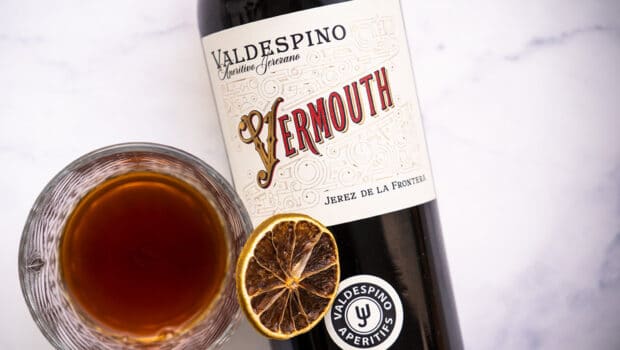 Published on March 18th, 2022 | by Ruben
0
Vermouth / Quina (Valdespino)
Tonic wine, fortifiers or even health wines… quina and vermouth have a long history
In 2021 Valdespino launched a Vermouth and a Vino de Quina, two aperitifs inspired by a century-old recipe. Both are made by macerating fruits (especially citrus peels), herbs and spices in a base of quality sherry. Actually they are usually macerated in neutral alcohol and then the extracts are blended with the wines. The final blend marries in barrels that previously contained Valdespino Oloroso wine before bottling.
For more information on vermouth in general, its history and the recent revival in the sherry region, read my article on sherry vermouth.
I've read that the sherry wines are around 15 years of age, but the official documentation doesn't seem to confirm this. In any case the vermouth consists of Oloroso and Moscatel sherry, with a selection of wormwood, chamomile, cinnamon, clove and dried Seville orange, among other plant extracts. The recipe of the quina revolves around Oloroso and Pedro Ximénez sherry (from the soleras of El Candado), combined with cinchona (quina bark) and gentian among others.
The recipes already hint at a rounder vermouth profile and a stronger quina profile with more bitterness. The higher ABV of the quina (17,5% versus 15%) underlines the differences. Pilar from Valdespino told me different countries seem to prefer one or the other, so there's definitely a market for both.
I'm a big fan of vermouth – it works perfectly as an aperitif. In summertime I also love mixing it with ginger ale, which makes for a very refreshing, mildly alcoholic drink. No need to tell you both are also quintessential elements in plenty of cocktails. In any case these are highly versatile drinks.
Vermouth (15%, Valdespino, L21)
Nose: aromatic, showing hints of oranges, caramel and subtle floral notes (Moscatel shines through). Also minty notes. The warmth and subtle woody tones of the Oloroso blend in perfectly as well, so this really confirms its origins in the sherry region.
Mouth: nicely balanced. There's the rounded sweetness of the Moscatel, getting spicier with cinnamon and clove. The typical nuttiness of the Oloroso is present (walnuts, hazelnuts) alongisde dried orange peels. Pleasantly bright citrusy notes too. Towards the end a light bitterness (burnt rosemary) and a hint of juniper come out.
Quina (17,5%, Valdespino, L21)
Nose: slightly darker, lacking the aromatic / floral top notes of the vermouth. Instead there are more velvety, caramelized notes, dates and raisins. Here the Pedro Ximénez stands out. There's a big savoury side to it as well, with roasted notes and herbs.
Mouth: more bitterness and a more savoury character, although the PX is there to keep it in check. A lot more dense, with the roasted aspect of nuts standing out. Liquorice and subtle vanilla. Also lots of cloves and hints of nutmeg.
Availability: both are around € 13-15 in Spain (check Bodeboca for instance). Around  € 20 in other countries. In Belgium, check Broekmans for instance.
Summary: Two great signature aperitifs based on sherry wine and the maceration of fruits, herbs and spices. My preference goes towards the round and perfectly balanced vermouth, while the quina offers more weight, body and bitter notes. Better suited for cocktails perhaps.