Background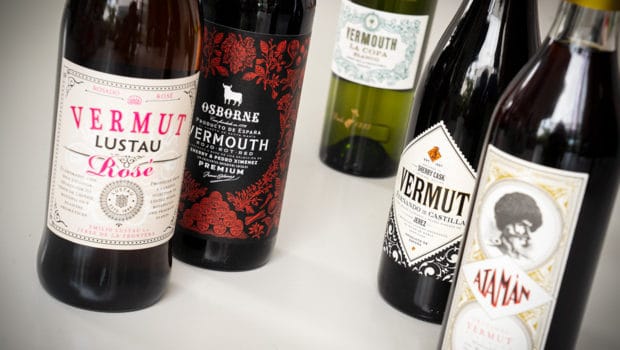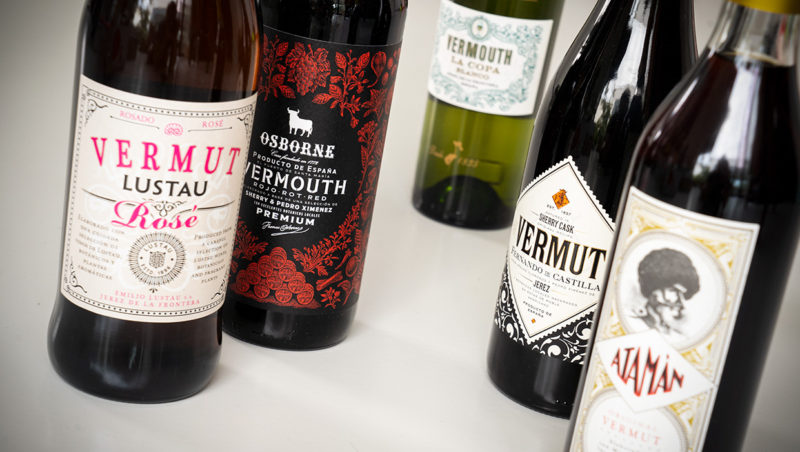 Published on July 18th, 2019 | by Ruben
0
Sherry vermouth: a revival
Vermouth and sherry have a few elements in common. Both are fortified white wines (sometimes red in the case of vermouth) and excellent aperitifs. Whereas sherry has a natural, primary wine profile, vermouth is aromatized with all kinds of aromatics. For a few years now vermouth is gaining popularity again. New brands are emerging in many countries, the cocktail scene is embracing the diversity and several countries have dedicated vermuterías. Around 2016 sherry bodegas started to pick up their lost tradition of producing vermouth based on sherry wines and introduced modern interpretations of old recipes.
What is vermouth?
The word vermouth goes back to the German Wermut which means wormwood. Indeed wormwood wine has been known for centuries as a medicinal drink used for treating stomach problems and other health issues. Recent archeological investigations have identified Chinese 'Chang' wines dating back to 1050 BC which had wormwood among their herbal ingredients, and Indian herbal wines go back even further. Hippocrates also cited wormwood wine.
Herbal wine was seen as a medicine and this idea lived on for many centuries. Quotes like "wine is the most hygienic of all drinks" by Louis Pasteur reinforced this idea. Then in the 17th century Italian merchant D'Alessio began to redefine wormwood wine in Piemonte, which quickly became the center of production. Originally made from white wine and leading to a dry and bitter profile, a sweeter version from Muscat wine occurs in 1786, made by Antonio Carpano. This was the first modern vermouth as we know it today.
Later other brands emerged, including Cinzaano, Martini and Gancia, followed by Noilly Prat and Dolin in France. In the 19th century it became increasingly popular and made its way to Spain, I believe the oldest brand still in existence is Yzaguirre near Reus in Catalunya.
How is vermouth made?
Traditionally used for medicinal purposes, it starts as a mixture of botanicals (herbs, roots, fragrant plants and flowers, barks and spices) which are cold-macerated in alcohol or brandy (and sometimes redistilled). Popular ingredients are cinchona bark, wormwood, gentian, cinnamon, coriander, sage, clove, anise, vanilla and citrus peels. Usually each of the extracts are produced separately (sometimes in wine but more commonly in neutral alcohol as it gives a more predictable extract) and then added and blended into the base wine – which by law makes up at least 75% of the finished product.
The base wine is fortified and aromatized at the same time, and the resulting recipe is usually allowed to settle down and marry for a few months before being bottled. Some vermouths get a proper ageing period in oak barrels as part of their production process (e.g. Lacuesta has a common version from American oak but also a chestnut barrel version). Once fortified and aromatized, it can also be sweetened with caramel or fresh grape must.
Vermouth rooted in local winemaking
Mind that there is white and red vermouth, but the red version usually gets its colour from caramel – red wine is rarely used for the production of vermouth (even Oloroso or Pedro Ximénez are technically white wines of course). There is also a third style called dry vermouth which is a more herbal, floral and dry version of the white vermouth.
It is quite logical that most vermouths are rooted in local winemaking traditions. The French brand Noilly Prat uses Picpoul and Clairette, in Italy they use Trebbiano and Moscato among others. The Spanish house Lacuesta uses Rioja wines, the excellent Petroni uses fragrant Albariño, etc. Given its enormous wine heritage it's not surprising that Jerez also has a long history of making vermouth (spelled vermut or vermú in Spanish) based on their own sherry wines.
Quina / Quinado / Jerez Quinada
Vermouth production in Jerez can be traced back to the tradition of medicinal wines that were made to cure common health problems. One of these wines is Quina or Jerez Quinado. Medicinal wines in the Marco de Jerez had always been based on quinina, a substance that comes from the bark of the quina tree, which helped against fever, malaria, typhus and had general antiseptic properties.
Some labels had Jerez para enfermos all over ("wines for sick people"). Often they were said to have miraculous effects, reflected in the labels that sometimes referred to the virgin Mary or saints. Moreover, some quina wines were even specifically aimed at children, in a small dosis, helping them to gain more appetite or heal quicker.
Check my review of the very old Atamán Quina
Jerez Quina was usually made of Pedro Ximénez wine in which quina bark and other medicinal plants were cooked. Some of the best known producers at the time were Real Tesoro, Vázquez and Cayetano del Pino who were also one of the pacemakers for vermouth production in Jerez. They even produced a trademarked sparkling vermouth Champagne… The development of these digestive and restorative wines began to fall in the 1940s and 1950s with the appearance of more scientific pharmaceuticals, but vermouth had already been marketed as a classic aperitif so this continued to be produced in Jerez until the 1960s.
Sherry-based vermouth
Given the wide array of sherry styles, wines from Andalusia are very rewarding as a base for vermouth. In fact as sherry is already fortified, there's usually no need to add neutral alcohol any more. And they can use Moscatel or Pedro Ximénez wine instead of caramel for colouring and sweetening.
Nowadays white sherry vermouth is usually made with Fino or Manzanilla wines, red vermouth with Amontillado, Oloroso and Pedro Ximénez. When it comes to sherry vermouth, all producers are now going back to their old recipes. For instance Gonzalez Byass makes its vermouth from recipes dating back as old as 1896, housed at their Historical Archives.
In general sherry-based vermouth tends to be a tad sweeter than that from other countries. Often there is this velvety touch of Pedro Ximénez. To sum up, I think it is best compared to the classic Torino style (except for the vanilla flavouring). Some producers like Lustau, Fernando de Castilla and Barbadillo tend to have less sweetness, aiming for a drier balance with intense herbal elements.
In the end it's good to keep in mind that all of the current-day sherry vermouths are made with high-class wines, often aged in soleras for 8 to 15 years, which makes them display a great complexity and a perfect base for the botanicals.
Sherry vermouth on its own or in cocktails
Served with a slice of orange and a few ice cubes, it is my preferred aperitif on a summer's day, and if it's really hot I love a mix of 1/3 of red vermouth with ginger ale, for an even more refreshing drink.
Sherry-based vermouth is also an essential ingredient for numerous cocktails, you can get dozens of recipes on the official sherry.wine website or in Lustau's cocktail archive.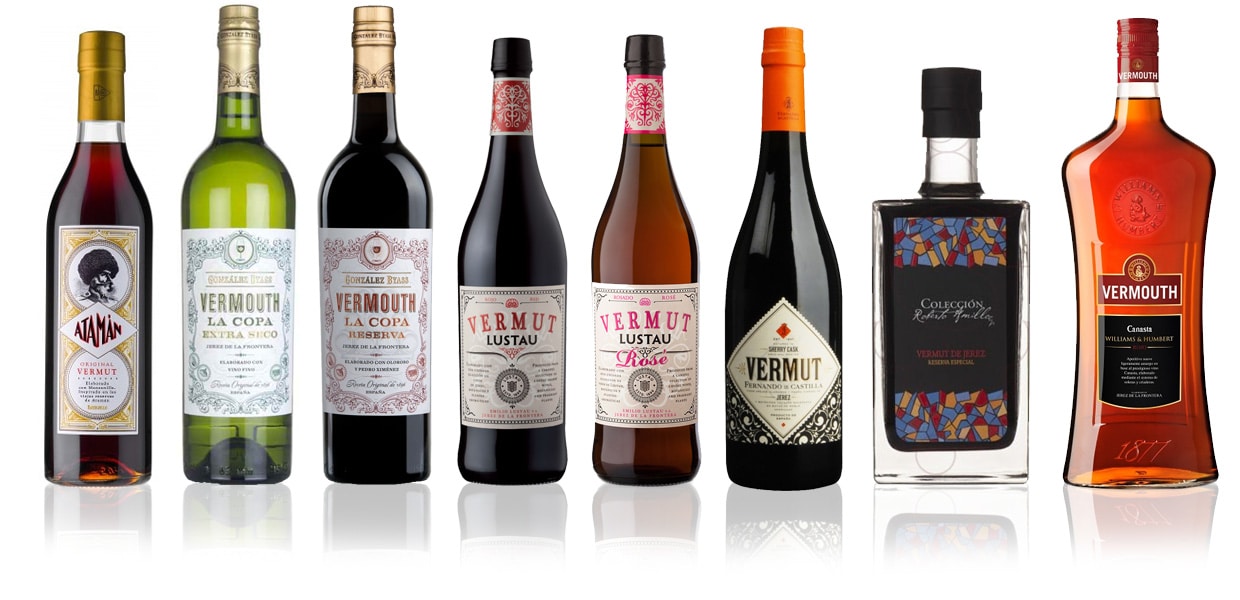 A list of sherry vermouths
Although Canasta and Amillo came first, it wasn't until Bodegas Lustau and González Byass launched their sherry-based vermouths in 2016 that the renewed interest in this product category really took off. Here are the sherry vermouths that you can find today:
Canasta Rosso Vermut
A clearly Martini-inspired vermouth from Williams & Humbert based on Canasta Cream, launched in 2008 already but less artisanal than most of the others I would say
Vermut Amillo
Red vermouth
Vermut Reserva Especial, based on 15 year-old Oloroso and 6 year-old PX, barrel-aged for 6 months
La Copa from González Byass
Red vermouth, based on 8 year-old Oloroso and Pedro Ximénez
White vermouth
Extra Seco, a more herbal white version (French style)
La Copa Reserva, which is a 12 month barrel-aged version
Vermut Lustau
Red vermouth, based on 10 year-old Amontillado (80%) and PX
White vermouth, based on Fino and Moscatel
A unique rosé version, based on Fino, Moscatel and Tintilla de Rota
Sherry Cask Vermut – Fernando de Castilla
Classic red vermouth based on 8 year-old Oloroso and PX
Atamán Vermut from Barbadillo
Based on Manzanilla and inspired by some very old examples of vermouth that they still have in the warehouses
Goyesco Vermut from Delgado Zuleta
White vermouth based on their well-known Manzanilla La Goya
Antonio Pedro I from Yuste
Red vermouth based on 10 year-old Oloroso, married in ex-Manzanilla barrels and sweetened with some Pedro Ximénez
Vermut Osborne
Red vermouth based on Medium sherry and Pedro Ximénez, commonly found in supermarkets around here
Valdespino
The Valdepino Aperitifs include a vermouth and quina, based on old Oloroso
Sherry vermouth reviews
Here are some of the vermouths I've reviewed, to get your mouth watering:
(expect more reviews soon)