Other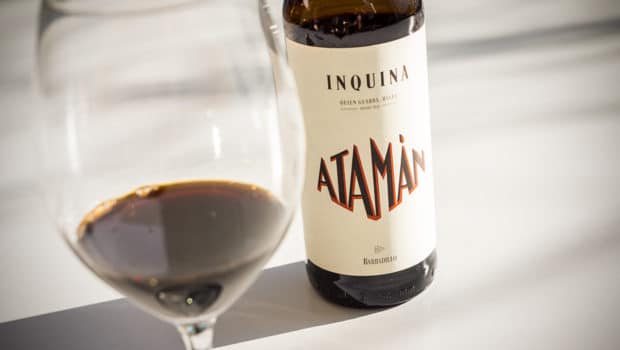 Published on February 8th, 2018 | by Ruben
0
Atamán Inquina
Atamán was an old brand by Bodegas Barbadillo which was first registered in 1943 but had not been used since the mid-1970s. Early 2017 it was relaunched as a series of traditional products that were once hugely popular but that are now largely forgotten. The old logotype looks surprisingly fresh today.
The first product is this Atamán Quina but there's also a sherry vermouth (based on Oloroso), a Ponche (typical blend of brandy, sweet sherry and spices) and a Cacao liqueur. The whole project is the brainchild of Armando Guerra (of Taberna der Guerrita and now the director of 'Alta Enología' at Barbadillo).
Quina or vino quinado was a curious flavoured wine that was often had for health reasons. Popular in the 1950-1960s, it was even given to children for its medicinal properties, whetting the appetite and helping digestion for instance. It shares some characteristics with vermouth, in the sense that it is a fortified wine infused with a range of herbs, most importantly quinine which imparts a typical bitterness (also in tonic). For more information, read my article about sherry vermouth. This Atamán quina has been maturing and concentrating in wooden barrels for over 40 years, which is highly unusual. They must have been at least half serious naming this inquina on the label (aversion in Spanish) rather than quina.
Most of the Atamán wines have been moved to a dedicated section of the old Angioletti bodega in Sanlúcar. The quina has been filled into glass demijohns to stop the bitterness increase further. There will be enough to sustain (very small) releases over the next years. A new vermouth is also being prepared, using the old Ataman version as a base. The ponche and cacao are very scarce though, so all of it has been bottled and will be very difficult to find (respectively 80 / 40 small bottles per year).
Inquina Atamán (17%, Barbadillo, Saca 2017)
Nose: wonderfully wide. It starts with an aromatic winey side (of a high-end Oloroso) enriched by hints of iodine, Mediterranean herbs (thyme, sage) and deep notes of coffee and dark chocolate. It's sweet but there's also a striking acidity – great balance.
Mouth: starts in a similar sweet & sour way, with the bitterness grudually rolling in. Think cloves, aniseed, liquorice and lots of dried herbs. Also hints of citrus peels. Bitter indeed, but the intense sweetness makes the 'aversion' smaller than I feared.
Availability: only 250 half bottles per year, most of which are distributed to high-end restaurants. Around € 50, check Vila Viniteca.
Summary: I love this Atamán inquina as a digestif wine (rather than an aperitif). The intense sweetness, sourness and bitterness work well together. A great cross-over of sweet Oloroso and vermouth with some extra bitterness. No aversion whatsoever!