Background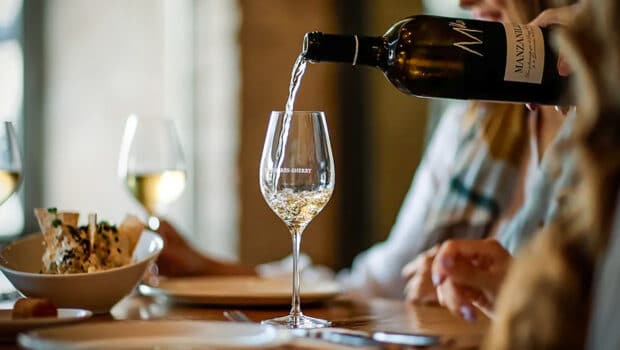 Published on October 17th, 2022 | by Ruben
0
Manzanilla is (not) a sherry wine
Manzanilla is not a sherry. Does that sound a little shocking? I think so too. Yet, it is exactly what you'll hear when you're following certain producers or certain Facebook groups. And I have the impression these voices are getting louder every day.
In the past few months there have been a lot of passionate reactions to certain claims about Manzanilla. For instance, when an article appeared that said Manzanilla is the best-selling sherry, a lot of people from Sanlúcar were on the fence. The journalist was mixing up things and should have known that Manzanilla is not a Jerez! Likewise some producers were offended when Cesar Saldaña released his book with the title El Libro de los Vinos de Jerez and included Manzanilla in the sub-title. He too was making a mistake by including Manzanilla as one of the many styles of Vinos de Jerez. If you understand Spanish, Ana Gomez sums up the arguments on her blog.
It is clear that sanluqueños are quite passionate about their home town. Having lived in Spain for a couple of years, I find this very typical for Spanish people in general. In Northern Europe we don't relate to this much but that's not the point here. The point is that it is factually correct: Manzanilla is not a sherry wine. On the other hand I also think they should not burn people at the stake for explaining things differently. In the end that's what it is: a different explanation of the same wine.
Sherry vs. Vinos de Jerez
Part of it is lost in translation, so in order to fully understand the problem we have to think in Spanish. When talking about sherry wines in Spanish, you'd speak of Vinos de Jerez (literally: wines from Jerez) or even shorter El Jerez. Similarly the sherry region is known as the Marco de Jerez. These names refer to one particular city in a very clear way. Manzanilla producers are offended because "that other city" is taking credit for "their" Manzanilla. They're not producing Vino de Jerez, they're producing Vino de Sanlúcar.
In other languagues things are different. Every Spaniard will know Jerez as a city, but outside of Spain the city is less famous. To foreigners the linguistic link between Sherry and Jerez de la Frontera is far less obvious. When wine lovers use the name sherry, they think of a big family of wines, which can be produced in different cities including Jerez, El Puerto and Sanlúcar. This also means that in English, nobody would be offended when saying Manzanilla is one of many styles of sherry. In the same way that a Fino del Puerto is still a sherry wine, even when it's not made in Jerez.

Manzanilla de Sanlúcar as a separate D.O.
In 1933, when the D.O. Jerez-Xérès-Sherry was created, there was a plan to start an independent D.O. Manzanilla-Sanlúcar alongside. For unclear reasons, they diverted from this plan. Instead, Manzanilla was defined as a type of sherry wine within the D.O. Jerez-Xérès-Sherry.
This situation lived on until 1964. Copyright issues with a nearby town called Manzanilla (in the Huelva region) were solved by creating a separate denomination of origin which linked Manzanilla exclusively to Sanlúcar. This change meant that Manzanilla could not be produced in the D.O. Huelva, but not in the D.O. Sherry either (mind that until then, bodegas in Jerez could also produce Manzanilla!). From 1964 onwards, Manzanilla legally stopped being a sherry wine. However, on a technical level Fino and Manzanilla have always had the same definition. Both regions shared (and still share) the same Consejo Regulador and have always gone hand in hand while promoting and explaining their wines.
Despite this fruitful collaboration, there's also an underlying rivalry between Sanlúcar and Jerez that goes back a long way. Centuries even. We have written an article about the difficult discussions on Fino de Sanlúcar, we'll not go into that again. Certain wineries in Sanlúcar regularly feel shortchanged, and I guess this makes them quicker to take a firm stance, even towards technicalities and side issues.
The Consejo is working hard to overcome this. Recent actions have given more credit to Manzanilla, with a separate commission within the Consejo Regulador and incorporating a new logo that now has Sanlúcar de Barrameda at the top. They also developed their own website and I believe they can now decide on their own promotional campaigns.
The traditional Andalusian wine family
Other wine regions don't seem to have this identity problem. Are winemakers from the towns of Saint-Émilion or Pomerol offended for being known as Bordeaux wines? Sometimes a capital city becomes a wine brand, but individual names can still flourish. Taking things further, I'm sure that many wine lovers think of wines from Montilla-Moriles as sherry wines too. While this is not correct, can we really blame them if the wines are technically so similar? No matter how often you point to legal documents, wine will always be a matter of perception and interpretation.
Some of the more open-minded producers in the sherry region will do the opposite and stress the fact that Jerez, Sanlúcar, Montilla, Málaga… are all part of the same wine family. Shouldn't we speak of Traditional Andalusian wines? Winemaking regions in Andalusia have shared the same traditions for centuries, and it's only in the last 80 years or so that they are divided into separate administrative structures.
So yes, I do think Manzanilla is a sherry wine
Let's face it: I'm a total outsider here, I'm not even Spanish and I am in no position to decide who is right and who is over-reacting. Yet, as an avid sherry educator and drinker (and Manzanilla drinker, sigh) I can tell you that it definitely feels a little counterproductive to fight over this. Especially since a lot of the discussions seem to take place on social media rather than in the appropriate meeting rooms.
In sherry most of what you claim will have some kind of exception. Virtually all sherry is made in a solera system, but not all… Sherry is a fortified wine, but not all… Sherry is made in the sherry triangle, but not all… Explaining the basics of traditional Andalusian wines to the general wine public is hard enough already, and only possible if you leave out certain details here and there.
In that sense: yes, I do think of Manzanilla as a sherry – part of the big family that is sherry wine. I am also convinced both sides can benefit from working together and stressing the similarities. To me titles like 'Manzanilla is the best-selling sherry' are fine, simply because we have to find a balance between scientific precision and common sense. In a non-legal context, I don't see much harm in small simplifications. People will still learn that Manzanilla is exclusive to Sanlúcar and that it has a special status within the region.
We should continue to educate people on the unique link between the wine and its home town. But please, let's focus on the common history instead of fairly recent administrative structures. And let's save our energy for the more important issues.