Fino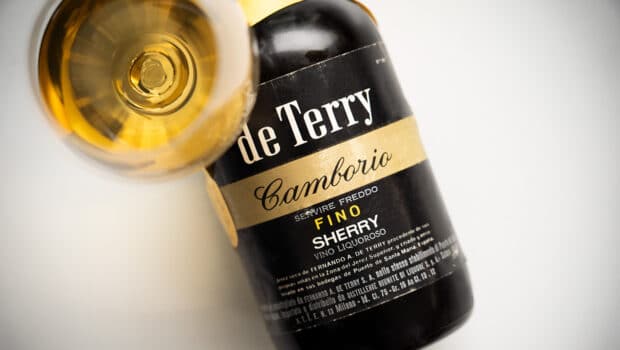 Published on February 3rd, 2022 | by Ruben
0
Fino Camborio (Fernando de Terry)
This is a two-part article. First I reviewed two modern Camborio wines from Juan Piñero and now its spiritual ancestor from the 1960s.
Bodegas de Terry was founded by the Terry family, which moved out of Ireland in times of financial and political problems in their country. They ended up in Cádiz in 1774, working as shippers. It was Fernando A de Terry who invested in winemaking and acted as an almacenista around 1865, quickly creating a niche for himself. The company would really take off under his son Fernando M. de Terry, who also expanded into brandy. In 1905 he came up with the idea to wrap each bottle in a yellow woven mesh, making the bottles stand out against other brands.
de Terry had a couple of highly regarded sherry wines but was mostly known for its brandy Centenario
Their main premises were in El Puerto de Santa María (Calle Santísima Trinidad) with other buildings (as well as extensive horse stables) in the outskirts of town. The bodega naves were called El Carmen, La Tribuna and La Maruja, aligned around a central patio.
Fino Camborio bottled in 1968
By the 1960s Terry was one of the larger bodegas in the sherry region, mostly known for their brandy, including the benchmark Terry Centenario. However their sherry wines are also renowned, especially the Fino Maruja (later Manzanilla Maruja) and Fino Camborio. The bottle we opened today is from a rather high-class series with dumpy bottles that had coloured ribbons around the neck to indicate the type of sherry. There was a Fino, an Amontillado, Oloroso and Cream.
The base of my bottle indicates 1968 – this presentation was introduced around 1965. In versions from the mid 1970s the name was shortened to merely Terry and around 1979 they switched to a totally different bottle shape and label.
In the 1970s de Terry starts investing huge amounts of (borrowed) money to take advantage of the sherry and brandy boom. However the market collapses in the late 1970s and the history of the company ends in 1981 under Fernando de Terry Merello who was married to the daughter of the Conde de Osborne. They are taken over by Rumasa (who continue to use the brands) but we know that chapter in the history of sherry doesn't end well…
The brand Camborio moves to Juan Piñero
After the expropriation of Rumasa in 1983, Terry becomes part of different mergers and company restructurings. First it is sold to Harveys, later becoming Allied Domecq, then Pernod Ricard, then Beam Global. Around 2005 Beam Global restructures the acquired businesses and sells a whole series of brands and stocks. This is also when the rights to the brands Maruja and Camborio are acquired by Juan Piñero.
It is important to note that he only bought the brands and decided to use them for wines that don't come from the original soleras. So while this old bottle of Fino Camborio is sort of a spiritual ancestor of the Fino Camborio that I reviewed earlier, the wines themselves have nothing in common except the name and perhaps a bolder, fuller style of wine that was much more common in the 1960s than it is in the current market.
The name Terry lives on today, now owned by the Grupo Emperador if I'm not mistaken. There used to be a sherry wine range under Beam Global but nowadays the only products left are the brandy Centenario (pushed as the perfect brandy to pour into your coffee) and brandy 1900.
Fino Camborio (Fernando A de Terry, bottled 1972)
Nose: as expected the Fino profile shifted to a pretty classic Amontillado nose. Flatter than a fresh wine, but you can still feel the coastal flor notes, but they are joined by hazelnuts and almonds, leather, orange peels and something darker, like toffee. I get an impression of stables as well (hay, wet animal fur). Hints of oak and a hint of croissant (without the sweetness). Also hints of sesame seeds and something faintly meaty.
Mouth: very good. The intense flor notes are right there, with a punchy lemon and salt combo. Quite naked and fairly thinned out after all these years, with the biting bitterness of grapefruit peel in the middle, as well as Mediterranean herbs. More (roasted) hazelnuts and bitter almond over time. While it fades you get hints of leather and old, warm oak. A rather short finish, but the acidity makes it nice and clean.
Summary: This Fino Camborio perfectly survived more than 50 years in the cellar. It's came out vivid, highly drinkable and displaying a nice array of Fino and Amontillado notes. This must have been a high quality wine and in that sense it connects nicely to the modern equivalent.